Look, I agree that we've got to tone down the rhetoric. And I also agree that conservatives bear as much responsibility to do this as anyone. Free debate in a civilized society requires reasoned discussion of the issues, and a willingness to tolerate disagreement. It should not include ad hominen attacks, or the wishful desire to murder your opponents.
However, it is not the tone of rightwing discourse that worries me much these days. You would be hard pressed to find any examples of any Republicans or Tea Party activists suggesting it would a good thing to kill Democrats. Such suggestions are not only considered unacceptable, everyone on the right knows that to say such a thing would probably destroy your career in the public arena. Thus, it just doesn't happen.
Instead, it is the left, the press, and the Democratic Party's efforts to whip up anger at the right that scares me. Nor did this ugly behavior begin on Saturday after the Tucson murders. In the past decade there have been the numerous examples (which I have been documenting these past few days) of leftwing activists, Hollywood movies, talk radio hosts, and Democratic officials advocating violence against the right. (For a talk radio host example, see this new list of liberals calling for the murder of conservatives.) Worse, such behavior has almost become routine in recent years. It seems that every random violent act has become a vehicle for the left and the press to attack and slander conservatives, despite the fact that there is no evidence that any of these accusations are true.
This behavior must stop. Violent and angry rhetoric can and will cause violence. And it probably has, considering the fact that a large number of the random violent acts in recent years have actually been committed by deranged individuals with liberal, not conservative, leanings. This is not to say that I blame the left for this violence, but that the left has as much of a responsibility as the right to think carefully about what it says, before it says it. Otherwise, they might find that they have made their less rational followers more angry than they ever imagined, or can control.
Or as Michael York says to his NAZI friend at the end of this scene from the 1972 movie, Cabaret. "You still think you can control them?"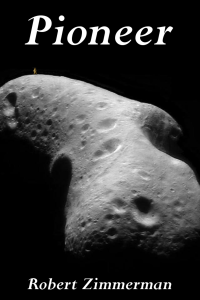 From the press release: From the moment he is handed a possibility of making the first alien contact, Saunders Maxwell decides he will do it, even if doing so takes him through hell and back.
Unfortunately, that is exactly where that journey takes him. The vision that Zimmerman paints of vibrant human colonies on the Moon, Mars, the asteroids, and beyond, indomitably fighting the harsh lifeless environment of space to build new societies, captures perfectly the emerging space race we see today. He also captures in Pioneer the heart of the human spirit, willing to push forward no matter the odds, no matter the cost. It is that spirit that will make the exploration of the heavens possible, forever, into the never-ending future. Available everywhere for $3.99 (before discount) at
amazon
,
Barnes & Noble
, all ebook vendors, or direct from the ebook publisher,
ebookit
. And if you buy it from
ebookit
you don't support the big tech companies and I get a bigger cut much sooner.