Look, I agree that we've got to tone down the rhetoric. And I also agree that conservatives bear as much responsibility to do this as anyone. Free debate in a civilized society requires reasoned discussion of the issues, and a willingness to tolerate disagreement. It should not include ad hominen attacks, or the wishful desire to murder your opponents.
However, it is not the tone of rightwing discourse that worries me much these days. You would be hard pressed to find any examples of any Republicans or Tea Party activists suggesting it would a good thing to kill Democrats. Such suggestions are not only considered unacceptable, everyone on the right knows that to say such a thing would probably destroy your career in the public arena. Thus, it just doesn't happen.
Instead, it is the left, the press, and the Democratic Party's efforts to whip up anger at the right that scares me. Nor did this ugly behavior begin on Saturday after the Tucson murders. In the past decade there have been the numerous examples (which I have been documenting these past few days) of leftwing activists, Hollywood movies, talk radio hosts, and Democratic officials advocating violence against the right. (For a talk radio host example, see this new list of liberals calling for the murder of conservatives.) Worse, such behavior has almost become routine in recent years. It seems that every random violent act has become a vehicle for the left and the press to attack and slander conservatives, despite the fact that there is no evidence that any of these accusations are true.
This behavior must stop. Violent and angry rhetoric can and will cause violence. And it probably has, considering the fact that a large number of the random violent acts in recent years have actually been committed by deranged individuals with liberal, not conservative, leanings. This is not to say that I blame the left for this violence, but that the left has as much of a responsibility as the right to think carefully about what it says, before it says it. Otherwise, they might find that they have made their less rational followers more angry than they ever imagined, or can control.
Or as Michael York says to his NAZI friend at the end of this scene from the 1972 movie, Cabaret. "You still think you can control them?"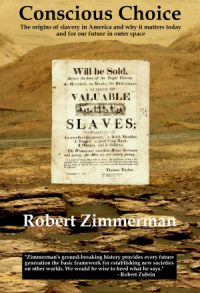 Now available in hardback and paperback as well as ebook!
From the press release: In this ground-breaking new history of early America, historian Robert Zimmerman not only exposes the lie behind The New York Times 1619 Project that falsely claims slavery is central to the history of the United States, he also provides profound lessons about the nature of human societies, lessons important for Americans today as well as for all future settlers on Mars and elsewhere in space.
Conscious Choice: The origins of slavery in America and why it matters today and for our future in outer space
, is a riveting page-turning story that documents how slavery slowly became pervasive in the southern British colonies of North America, colonies founded by a people and culture that not only did not allow slavery but in every way were hostile to the practice.
Conscious Choice
does more however. In telling the tragic history of the Virginia colony and the rise of slavery there, Zimmerman lays out the proper path for creating healthy societies in places like the Moon and Mars.
"Zimmerman's ground-breaking history provides every future generation the basic framework for establishing new societies on other worlds. We would be wise to heed what he says." —Robert Zubrin, founder of founder of the Mars Society.
All editions are available at Amazon, Barnes & Noble, and all book vendors, with the ebook priced at $5.99 before discount. The ebook can also be purchased direct from my ebook publisher, ebookit, in which case you don't support the big tech companies and I get a bigger cut much sooner.
Autographed printed copies are also available at discount directly from me (hardback $24.95; paperback $14.95; Shipping cost for either: $5.00). Just email me at zimmerman @ nasw dot org.