This all reeks of politics: A new Government Accountability Office (GAO) report released yesterday says that NASA it should not permit Boeing and SpaceX to fly humans on their capsules and rockets until they fix certain issues and test both repeatedly on unmanned flights before the first manned flights to ISS.
This GAO report was mandated by Congress, and it requires NASA to certify that both Boeing and SpaceX have met NASA's requirements before allowing those first manned flights. While the technical issues outlined in the report — to which NASA concurs — might be of concern, my overall impression in reading the report, combined with yesterday's announcement by NASA that they are seriously considering flying humans on SLS's first test flight, is that this process is actually designed to put obstacles in front of Boeing and SpaceX so as to slow their progress and allow SLS to launch first with humans aboard.
For example, the report lists three main problems with the commercial manned effort. First there is the Russian engine on the Atlas 5. From the report itself [pdf]:

[T]he Commercial Crew Program is tracking a risk about having the data it needs to certify Boeing's launch vehicle, ULA's Atlas V, for manned spaceflight. The Atlas V's first stage is powered by the Russian-built ULA-procured RD-180 engine, which has previously been certified to launch national security and science spacecraft but not humans. ULA and Commercial Crew Program officials have been working to get access to data about the engine design, so that they can verify and validate that it meets the program's human certification requirements. The program and Boeing report that access to the data is highly restricted by agreements between the U.S. and Russian governments. As an alternative, the program has stated that it is considering whether to certify the engine based on available data, but program officials believe doing so would be a high risk for the program. Boeing officials told us that they do not view this as a safety risk because NASA will not certify the engines without reviewing the data it needs. [emphasis mine]
The Atlas 5 with its Russian engine has been one of the most reliable rockets in the world. To not man-rate it because NASA doesn't have access to all "data about the engine design" is absurd. The restrictions exist because the Russians are protecting their proprietary designs from their competition, a completely reasonable thing for them to do. The engine however has been flown now for almost two decades safely, so to block the approval now for these reasons can only be because these NASA bureaucrats are either being overally bureaucratic or because they oppose the commercial program.
Second we have the issue with Boeing's parachutes. From the report:
In March 2016, Boeing modified its previously approved parachute test plan by replacing six drop tests, which simulate select forces—for example, mass—on the parachute system for one full-scale test event, which simulates all aspects of a parachute system. Through discussions with the program, Boeing has increased the number of full-scale test events to five, with an option for two additional tests if deemed necessary. The program is in the process of reviewing the new test plan to determine if it will generate enough data for the program to evaluate the system. Regardless of whether the program approves Boeing's new parachute test plan, program officials told us that they plan to gather additional data on the performance and reliability of both contractors' parachute systems. NASA has several contractual options available to mitigate this risk, if needed. For example, NASA could choose to add additional analyses or parachute tests to the contract.
In other words, NASA doesn't like the parachute testing plan put forth by Boeing, and has been forcing the company to add tests it initially did not think it needed to do. While the additional testing might make sense, I smell politics here. The use of parachutes for landing spacecraft is well developed engineering. Boeing as a company has lots of experience doing it. For NASA to demand these additional tests, thus delaying the program significantly, seems very fishy to me.
Finally, there are the various problems NASA has with SpaceX's development and design program. The quote below from the report is long, but worth reading carefully and in its entirety.
The Commercial Crew Program's top programmatic and safety risks for SpaceX are, in part, related to ongoing launch vehicle design and development efforts. Prior to SpaceX's September 2016 loss of a Falcon 9 during pre-launch operations, the program was tracking several risks related to SpaceX's launch vehicle. SpaceX has identified five major block upgrades to its Falcon 9 launch vehicle. SpaceX officials told us that they have flown the first three block upgrades and are on track to implement the fourth and fifth block upgrades in 2017. Among other things, the updated design includes upgrades to the engines and avionics. The program is tracking a risk that there may not be enough time for SpaceX to implement these changes and get them approved prior to the first uncrewed flight test in November 2017. This test flight is a key activity to demonstrate how SpaceX's system meets the program's requirements. SpaceX needs to have a stable design to support certification.

In addition to planned design changes, there could be unplanned design changes for the Falcon 9. During qualification testing in 2015, SpaceX identified cracks in the turbines of its engine. Additional cracks were later identified. Program officials told us that they have informed SpaceX that the cracks are an unacceptable risk for human spaceflight. SpaceX officials told us that they are working closely with NASA to eliminate these cracks in order to meet NASA's stringent targets for human rating. Specifically, SpaceX has made design changes that, according to its officials, did not result in any cracking during initial life testing.

Finally, both the program and a NASA advisory group consider SpaceX's plan to fuel the launch vehicle after the astronauts are on board the spacecraft to be a potential safety risk. SpaceX's perspective is that this operation may be a lower risk to the crew; NASA and SpaceX's risk evaluation is ongoing. NASA and SpaceX may also need to re-examine SpaceX's safety controls related to the fueling process if the investigation of the September 2016 Falcon 9 mishap identifies issues with the fueling of the vehicle.

At the time of our review, SpaceX also had other elements in its design that had not yet been completed and reviewed. SpaceX requested, and the program approved, proposals to split its critical design review into three reviews because portions of its design had not been ready at previous reviews. The critical design review is the time in a project's life cycle when the integrity of the product's design and its ability to meet mission requirements are assessed, and it is important that a project's design is stable enough to warrant continuation with design and fabrication. A stable design can minimize changes prior to fabrication, which can help avoid costly re-engineering and rework effort due to design changes. SpaceX's final planned design review was held in August 2016; however, the program reported that a number of outstanding areas, primarily related to ground systems, still needed to be reviewed. SpaceX officials told us these areas were reviewed in November 2016. Further, according to SpaceX, these separate reviews were in order to perform review of designs that were completed earlier than anticipated, to allow SpaceX and NASA teams to focus in greater detail on certain systems, and to accommodate design updates driven in part by changes to NASA requirements. [emphasis mine]
While all of the issues raised should certainly be addressed, the issue here appears to me not to be questions of engineering but instead a fundamental philosophical difference between NASA's and SpaceX's development approach. NASA, as it usually does, wants to slow-walk development, requiring more reviews and testing, before certifying designs as acceptable. It does not care if this adds cost. In fact, it likes it, as do most government agencies, because it brings more money to the agency.
SpaceX in contrast wants to operate as it has for the past decade, by incorporating design upgrades quickly and then moving forward in order to get things done and save cost. Its focus is affordability, profit, and achievement, not bigger government budgets.
There might be a middle-ground between these two approaches, but my impression here is that NASA is trying to impose its will for political reasons, not safety, in order to make the commercial program as ineffective as SLS/Orion has been. And the proof of this is NASA's decision this week to consider flying humans on the very first test flight of SLS. If NASA as an agency really cared about safety like it claims in this GAO report, it wouldn't dream of flying an untested SLS manned. While the GAO report can only point to some specific and somewhat limited issues faced by Boeing and SpaceX, SLS remains completely unknown. Unlike Atlas 5 and Falcon 9, it has not flown once. None of its components have been tested in flight, and to ignore this basic fact and fly it manned the first time is absurd.
No, it appears to me that NASA and certain members of Congress are trying to manipulate things to save SLS. Their problem is that SLS simply stinks. It has cost too much to build, it is taking too long to get built, and it remains an untested design that has a very limited value. Even if this political maneuvering gets SLS up first with people on board, and that flight does not fail, SLS will still stink. Its second flight will still be years away, while the commercial capsules will be able to fly numerous times in the interim, and they will be able to do it for a quarter of the price.
The worst aspect of this political maneuvering is that it is harming the American effort to fly in space, for no good reason, and might very well cause the death of Americans. Instead of getting Americans launched quickly on American-built spacecraft, these political games are forcing us once again to consider depending on the Russians for an additional few more years. Considering the serious corruption and quality control problems revealed recently in Russia's aerospace industry, we should not feel save launching Americans on their spacecraft. And we certainly shouldn't feel safe launching them on SLS during that first test flight.
In the end, this appears once again like Challenger and Columbia. Politics and management concerns that have nothing to do with safety are interfering with the work of engineers, and are pointing to another launch failure and further deaths.
And it would be terrible if three years from now we have to read about this problem, after astronauts have died.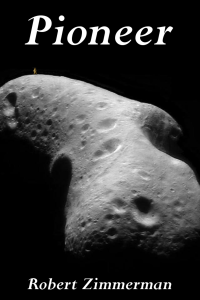 From the press release: From the moment he is handed a possibility of making the first alien contact, Saunders Maxwell decides he will do it, even if doing so takes him through hell and back.
Unfortunately, that is exactly where that journey takes him. The vision that Zimmerman paints of vibrant human colonies on the Moon, Mars, the asteroids, and beyond, indomitably fighting the harsh lifeless environment of space to build new societies, captures perfectly the emerging space race we see today. He also captures in Pioneer the heart of the human spirit, willing to push forward no matter the odds, no matter the cost. It is that spirit that will make the exploration of the heavens possible, forever, into the never-ending future. Available everywhere for $3.99 (before discount) at
amazon
,
Barnes & Noble
, all ebook vendors, or direct from the ebook publisher,
ebookit
. And if you buy it from
ebookit
you don't support the big tech companies and I get a bigger cut much sooner.