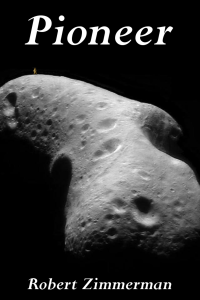 From the press release: From the moment he is handed a possibility of making the first alien contact, Saunders Maxwell decides he will do it, even if doing so takes him through hell and back.
Unfortunately, that is exactly where that journey takes him.
The vision that Zimmerman paints of vibrant human colonies on the Moon, Mars, the asteroids, and beyond, indomitably fighting the harsh lifeless environment of space to build new societies, captures perfectly the emerging space race we see today.
He also captures in Pioneer the heart of the human spirit, willing to push forward no matter the odds, no matter the cost. It is that spirit that will make the exploration of the heavens possible, forever, into the never-ending future.
Available everywhere for $3.99 (before discount) at
amazon
,
Barnes & Noble
, all ebook vendors, or direct from the ebook publisher,
ebookit
.
The financial foolishness in Congress, by Republicans this time, continues. In making its budget recommendations for NASA, the report [pdf] of the House Appropriations Commerce, Justice, Science, and Related Agencies subcommittee also demands that NASA immediately choose one commercial company for its commercial space program. (Hat tip to Clark Lindsey for spotting this.)
The number of ways this action is counter-productive almost can't be counted.

To begin, here is the relevant section of the report, in full.
Commercial crew.—The Committee supports the goal of achieving independent and redundant access to the International Space Station (ISS) but remains concerned about many aspects of NASA's approach to the commercial crew development program. First, the Committee believes that the program's total estimated development costs of $4,868,000,000 are too high given that the current commitment to the ISS leaves NASA with only a few years to make use of commercial crew services and no sufficient additional market has been clearly demonstrated in the absence of NASA as a base customer.

Second, the current structure of the program has insufficient safeguards in place to protect the government's interests in intellectual or physical property developed with Federal money in the event that companies are terminated from or opt to leave the program. As such, there is a risk of repeating the government's experience from last year's bankruptcy of the solar energy firm Solyndra, in which the failure of a high risk, government subsidized development venture left taxpayers with no tangible benefit in exchange for their substantial investment.

Third, the Administration appears to be pursuing potentially inconsistent goals for the program: (1) the achievement of the fastest, safest, most cost effective means of domestic access to the ISS, and (2) the ''seeding'' of a new commercial spaceflight industry. Given the overwhelming importance of the first of these goals, any funding, time and effort expended in pursuit of the second is potentially a distraction from other necessary work, and, in an environment of fiscal constraint, a dilution of limited resources.

Finally, the program's current acquisition strategy lacks any defined plan to transition from the planned Space Act Agreement (SAA)-based Commercial Crew Integrated Capability (CCiCap) round of awards to a Federal Acquisition Regulation (FAR)-based certification and service contract. As a result, the strategy presents a significant risk of costly, lengthy delays as NASA attempts to retroactively assess competitors' designs on safety and other standards and companies attempt to make changes in fully mature integrated designs to address instances in which NASA cannot verify that a necessary qualification criterion has been met. The Committee believes that many of these concerns would be addressed by an immediate downselect to a single competitor or, at most, the execution of a leader-follower paradigm in which NASA makes one large award to a main commercial partner and a second small award to a back-up partner.

With fewer companies remaining in the program, NASA could reduce its annual budget needs for the program and fund other priorities like planetary science, human exploration or aeronautics research. In addition, an accelerated downselect would allow NASA to focus its remaining funds and technical assistance resources on the most promising contender, potentially enabling that competitor to produce a final capability faster than otherwise possible. It would also allow NASA to return to its previous acquisition strategy of holding an open competition (to include current funding recipients and new entrants) and following a more traditional FAR based management approach, avoiding a complex transition from SAAs late in the development process and allowing the government to better protect its interests in intellectual and physical property developed with taxpayer funds. Finally, this strategy is more consistent with current overarching fiscal guidance included in the fiscal year 2013 House budget resolution. In a climate of decreasing non-defense discretionary spending, the Committee does not believe that the Administration's proposed budget runout for commercial crew is sustainable.

For all of these reasons, the Committee believes that the advantages offered by an immediate downselect and a return to FAR based contracts outweigh the potential benefits of maintaining the current program structure. As a result, the Committee directs NASA to execute the program as described above and in accordance with a fiscal year 2013 funding level of $500,000,000, which is equal to the level agreed to by Congress and the Administration in the NASA Authorization Act of 2010 (Public Law 111–267). [emphasis mine]
For Congress to micro-manage this program so tightly is guaranteed to increase costs. There is no way these Congressmen can know that now is the appropriate time for NASA to pick one commercial company and let the others sink or swim on their own. In fact, considering how early it is in the development of these space vehicles, it is almost certainly too soon, and by demanding that NASA make its decision now illustrates clearly how little these Congressmen know about the state of commercial space.
Moreover, down-selecting to one company will eliminate the healthy competition NASA now enjoys in this program. Having multiple companies competing for the final contract can only keep costs down, as each company knows that if they spend too much and go over budget, NASA is likely not to chose them in the end. And the proof that this is so can be seen by how little this program has actually cost NASA, especially when we compare it to the budget for the Congressionally-mandated Space Launch System (SLS), which is budgeted six times higher and will not launch its first human into space for almost a decade. Meanwhile, the commercial space program is producing five different spaceships, all of which intent to launch within the next five years, for a total budget that is far less than SLS will spend in only two years.
Maybe the worse part of this committee report is the demand that NASA use its older more traditional "FAR-based management approach" rather than the simpler less expensive SAA contracts that the agency has been using to successfully subsidize the entire commercial space program. Insisting that NASA use the FAR contractual system will only guarantee that costs will rise, as those contracts require a great deal of paperwork and documentation as well as intense micromanagement by NASA. Elon Musk has already said that if NASA uses the FAR contracts he would be unable to work with NASA and would pull out of the deal.
So, why are these so-called conservative Republicans doing this? The clue is the demand to go to FAR contracts. They are likely being advised by people in NASA who don't like the fact that the commercial space program is not really under their control. By switching back to FAR, the NASA bureaucracy will regain power over the construction of these private spaceships, thus justifying their jobs as well as bringing a lot more of the money into NASA rather than giving it to these companies.
This report must not stand. If the United States is going to have a real aerospace industry, NASA and the government have got to get out of the way.
Readers!
Every July, to celebrate the anniversary of the start of Behind the Black in 2010, I hold a month-long fund-raising campaign to make it possible for me to continue my work here for another year.

This year's fund-raising drive however is more significant in that it is also the 10th anniversary of this website's founding. It is hard to believe, but I have been doing this for a full decade, during which I have written more than 22,000 posts, of which more than 1,000 were essays and almost 2,600 were evening pauses.

This year's fund drive is also more important because of the growing intolerance of free speech and dissent in American culture. Increasingly people who don't like what they read are blatantly acting to blackball sites like mine. I have tried to insulate myself from this tyrannical effort by not depending on Google advertising or cross-posts Facebook or Twitter. Though this prevents them from having a hold on me, it also acts to limit my exposure.

Therefore, I hope you will please consider donating to Behind the Black, by giving either a one-time contribution or a regular subscription, as outlined in the tip jar below. Your support will allow me to continue covering science and culture as I have for the past twenty years, independent and free from any outside influence.
Regular readers can support Behind The Black with a contribution via paypal:
If Paypal doesn't work for you, you can support Behind The Black directly by sending your donation by check, payable to Robert Zimmerman, to

Behind The Black
c/o Robert Zimmerman
P.O.Box 1262
Cortaro, AZ 85652