Readers!
My annual birthday-month fund-raising drive for Behind the Black
is now on-going. Not only do your donations help pay my bills, they give me the freedom to speak honestly about science and culture,
instead of being forced to write it as others demand.
Please consider donating by giving either a one-time contribution or a regular subscription, as outlined in the tip jar below.
Regular readers can support Behind The Black with a contribution via paypal:
If Paypal doesn't work for you, you can support Behind The Black directly by sending your donation by check, payable to Robert Zimmerman, to

Behind The Black
c/o Robert Zimmerman
P.O.Box 1262
Cortaro, AZ 85652

You can also support me by buying one of my books, as noted in the boxes interspersed throughout the webpage. And if you buy the books through the ebookit links, I get a larger cut and I get it sooner.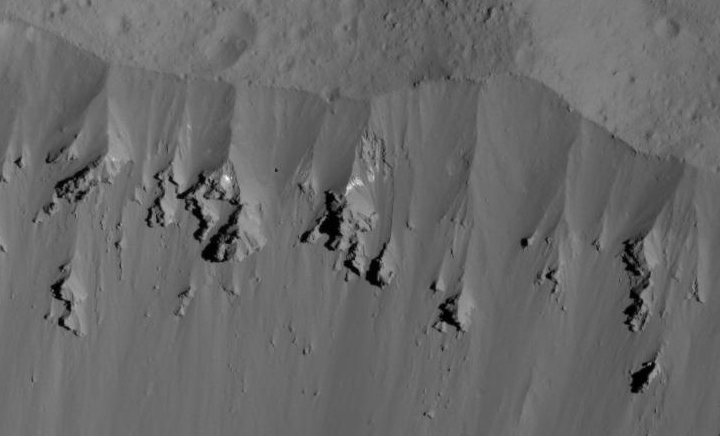 Cool image time! With Dawn completing its descent into its final low orbit only about 30 miles above the surface of Ceres, it is beginning to take some very spectacular images. Above is a cropped section from a full image taken on June 9th of the rim of Occator Crater from an altitude of 27 miles. It shows evidence of landslides on the crater's rim, as well as at least two bright patches. If you click on it you can see the entire picture.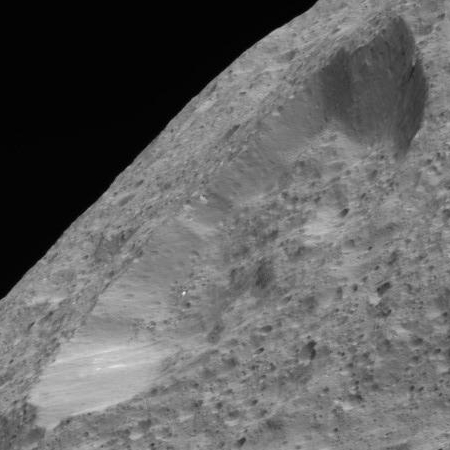 Nor is this the only cool image released As Dawn descended to its new orbit, it took one very cool oblique image of the planet's horizon. On the right I have cropped a small section out of one such image, taken on May 30th from an altitude of 280 miles. If you click on it you can see the full image, showing numerous other small craters all around it, to the horizon.
Note the bright streaks on the crater walls, suggestive of more landslides as well as seepage of the thought-to-exist brine from below the surface.
For the next year or so, as Dawn winds down its mission, expect a lot more very intriguing pictures of Ceres. I am especially eager to see close-ups of the bright spots at the center of Occator Crater.