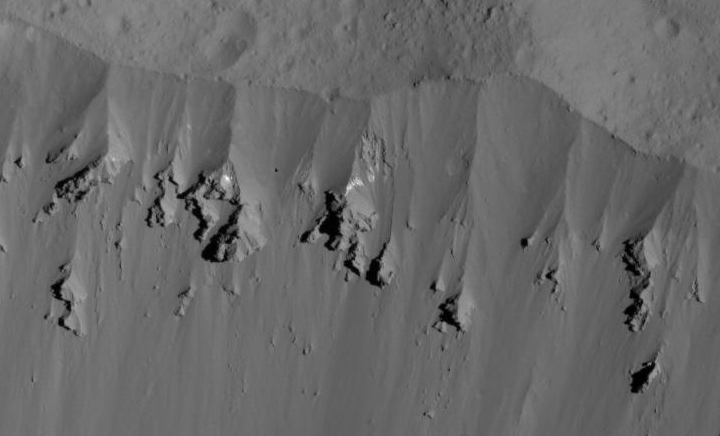 Cool image time! With Dawn completing its descent into its final low orbit only about 30 miles above the surface of Ceres, it is beginning to take some very spectacular images. Above is a cropped section from a full image taken on June 9th of the rim of Occator Crater from an altitude of 27 miles. It shows evidence of landslides on the crater's rim, as well as at least two bright patches. If you click on it you can see the entire picture.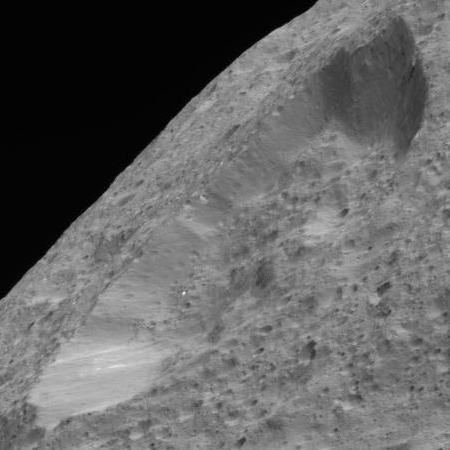 Nor is this the only cool image released As Dawn descended to its new orbit, it took one very cool oblique image of the planet's horizon. On the right I have cropped a small section out of one such image, taken on May 30th from an altitude of 280 miles. If you click on it you can see the full image, showing numerous other small craters all around it, to the horizon.
Note the bright streaks on the crater walls, suggestive of more landslides as well as seepage of the thought-to-exist brine from below the surface.
For the next year or so, as Dawn winds down its mission, expect a lot more very intriguing pictures of Ceres. I am especially eager to see close-ups of the bright spots at the center of Occator Crater.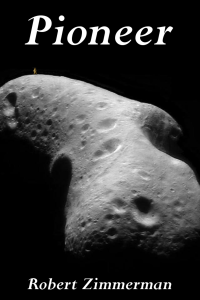 From the press release: From the moment he is handed a possibility of making the first alien contact, Saunders Maxwell decides he will do it, even if doing so takes him through hell and back.
Unfortunately, that is exactly where that journey takes him.
The vision that Zimmerman paints of vibrant human colonies on the Moon, Mars, the asteroids, and beyond, indomitably fighting the harsh lifeless environment of space to build new societies, captures perfectly the emerging space race we see today.
He also captures in Pioneer the heart of the human spirit, willing to push forward no matter the odds, no matter the cost. It is that spirit that will make the exploration of the heavens possible, forever, into the never-ending future.
Available everywhere for $3.99 (before discount) at
amazon
,
Barnes & Noble
, all ebook vendors, or direct from the ebook publisher,
ebookit
. And if you buy it from
ebookit
you don't support the big tech companies and I get a bigger cut much sooner.