Glenn Reynolds and Leigh Outten have just co-written a short paper advocating the use of "pulsed nuclear space propulsion" to launch rockets. You can download it here.
The concept, as first described in the 1950s, is described in the paper as follows:
It is not a tremendous surprise that when you set off an atomic bomb next to something, that something will move. That it could also remain essentially intact, however, was considerably more surprising. The challenge for the Orion team was to produce a spacecraft that could function after being subjected to not one, but many, nearby nuclear detonations, and that could be steered and navigated by an onboard crew.

This turned out to be easier than it sounds. The Orion spacecraft design that resulted involved a large steel "pusher" plate, behind a rather large spacecraft with a total weight of over 4,000 tons. That sort of design is very different from the spaceships we're used to today.
The bulk of their paper reviews the legal obstacles to launching such rockets, as both the Outer Space Treaty and the Limited Test Ban Treaty put limits on the use of nuclear weapons in space. The paper argues that these limits would not apply to rockets propelled by atomic explosions, since the explosions would not be used as weapons.
The paper also argues that the technical obstacles for building such rockets are also solvable, and might even be easy to solve. This particular quote stood out starkly to me:

In fact, one of the greatest appeals of Orion was that over a wide range, the bigger you made it, the better it worked. While chemical rockets scale badly – with big ones much harder to build than small ones – Orion was just the opposite. That meant that large spacecraft, capable of long missions, were not merely possible, but in many ways actually easier, for a variety of reasons, than small ones. Bigger spaceships meant more mass for absorbing radiation and shock, more room to store fuel, a smaller proportion of total size needed for radiation shielding, and so on.
Sounds great, doesn't it? Color me skeptical. While I firmly believe we should never dismiss lightly the dreams of engineers, and that by giving them the chance to do impossible things impossible things are sometimes achieved, I also always take with a very very large grain of salt statements of over-confidence like the one above. Designing a giant rocket like this that will be powered by repeated nuclear explosions will not be easy. And though scaling it up might increase its launch efficiency it will not ease the design process. Just figuring out how to handle the large components will be incredibly challenging.
However, even if technically a rocket launched using repeated atomic explosions was doable, I have grave doubts it will ever happen on Earth. I've read these arguments in favor of nuclear pulse propulsion over and over again for decades, and remain completely unconvinced it can overcome the political opposition to it. The irrational and rational concerns about using repeated atomic blasts to lift a rocket off the ground will kill any effort to fund this work, or allow private companies to do it.
Assembling such a rocket in space for interplanetary travel, however, is more possible, and in fact will likely be accomplished by the future space settlers living on the colonies nations build on the Moon, Mars, and asteroids. It will however also require a robust self-sufficient civilization in space, something that is probably at least one to three centuries away.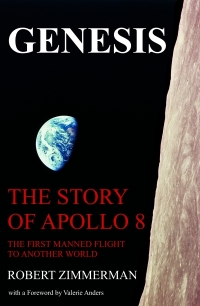 On Christmas Eve 1968 three Americans became the first humans to visit another world. What they did to celebrate was unexpected and profound, and will be remembered throughout all human history. Genesis: the Story of Apollo 8, Robert Zimmerman's classic history of humanity's first journey to another world, tells that story, and it is now available as both an ebook and an audiobook, both with a foreword by Valerie Anders and a new introduction by Robert Zimmerman.
The ebook is available everywhere for $5.99 (before discount) at
amazon
, or direct from my ebook publisher,
ebookit
. If you buy it from
ebookit
you don't support the big tech companies and the author gets a bigger cut much sooner.
The audiobook is also available at all these vendors, and is also
free with a 30-day trial membership to Audible.
"Not simply about one mission, [Genesis] is also the history of America's quest for the moon... Zimmerman has done a masterful job of tying disparate events together into a solid account of one of America's greatest human triumphs."--San Antonio Express-News