Several news articles in the past few days, partly fueled by the make-up of some of the new members of Trump's NASA transition team, have exhibited a strong push to get the new administration to restart the Bush administration's goal of returning to the Moon.
All of this might happen. What these stories suggest to me is that the big contractors, Boeing and Lockheed Martin who are building SLS and Orion, are pushing the new administration to give this rocket and capsule a mission, something it presently does not have. At the same time, the stories might also indicate some of Trump's typical and very smart negotiation tactics. Unlike Obama, who never knew how to play the game, Trump appears to understand that if he is going to institute major changes in NASA's future projects, he needs to get Congress to agree.
Rather than eliminate SLS and Orion right off the bat, as Obama tried to do when he unilaterally cancelled Constellation, Trump could offer the Moon to Congress as an interim goal for this giant rocket and capsule. This was what both were really designed for initially, as they are essentially modern copies of the Saturn 5 and the Apollo capsule. In exchange, Trump could then get Congress to place more emphasis on commercial space needs, getting the competing privately built capsules and new cargo vessels (Dragon, Starliner, and Dream Chaser) better funded and built faster. He could also propose that NASA encourage private companies to compete to design and build lunar orbiting facilities, ideas that both Lockheed Martin, Boeing, and Orbital ATK have been pushing now for several years.
I should note that giving a lunar goal to SLS/Orion does not mean that the program will get bigger or last significantly longer. Congress could simply fund one or two more missions through 2024. By that time, the competing successes of private space will make it very clear that this boondoggle is not the way to go into the future. By then, the new commercial space industry will have also grown enough that Congress will have no problem letting this industry replace SLS/Orion, and will thus have less objections in letting that program die.
I must also emphasize that I am speculating here. It is probably a bit soon to predict what a Trump administration will do with NASA and space. The signs however are pointing in this direction.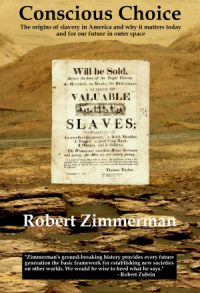 Now available in hardback and paperback as well as ebook!
From the press release: In this ground-breaking new history of early America, historian Robert Zimmerman not only exposes the lie behind The New York Times 1619 Project that falsely claims slavery is central to the history of the United States, he also provides profound lessons about the nature of human societies, lessons important for Americans today as well as for all future settlers on Mars and elsewhere in space.
Conscious Choice: The origins of slavery in America and why it matters today and for our future in outer space
, is a riveting page-turning story that documents how slavery slowly became pervasive in the southern British colonies of North America, colonies founded by a people and culture that not only did not allow slavery but in every way were hostile to the practice.
Conscious Choice
does more however. In telling the tragic history of the Virginia colony and the rise of slavery there, Zimmerman lays out the proper path for creating healthy societies in places like the Moon and Mars.
"Zimmerman's ground-breaking history provides every future generation the basic framework for establishing new societies on other worlds. We would be wise to heed what he says." —Robert Zubrin, founder of founder of the Mars Society.
All editions are available at Amazon, Barnes & Noble, and all book vendors, with the ebook priced at $5.99 before discount. The ebook can also be purchased direct from my ebook publisher, ebookit, in which case you don't support the big tech companies and I get a bigger cut much sooner.
Autographed printed copies are also available at discount directly from me (hardback $24.95; paperback $14.95; Shipping cost for either: $5.00). Just email me at zimmerman @ nasw dot org.