Several news articles in the past few days, partly fueled by the make-up of some of the new members of Trump's NASA transition team, have exhibited a strong push to get the new administration to restart the Bush administration's goal of returning to the Moon.
All of this might happen. What these stories suggest to me is that the big contractors, Boeing and Lockheed Martin who are building SLS and Orion, are pushing the new administration to give this rocket and capsule a mission, something it presently does not have. At the same time, the stories might also indicate some of Trump's typical and very smart negotiation tactics. Unlike Obama, who never knew how to play the game, Trump appears to understand that if he is going to institute major changes in NASA's future projects, he needs to get Congress to agree.
Rather than eliminate SLS and Orion right off the bat, as Obama tried to do when he unilaterally cancelled Constellation, Trump could offer the Moon to Congress as an interim goal for this giant rocket and capsule. This was what both were really designed for initially, as they are essentially modern copies of the Saturn 5 and the Apollo capsule. In exchange, Trump could then get Congress to place more emphasis on commercial space needs, getting the competing privately built capsules and new cargo vessels (Dragon, Starliner, and Dream Chaser) better funded and built faster. He could also propose that NASA encourage private companies to compete to design and build lunar orbiting facilities, ideas that both Lockheed Martin, Boeing, and Orbital ATK have been pushing now for several years.
I should note that giving a lunar goal to SLS/Orion does not mean that the program will get bigger or last significantly longer. Congress could simply fund one or two more missions through 2024. By that time, the competing successes of private space will make it very clear that this boondoggle is not the way to go into the future. By then, the new commercial space industry will have also grown enough that Congress will have no problem letting this industry replace SLS/Orion, and will thus have less objections in letting that program die.
I must also emphasize that I am speculating here. It is probably a bit soon to predict what a Trump administration will do with NASA and space. The signs however are pointing in this direction.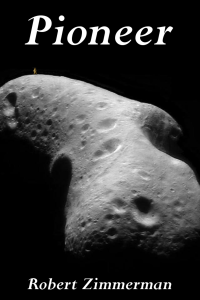 From the press release: From the moment he is handed a possibility of making the first alien contact, Saunders Maxwell decides he will do it, even if doing so takes him through hell and back.
Unfortunately, that is exactly where that journey takes him.
The vision that Zimmerman paints of vibrant human colonies on the Moon, Mars, the asteroids, and beyond, indomitably fighting the harsh lifeless environment of space to build new societies, captures perfectly the emerging space race we see today.
He also captures in Pioneer the heart of the human spirit, willing to push forward no matter the odds, no matter the cost. It is that spirit that will make the exploration of the heavens possible, forever, into the never-ending future.
Available everywhere for $3.99 (before discount) at
amazon
,
Barnes & Noble
, all ebook vendors, or direct from the ebook publisher,
ebookit
. And if you buy it from
ebookit
you don't support the big tech companies and I get a bigger cut much sooner.