The panic over the Wuhan virus is clearly doing irreparable harm to our freedoms. And worse, the loss of those freedoms is being celebrated and supported by the press, the very people who should be acting to protect them, for their own sake if not ours.
Consider for example this article, which documents how four of the ten rights in the Bill of Rights have been tossed out the window during the government imposed lockdowns over the Wuhan flu. It also notes that a more basic right, the right to life, liberty, and the pursuit of happiness, has been cancelled as well.
While this right is not listed in the Bill of Rights and instead appears in the Declaration of Independence, it covers all of our rights in a general sense and should be considered under attack. I have heard from friends who have been stopped at the border of their state and turned back by police; people with out-of-state plates turned away from grocery stores over the border that have supplies they need and can't get in their own state; and people whose livelihoods are being destroyed by government edicts with no end date in sight. [emphasis mine]
As the author also notes, "anyone who has studied human history knows the 'temporary' loss of human rights is rarely temporary."
The worst part of this article however is the incompleteness of the list of civil rights abuses. Consider these for example:

This list was compiled in only about five minutes of web searching. The number of similar stories in the past month is horrifying. Not only has the idea of protecting our rights gone out the window, there does not seem to be much outrage by the society at large over the abandonment of those rights.
Meanwhile, our corrupt and entirely partisan mainstream liberal press has revealed its willingness, in the name of destroying these rights (and Trump), to lie and lie and lie, and then lie again, all in an effort to justify the regaining of power by them and their leftist friends in halls of government.
This last story provides a dozen examples where various news outlets published blatant and easily proven falsehoods, all designed to attack Trump as well as block and hinder any effort by him to limit the epidemic's harm. All are egregious, but maybe the stupidest and most dishonest was the effort by these mainstream news sources to claim Trump was racist for calling the Wuhan virus the Wuhan virus, even though they had all been doing so themselves for more than a month.
Sadly the article's list of media lies is really only the tip of the iceberg. I could spend all day itemizing more examples, all hateful and clearly focused solely on hurting Trump, even if it causes tens of thousands of more Americans to die, and destroys the lives of millions more.
As historian Hannah Arendt said in 1974:
The moment we no longer have a free press, anything can happen. What makes it possible for a totalitarian or any other dictatorship to rule is that people are not informed; how can you have an opinion if you are not informed?

If everybody always lies to you, the consequence is not that you believe the lies, but rather that nobody believes anything any longer. This is because lies, by their very nature, have to be changed, and a lying government has constantly to rewrite its own history. On the receiving end you get not only one lie—a lie which you could go on for the rest of your days—but you get a great number of lies, depending on how the political wind blows. And a people that no longer can believe anything cannot make up its mind.

It is deprived not only of its capacity to act but also of its capacity to think and to judge. And with such a people you can then do what you please.
The irony here is that while we still have a free press by law, it has chosen to be complicit in the lies being put forth by the left, making it the tyrant's hand-servant and a willing participant in the destruction of freedom.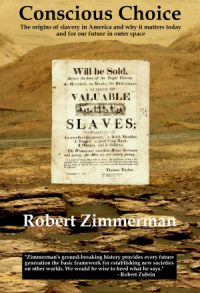 Now available in hardback and paperback as well as ebook!
From the press release: In this ground-breaking new history of early America, historian Robert Zimmerman not only exposes the lie behind The New York Times 1619 Project that falsely claims slavery is central to the history of the United States, he also provides profound lessons about the nature of human societies, lessons important for Americans today as well as for all future settlers on Mars and elsewhere in space.
Conscious Choice: The origins of slavery in America and why it matters today and for our future in outer space
, is a riveting page-turning story that documents how slavery slowly became pervasive in the southern British colonies of North America, colonies founded by a people and culture that not only did not allow slavery but in every way were hostile to the practice.
Conscious Choice
does more however. In telling the tragic history of the Virginia colony and the rise of slavery there, Zimmerman lays out the proper path for creating healthy societies in places like the Moon and Mars.
"Zimmerman's ground-breaking history provides every future generation the basic framework for establishing new societies on other worlds. We would be wise to heed what he says." —Robert Zubrin, founder of founder of the Mars Society.
All editions are available at Amazon, Barnes & Noble, and all book vendors, with the ebook priced at $5.99 before discount. The ebook can also be purchased direct from my ebook publisher, ebookit, in which case you don't support the big tech companies and I get a bigger cut much sooner.
Autographed printed copies are also available at discount directly from me (hardback $24.95; paperback $14.95; Shipping cost for either: $5.00). Just email me at zimmerman @ nasw dot org.