With the recently passed debt ceiling deal, there are going to be a lot of news reports talking about how that deal is going to force cuts and reductions in government spending. Everyone one of these stories will be a lie.
Take for example this story today in Nature, discussing the fate of science research under the deal. Here is how they describe what will happen if the Congressional "super-committee" cannot come up with an agreement and across-the-board "cuts" are triggered:
"Then there will be extraordinary pain," says Michael Lubell, director of public affairs for the American Physical Society in Washington DC. "And it will get worse in 2014."

The two-stage structure of the debt deal explains both the short-term reprieve and the long-term worry. The first set of agreed cuts, totalling US$917 billion, will be spread over 10 years, but two factors mitigate their effect. First, reductions to defence spending will account for a significant share of the cuts — meaning that other US agencies won't bear the entire burden. Second, the cuts are heavily loaded forward onto the 2014 fiscal year and beyond, in an apparent effort to shelter the current fragile economy. Only minimal cuts will be implemented in fiscal years 2012 and 2013.
The trouble with this is that it is simply not true. There will be no cuts at all, under any condition, according the debt deal.

All that is happening is that the rate of increase in spending is going to be slowed by $917 billion dollars over ten years. As an illustration, instead of increasing its spending by let's say $300 billion a year, the government will only spend an additional $200 billion more each year. Either way, at the end of ten years, the government budget will still be $2 trillion larger and we will be $2 trillion more in debt.
The actual numbers are different, but not significantly so. The bottom line is that these science agencies will end up having more money to spend over the next decade under this debt deal than they have ever had before. To let them get away with calling that "extraordinary pain" is downright laughable.
While I could argue here about the madness of all this spending, I want to instead focus on the willing complicity of Nature and its journalist, Eric Hand, in this fraud. Just because Congress and the executive branch of the federal government want to use the lie of base-line budgeting, where any reductions in budget growth is called a cut, does not require a journalist to do so.
The federal budget is still growing at an out-of-control rate. If the present budget deal doesn't bring that growth under control, reporters need to say so. Most of all, they need to stop calling these reduced increases in spending "cuts." It is a lie, and a despicable one at that.
Let me close by embedding this wonderful short video produced by Mary Katherine Ham. Unlike most mainstream journalists, Ham is willing to honestly describe the government way of "cutting spending."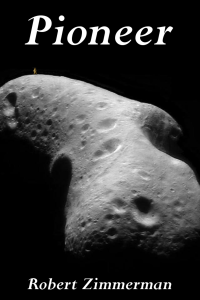 From the press release: From the moment he is handed a possibility of making the first alien contact, Saunders Maxwell decides he will do it, even if doing so takes him through hell and back.
Unfortunately, that is exactly where that journey takes him. The vision that Zimmerman paints of vibrant human colonies on the Moon, Mars, the asteroids, and beyond, indomitably fighting the harsh lifeless environment of space to build new societies, captures perfectly the emerging space race we see today. He also captures in Pioneer the heart of the human spirit, willing to push forward no matter the odds, no matter the cost. It is that spirit that will make the exploration of the heavens possible, forever, into the never-ending future. Available everywhere for $3.99 (before discount) at
amazon
,
Barnes & Noble
, all ebook vendors, or direct from the ebook publisher,
ebookit
. And if you buy it from
ebookit
you don't support the big tech companies and I get a bigger cut much sooner.