Last week President Obama signed the revisions to the Commercial Act that is being touted as allowing Americans property rights in space.
I have been following the news coverage of this event, and even though there have been many articles incorrectly pushing the above spin, only today was there a news story that finally noticed that these touted property rights would violate the Outer Space treaty.
The content of the second link above, though it notices the possible violations to the Outer Space treaty, is also still a pitiful example of journalism. It is very clear from reading the article that no one involved in writing it (the article's byline is CBC News) ever read the newly passed law. I have, and found that nowhere in it does it actually grant Americans property rights in space. What it does do is demand that the executive branch support that idea and write a number of reports and studies to demonstrate that support.
The goal I think of this new law is to begin the political process towards the U.S. eventually pulling out of the Outer Space treaty. Congress is essentially stating that it doesn't agree with the language of that United Nations treaty, and it wants the U.S. government to begin the process of either getting it changed, or preparing to pull out. (The treaty does provide language allowing nations to pull out. You give one year's notice, and then do so.)
It would be nice if journalists who write about this subject did the simple and easy research necessary for reporting it intelligently.
Until they do, however, I guess people will just have to come here (written with a grin).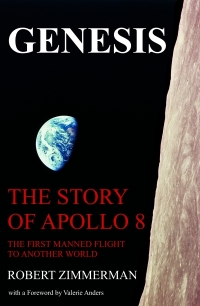 On Christmas Eve 1968 three Americans became the first humans to visit another world. What they did to celebrate was unexpected and profound, and will be remembered throughout all human history. Genesis: the Story of Apollo 8, Robert Zimmerman's classic history of humanity's first journey to another world, tells that story, and it is now available as both an ebook and an audiobook, both with a foreword by Valerie Anders and a new introduction by Robert Zimmerman.
The ebook is available everywhere for $5.99 (before discount) at
amazon
, or direct from my ebook publisher,
ebookit
. If you buy it from
ebookit
you don't support the big tech companies and the author gets a bigger cut much sooner.
The audiobook is also available at all these vendors, and is also
free with a 30-day trial membership to Audible.
"Not simply about one mission, [Genesis] is also the history of America's quest for the moon... Zimmerman has done a masterful job of tying disparate events together into a solid account of one of America's greatest human triumphs."--San Antonio Express-News