Using data from the Japanese lunar orbiter Kaguya, scientists have identified several locations near the Moon's south pole that are in daylight from 86 to 94 percent of the time. Key quote from abstract:
The place receiving the most illumination (86% of the year) is located close to the rim of Shackleton crater at 88.74°S 124.5°E. However two other areas, less than 10 km apart from each other, are collectively lit for 94% of the year. We found that sites exist near the south pole that are continuously lit for several months during summer. We were also able to map the locations and durations of eclipse periods for these areas. Finally we analyzed the seasonal variations in lighting conditions, from summer to winter, for key areas near the south pole. We conclude that areas exist near the south pole that have illumination conditions that make them ideal candidates as future outpost sites. [emphasis mine]
Below is a composite close-up image of the rim of Shackleten crator that I assembled using this Lunar Reconnaissance image. The key quote from the full caption :
The full [Narrow Angle Camera] mosaic reveals a shelf on the southeast flank of the crater that is more than two kilometers across and perfectly suitable for a future landing. The extreme Sun angle gives the surface an exaggerated rough appearance, but if you look closely at this scale any area that is between the small craters might make a good landing site.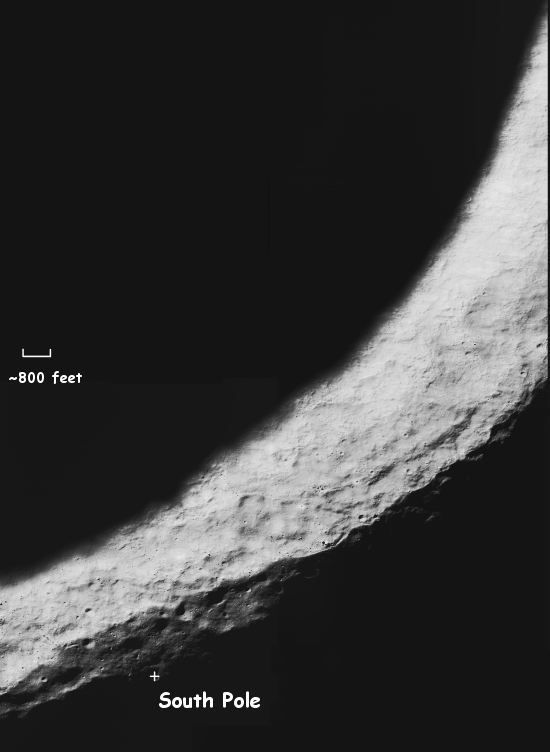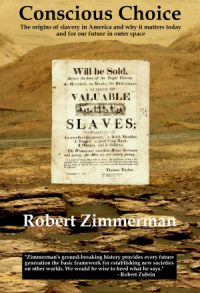 Now available in hardback and paperback as well as ebook!
From the press release: In this ground-breaking new history of early America, historian Robert Zimmerman not only exposes the lie behind The New York Times 1619 Project that falsely claims slavery is central to the history of the United States, he also provides profound lessons about the nature of human societies, lessons important for Americans today as well as for all future settlers on Mars and elsewhere in space.
Conscious Choice: The origins of slavery in America and why it matters today and for our future in outer space
, is a riveting page-turning story that documents how slavery slowly became pervasive in the southern British colonies of North America, colonies founded by a people and culture that not only did not allow slavery but in every way were hostile to the practice.
Conscious Choice
does more however. In telling the tragic history of the Virginia colony and the rise of slavery there, Zimmerman lays out the proper path for creating healthy societies in places like the Moon and Mars.
"Zimmerman's ground-breaking history provides every future generation the basic framework for establishing new societies on other worlds. We would be wise to heed what he says." —Robert Zubrin, founder of founder of the Mars Society.
All editions are available at Amazon, Barnes & Noble, and all book vendors, with the ebook priced at $5.99 before discount. The ebook can also be purchased direct from my ebook publisher, ebookit, in which case you don't support the big tech companies and I get a bigger cut much sooner.
Autographed printed copies are also available at discount directly from me (hardback $24.95; paperback $14.95; Shipping cost for either: $5.00). Just email me at zimmerman @ nasw dot org.