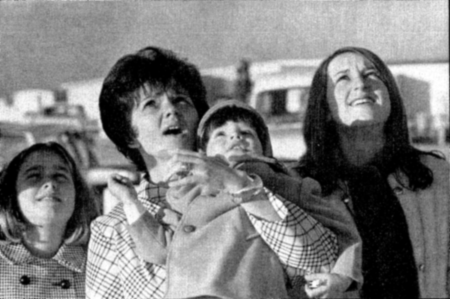 Marilyn Lovell, holding son Jeffrey, watches Apollo 8 lift-off on
December 21, 1968 with daughters Susan, right, and Barbara, left
On August 27, 2023, Marilyn Lovell passed away at the age of 93 in Lake Forest, Illinois, where she and her astronaut husband had lived since he had retired from NASA following his last space mission, Apollo 13.
Jim Lovell of course is the famous one. In the 1960s space race he was the leading space cadet, spending more time in space than any other person, with flights on Gemini 7 (the longest mission yet), Gemini 12 (proved it was possible to do work on a spacewalk), Apollo 8 (first mission ever to another planet), and Apollo 13, which was supposed to be Lovell's crowning achievement, a walk on the Moon. Unfortunately an explosion in the Apollo service module on the journey out to the Moon forced the crew to use its Lunar Module as a lifeboat so that the three astronauts could get back home safely. That failure meant Lovell would never step on the Moon, despite a life dedicated to taking the first tentative steps in the exploration and the eventual settlement of the solar system by the human race.
It could however be argued that none of that laudable career would have happened had he not had Marilyn Lovell for a wife.

Jim Lovell had first spotted Marilyn in the cafeteria when they were both in high school, and the result was a marriage that lasted for more than a half century. And every step of the way Marilyn did everything possible to make Jim Lovell's unorthodox desire to fly in space possible. For example, when Jim Lovell first told her that NASA was proposing to send him, Frank Borman, and Bill Anders on a mission around the Moon in 1968, her immediate response was to say yes, do it, even though the mission would fly without a lunar module, and thus would not have the lifeboat that saved Jim's life two years later on Apollo 13.
I can relate two personal stories that best describe the kind of person Marilyn Lovell was. First, when in 1997 I was researching Genesis: the Story of Apollo 8, my popular history of that historic flight, I made it a point to interview extensively not only all three astronauts, but their wives as well. They were on this mission as much as the men, and in fact were taking risks as difficult and as dangerous. All three men earned what today would be considered a very middle class income. If something went wrong, Marilyn for example would have been left a widow with four young children, and no easy way to earn a living for them. The same situation existed both Susan Borman and Valerie Anders.
As Bill Anders told me, "She gave of herself for her husband, family, nation — with clear knowledge of the potential risks to her. She risked more and got less than I did. She's the hero." [Genesis, page 187]
Thus, in arranging my interviews I always asked for time with the wives. While Valerie Anders and Susan Borman were quite willing to talk, Marilyn Lovell had had enough of reporters and had been refusing all interviews.
After researching all the previously published information about the mission so I knew the right questions to ask, I went to Jim and Marilyn's Lovell's home in Illinois in 1997 to interview him. After spending about three hours in his office, I once again asked if there was any way I could interview his wife. By this time he realized that I wasn't some uneducated television pretty boy who knew nothing about the subject. He said, "Well, come with me to the kitchen. I'll introduce you, but after that it's up to her."
When we got to the kitchen I could tell that, though she was polite and courteous, Marilyn was more than a little annoyed with a husband for bringing me to her. I in turn practically got on my knees, begging her for some interview time. She sighed, and agreed to give me one hour the next day.
That one hour interview lasted almost four hours, followed by several subsequent phone conversations.
In our conversations, she eventually explained why she had become so reluctant to talk to reporters. "They ask stupid questions, and don't research their subject," she complained. "I felt like I was just wasting my time." She also pointed out how the only question most modern reporters ask is "How did it feel?"
Well, I never asked her that question, because I consider it an incredibly dumb question to ask. Instead, I wanted to find out specific details about specific events, trying to fill in some gaps in the story that had not been covered by newspapers or any previous written sources (all of which I had thoroughly reviewed before showing up at her door).
In the end, by knowledgeably asking her what had happened, I found out exactly how she felt about it, and could therefore tell her story accurately and with emotion. The best example of this was when I asked her what she did on Christmas Eve, prior to the final Apollo 8 telecast from lunar orbit that evening. She told me this story, with the tears welling up in her eyes even as she spoke: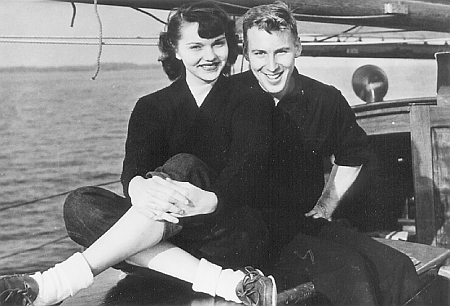 Marilyn Gerlach and Jim Lovell on board the
U.S. Navy sailboat Freedom, 1950
Two hundred forty thousand miles away on earth, Marilyn Lovell decided she needed to go to church. She had spent the day of Christmas Eve at home with friends, trying to fill the time as the spacecraft orbited the moon. Periodically she wandered back to her bedroom for some quiet. Other times she listened to the squawk box. And she smoked a lot.

Finally, by late afternoon the magnitude of the day's events were wearing on her. She wanted to pray, but she wanted to do it alone. She called Father Raish at St. John's to ask him if she could come to church, and he told her to come right over.

As soon as Father Raish hung up the phone he ran to find the church organist, asking her to play the musical program planned for that evening's midnight mass service. Raish then went throughout the church and lit all the candles, making the place look like it would for that night's mass. He knew that the astronauts would be leaving lunar orbit just after midnight, which meant that Marilyn couldn't attend services. Nonetheless, he wanted her to have the experience.

When Marilyn entered the church a few minutes later she gasped. "It was one of the most beautiful sights that I can remember. And it was all for me."

She and Father Raish went up to the altar together, kneeled down, and prayed. For Marilyn, this was a profound moment in her life. "It meant so much to me that he did this." Even today it brings tears to her eyes to think of it.

After a short while it was time to leave. By now the sun had set, and as Marilyn drove home the sky was dark.

Because the Houston sky had been cloudy since the launch on Saturday, the astronaut wives had still not seen the moon. Even now Marilyn could see that the evening sky was mostly covered with clouds.

Then, just before she turned the car into Timber Cove, the clouds separated and she found herself staring at the faint arc of the crescent moon, gleaming in the evening sky. It was Christmas Eve, and around that distant globe circled three humans, one of whom was her husband. A shiver ran through her body.

She pulled up in front of her house and rejoined her children and friends for the last lunar telecast and the hoped-for exit from lunar orbit. [Genesis, pages 176-177]
I hadn't needed to ask her how she felt, because by asking for details about her actual experience, her emotions became evident. I discovered the heart of Marilyn Lovell, that of a humble but courageous person, fearful of danger but unwilling to bow to it.
May she rest in peace. Sadly, time moves on without mercy, and soon her space-faring husband, his two compatriots from Apollo 8, and their own courageous wives will join her, all childhood sweethearts and still married. They had stood on the very edge of human existence, and proclaimed to all by the reading of the first twelve verses from Genesis from lunar orbit on Christmas Eve that there is a deeper meaning to life, even if we as humans can only struggle to perceive it.
Their passing will mark the closing of one of the greatest chapters in both American and human history.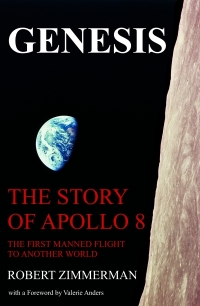 On Christmas Eve 1968 three Americans became the first humans to visit another world. What they did to celebrate was unexpected and profound, and will be remembered throughout all human history. Genesis: the Story of Apollo 8, Robert Zimmerman's classic history of humanity's first journey to another world, tells that story, and it is now available as both an ebook and an audiobook, both with a foreword by Valerie Anders and a new introduction by Robert Zimmerman.
The ebook is available everywhere for $5.99 (before discount) at
amazon
, or direct from my ebook publisher,
ebookit
. If you buy it from
ebookit
you don't support the big tech companies and the author gets a bigger cut much sooner.
The audiobook is also available at all these vendors, and is also
free with a 30-day trial membership to Audible.
"Not simply about one mission, [Genesis] is also the history of America's quest for the moon... Zimmerman has done a masterful job of tying disparate events together into a solid account of one of America's greatest human triumphs."--San Antonio Express-News