Summary: The scientists and engineers of both Curiosity and Opportunity have route decisions to make.
Curiosity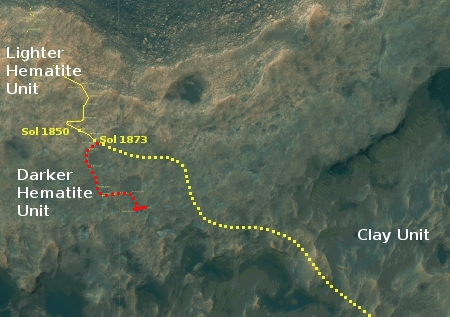 For the overall context of Curiosity's travels, see Pinpointing Curiosity's location in Gale Crater.
Since my November 16 update, Curiosity's travels crossing Vera Rubin Ridge, a geological bedding plain dubbed the Hematite Unit, has continued apace. They however have not been following the route that had been planned beforehand, as shown by the yellow dotted line on the right. Instead, they have headed south, along the red dotted line. For the past week or so they have been doing a variety of research tasks in the same area, analyzing samples taken months before, studying sand deposits, and taking many images of some interesting rock layers.
I also suspect that the lack of movement in the past week is partly because they need to make some route-finding decisions. The planned yellow route shown above appears to be somewhat rough in the full resolution orbital image. While I suspect they will still head in that direction, I also think they are doing some very careful analysis of this route and beyond, to make sure they will not end up in a cul de sac where the rover will not be able to continue its climb of Mount Sharp.
Opportunity
For the context of Opportunity's recent travels along the rim of Endeavour Crater, see my May 15, 2017 rover update.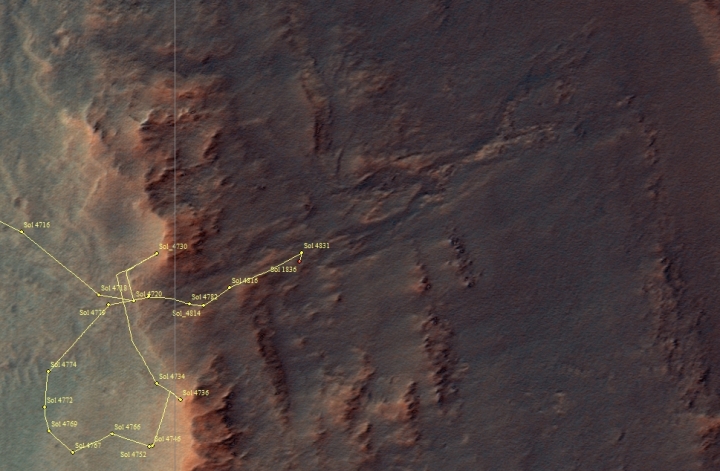 Because it is the winter season at Opportunity's location and thus the rover has limited sunlight available to recharge its batteries, little has changed in the past month, except for one cool tidbit. The rover passed 28 miles of total travel during one of its very short hops in late November. Twenty-eight miles, from a rover that was only supposed to last 90 days and at most travel a few hundred yards!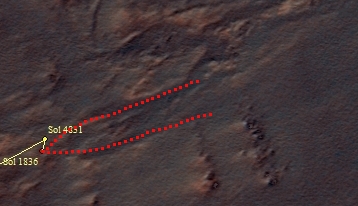 The science team has indicated that Opportunity will continue down Perserverance Valley towards the floor of Endeavour Crater, but they have also indicated that they are presently unsure what route they are going to take.
[O]n Sol 4934 (Dec. 10, 2017), after a sol of recharging, Opportunity drove about 28 feet (8.4 meters), approximately east, down the valley to a modest energy lily pad. Beyond this point the channel features of the valley split into a left and right fork. The team will collect more imagery from this location to inform the decision as to which fork in the road the rover should take.
You can see the two forks to the east in the traverse map above, as indicated by the red dotted lines.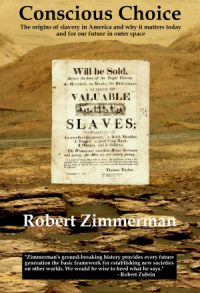 Now available in hardback and paperback as well as ebook!
From the press release: In this ground-breaking new history of early America, historian Robert Zimmerman not only exposes the lie behind The New York Times 1619 Project that falsely claims slavery is central to the history of the United States, he also provides profound lessons about the nature of human societies, lessons important for Americans today as well as for all future settlers on Mars and elsewhere in space.
Conscious Choice: The origins of slavery in America and why it matters today and for our future in outer space
, is a riveting page-turning story that documents how slavery slowly became pervasive in the southern British colonies of North America, colonies founded by a people and culture that not only did not allow slavery but in every way were hostile to the practice.
Conscious Choice
does more however. In telling the tragic history of the Virginia colony and the rise of slavery there, Zimmerman lays out the proper path for creating healthy societies in places like the Moon and Mars.
"Zimmerman's ground-breaking history provides every future generation the basic framework for establishing new societies on other worlds. We would be wise to heed what he says." —Robert Zubrin, founder of founder of the Mars Society.
All editions are available at Amazon, Barnes & Noble, and all book vendors, with the ebook priced at $5.99 before discount. The ebook can also be purchased direct from my ebook publisher, ebookit, in which case you don't support the big tech companies and I get a bigger cut much sooner.
Autographed printed copies are also available at discount directly from me (hardback $24.95; paperback $14.95; Shipping cost for either: $5.00). Just email me at zimmerman @ nasw dot org.