Week Three: Ninth Anniversary Fund-Raising Drive for Behind the Black
It is now the third week in my annual anniversary fund-raising campaign for Behind the Black.
Please consider donating. I am trying to avoid advertising on this website, but will be forced to add it if I do not get enough support from my readers. You can give a one-time contribution, from $5 to $100, or a regular subscription for as little as $2 per month. Your support will be deeply appreciated, and will allow me to continue to report on science and culture freely.
Regular readers can support Behind The Black with a contribution via paypal:
If Paypal doesn't work for you, you can support Behind The Black directly by sending your donation by check, payable to Robert Zimmerman, to

Behind The Black
c/o Robert Zimmerman
P.O.Box 1262
Cortaro, AZ 85652

Summary: The scientists and engineers of both Curiosity and Opportunity have route decisions to make.
Curiosity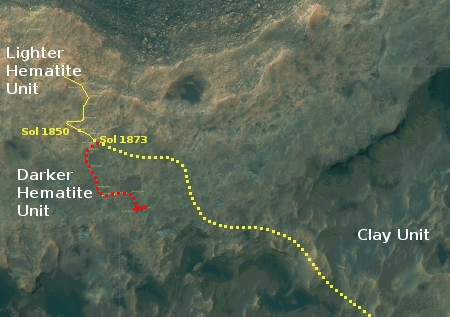 For the overall context of Curiosity's travels, see Pinpointing Curiosity's location in Gale Crater.
Since my November 16 update, Curiosity's travels crossing Vera Rubin Ridge, a geological bedding plain dubbed the Hematite Unit, has continued apace. They however have not been following the route that had been planned beforehand, as shown by the yellow dotted line on the right. Instead, they have headed south, along the red dotted line. For the past week or so they have been doing a variety of research tasks in the same area, analyzing samples taken months before, studying sand deposits, and taking many images of some interesting rock layers.
I also suspect that the lack of movement in the past week is partly because they need to make some route-finding decisions. The planned yellow route shown above appears to be somewhat rough in the full resolution orbital image. While I suspect they will still head in that direction, I also think they are doing some very careful analysis of this route and beyond, to make sure they will not end up in a cul de sac where the rover will not be able to continue its climb of Mount Sharp.
Opportunity
For the context of Opportunity's recent travels along the rim of Endeavour Crater, see my May 15, 2017 rover update.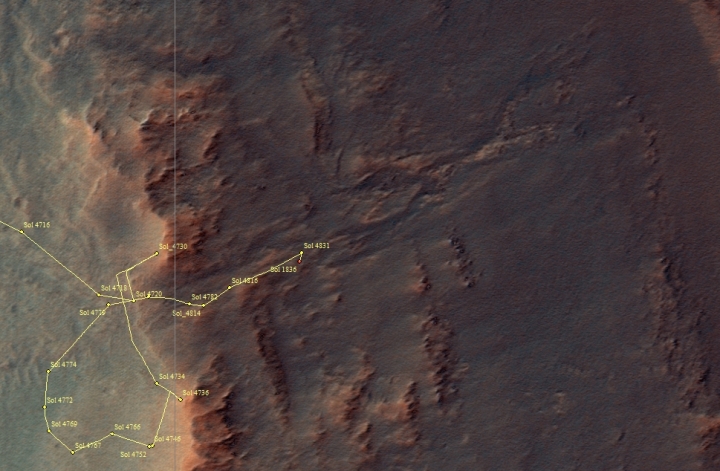 Because it is the winter season at Opportunity's location and thus the rover has limited sunlight available to recharge its batteries, little has changed in the past month, except for one cool tidbit. The rover passed 28 miles of total travel during one of its very short hops in late November. Twenty-eight miles, from a rover that was only supposed to last 90 days and at most travel a few hundred yards!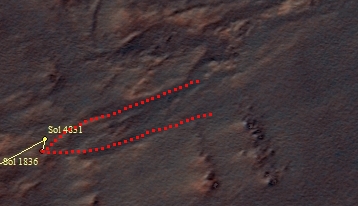 The science team has indicated that Opportunity will continue down Perserverance Valley towards the floor of Endeavour Crater, but they have also indicated that they are presently unsure what route they are going to take.
[O]n Sol 4934 (Dec. 10, 2017), after a sol of recharging, Opportunity drove about 28 feet (8.4 meters), approximately east, down the valley to a modest energy lily pad. Beyond this point the channel features of the valley split into a left and right fork. The team will collect more imagery from this location to inform the decision as to which fork in the road the rover should take.
You can see the two forks to the east in the traverse map above, as indicated by the red dotted lines.