Week Three: Ninth Anniversary Fund-Raising Drive for Behind the Black
It is now the third week in my annual anniversary fund-raising campaign for Behind the Black.
Please consider donating. I am trying to avoid advertising on this website, but will be forced to add it if I do not get enough support from my readers. You can give a one-time contribution, from $5 to $100, or a regular subscription for as little as $2 per month. Your support will be deeply appreciated, and will allow me to continue to report on science and culture freely.
Regular readers can support Behind The Black with a contribution via paypal:
If Paypal doesn't work for you, you can support Behind The Black directly by sending your donation by check, payable to Robert Zimmerman, to

Behind The Black
c/o Robert Zimmerman
P.O.Box 1262
Cortaro, AZ 85652

Summary: Curiosity climbs back up onto Vera Rubin Ridge to attempt its second drillhole since drill recovery, this time at a spot on the ridge with the highest orbital signature for hematite. Opportunity remains silent, shut down due to the global dust storm.
For a list of past updates beginning in July 2016, see my February 8, 2018 update.
Curiosity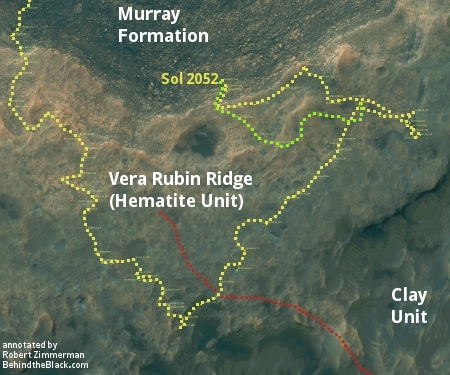 For the overall context of Curiosity's travels, see Pinpointing Curiosity's location in Gale Crater.
In the almost two months since my May 23, 2018 update, a lot has happened, much of which I covered in daily updates. Curiosity found a good drill spot to once again test the new drilling techniques designed by engineers to bypass its stuck drill feed mechanism, and was successful in getting its first drill sample in about a year and a half. The rover then returned uphill, returning to a spot on Vera Rubin Ridge that, according to satellite data, has the highest signature for hematite on the entire ridge. The light green dotted line in the traverse map to the right shows the route Curiosity has taken back up onto Vera Rubin Ridge. The red dotted line shows the original planned route off the ridge and up Mount Sharp.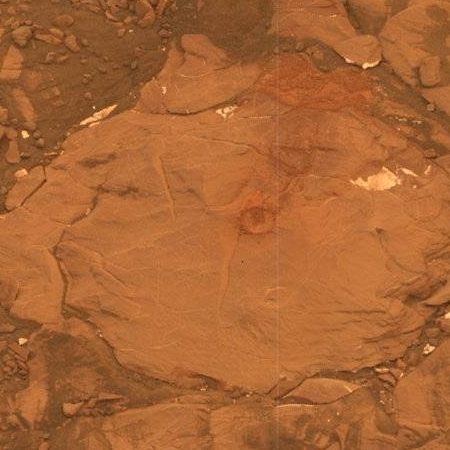 Unfortunately, their first attempt to drill at this location this week was a failure.
Unfortunately, we found out this morning that the "Voyageurs" drill target was a much harder rock than expected. While our drill plan executed perfectly, our bit stopped short of the full depth we need for sampling. The engineers are still evaluating the data to better understand the target.
The image on the right of this failed drillhole has been cropped from the original to post here.
This is the third attempt they have made to drill into Vera Rubin Ridge using this new drilling technique. The first two attempts also failed, the ground simply being too hard.
Because the feed mechanism that pushes the drill downward is jammed, the new technique uses the robot arm to push downward. It could be that, for many reasons (including protecting the arm itself) the arm cannot push down hard enough. If so, they will either have to refine the technique, or future drilling efforts will be limited to softer rock.
Meanwhile, the global dust storm continues, though there are signs that it is clearing. The image on the right, reduced in resolution to post here, was taken on July 1, 2018 (sol 2098). It shows Curiosity's view just before it topped the ridgeline back onto the top of Vera Rubin Ridge. Though visibility has improved considerably from the height of the dust storm a week earlier, the distant rim of Gale Crater is badly obscured by dust.
Because Curiosity does not depend on solar power for its energy needs (using nuclear power), it has not been hampered by the dust storm. The situation for Opportunity however is far different.
Opportunity
For the context of Opportunity's recent travels along the rim of Endeavour Crater, see my May 15, 2017 rover update.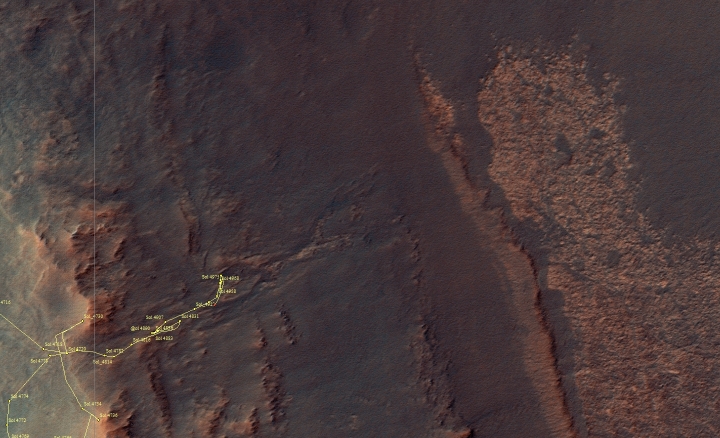 The traverse map above, showing Opportunity's location halfway down the rim of Endeavour Crater inside Perserverance Valley, was released on February 15, 2018. Since then, Opportunity has moved almost not at all, first because it was winter and the rover was not getting a lot of sunlight, and second because of the arrival of the global dust storm.
As noted in earlier reports, Opportunity was forced to shut down to conserve energy as the global dust intensified. Since June 13, 2018 there has been no contact with the rover, though the science team checks daily to see if it has phoned home, according to its programming. If that programming works, and the rover manages to survive on its tiny reserves of power, they will eventually make contact, and be able to get the rover operational again.
If however the rover's reserve power runs out during this prolonged period, now more than a month, when it cannot recharge its batteries, than Opportunity's long journey on Mars will have finally ended. The rover was planned to operate only 90 days. Instead, it lasted more than a fourteen years, and traveled more than 28 miles.