A quick holiday fund-raising campaign for Behind the Black!
Scroll down to read this post.
In past years I have managed to avoid asking for donations for Behind the Black during the holiday season. My finances however now compel me to do a short one-week fund-raiser, from November 11 to November 17.
I do not use Twitter for ethical reasons, which I have been told cuts down on traffic to the website. So be it. Furthermore, Facebook has clearly acted in the past two years to limit traffic to Behind the Black, almost certainly for political reasons. So be this as well. Finally, I do not post outside ads, as I have found them annoying to my readers and not that profitable to me.
Therefore, I need to ask for the direct support from my readers. If you like what I do here, please consider contributing, either by making a one-time donation or a monthly subscription, as indicated in the tip jar below.
Regular readers can support Behind The Black with a contribution via paypal:
If Paypal doesn't work for you, you can support Behind The Black directly by sending your donation by check, payable to Robert Zimmerman, to

Behind The Black
c/o Robert Zimmerman
P.O.Box 1262
Cortaro, AZ 85652

Or you could consider purchasing one of my books, as indicated in the boxes scattered throughout the website. My histories of space exploration are award-winning and are aimed for the general public. All are page-turners, and all not only tell the story of the beginning of the human exploration of space, they also help explain why we are where we are today. And I also have a science fiction book available,
Pioneer
, which tells its own exciting story while trying to predict what life in space will be like two hundred years in the future.
Note that for this week only I am also having a sale on the purchase of the last 20 hardbacks of
Leaving Earth
. (Click on the link for more information about the book, which was endorsed by Arthur C. Clarke himself!) This award-winning out-of-print book is now only available as an ebook, but I still have a handful of hardbacks available, normally for sale for $70 plus $5 shipping. For this week only you can buy them, personally autographed by me, for $50 plus $5 shipping! Just send me a check, payable to Robert Zimmerman, to the address above, with a note saying that the money is for the
Leaving Earth
hardback.
Please consider donating. Your help will make it possible for me to continue to be an independent reporter in the field of space, science, technology, and culture.
Summary: Curiosity continues up hill. Opportunity has wheel problems.
Curiosity
For the overall context of Curiosity's travels, see Pinpointing Curiosity's location in Gale Crater.
The march up Mt Sharp continues. Since my last update on May 15, Curiosity has continued working its way up towards what the science team has named Vera Rubin Ridge, the beginning of a lighter, yellowish layer of rock, dubbed the Hematite Unit, that sits higher up the mountain's slope. They have been traveling on the Murray Formation now for more than a year, since March, 2016, so entering this new layer of geology is eagerly anticipated by the science team. (This October 3, 2016 press release. gives an overall picture of the geology Curiosity is traversing.)
Reader Phil Veerkamp sent me a beautiful panorama he stitched together from recent Curiosity images of Vera Rubin Ridge, directly to the south of the rover and higher up hill. Below is a reduced resolution version. Be sure you click on it to explore the full resolution image. This is a new type of terrain, significantly different than anything Curiosity has seen up to now. It also appears that the rover will see far less dust, and might be traveling mostly over solid boulders. Below I have cropped out a very small section of the ridge line near the center of the full image, just to illustrate this.




Below is a cropped annotated section of the most recent traverse map showing Curiosity's location as well as the view shown in the above panorama. I have also indicated with the dotted yellow line where they are heading to get up on the ridge. They need to circle around the sand dune and then work their way up the slopes to the east. Travel should get significantly more interesting in the coming weeks.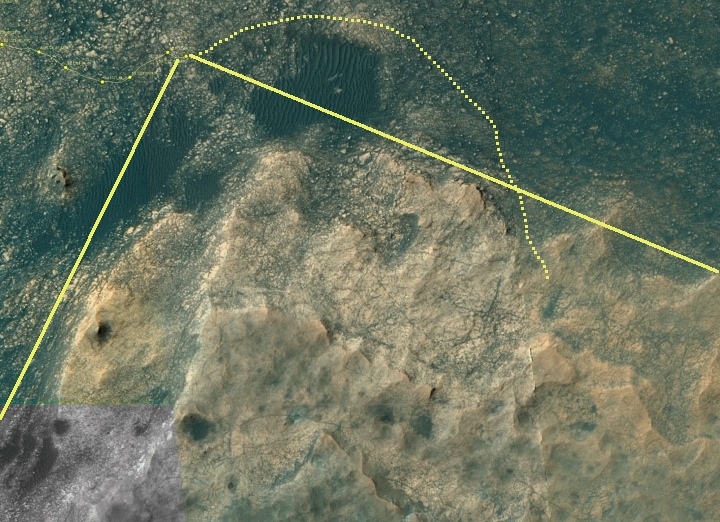 Opportunity
For the overall context of Opportunity's travels at Endeavour Crater, see Opportunity's future travels on Mars.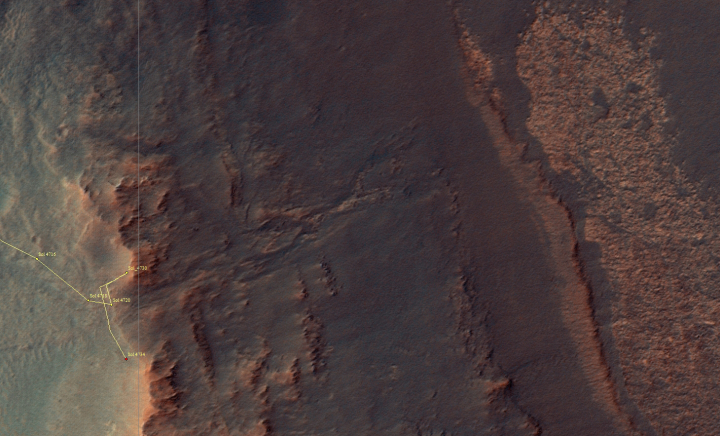 Since my my May 15th update, the Opportunity science team has been acting like an expectant father. They had reached the head of Perseverance Valley in mid-May, but since then they have been gingerly pacing back and forth, studying the valley from the top and the side without entering it. The traverse map above shows their travels for the first two weeks after their arrival, but it is also a month old. While they haven't yet posted an updated traverse map, my daily review of the images sent back each day suggests that, through June 4, they continued their pacing at the head of the valley, sometimes easing downward a bit, but never entering the valley itself.
They initially had two reasons for not entering the valley immediately. First there is fear, fear that once they go in they will not be able to get out. The gully has a steep slope and they are unsure of the stability of its surface material. As they have paced they have been studying its make-up from a distance in order to plan a safe route down. Second there is science. Once they enter the gully, they will have disturbed its flow patterns. Before they do that they want to document as much as possible those patterns, which can tell them much about what caused the flow. While liquid water is considered the most likely candidate, there is no guarantee that is the case. Wind is also a possible cause.
Today, they issued this color image of the gully, one of many taken during the past seven weeks. Below is a reduced resolution version. If you look close you can see the faint drainage swales going downhill from the left to the right in the center of the image.

Since June 4th, however, they have had a third and more serious reason for not entering the valley, and in fact have not moved the rover much at all, because of a new problem with the left-front wheel.
The rover experienced a left-front wheel steering actuator stall on Sol 4750 (June 4, 2017), leaving the wheel toed out by 33 degrees. Our initial attempts to straighten the wheel failed to yield any results and were suggestive of a mechanical cause for the stalls (in the steering actuator). Fortunately, however a repeat of the diagnostics on Sol 4763 (June 17, 2017), added a twist that may have made a difference. In addition to attempting to actuate the steering at different voltages in a straightening (toe-in) direction, the team also commanded very small (half degree) actuations in the toe-out direction in between the straightening attempts. While these also stalled, the very last straightening attempt appeared to break free from whatever was impeding it and steered the wheel to straight.

This very good result was tempered by the fact that we still do not know for certain what the cause of the stalls was and whether the problem could reoccur.

Therefore, Opportunity will be exercising a precautionary partial moratorium on usage of the steering actuators for the foreseeable future. Specifically, this directs no front usage of steering actuators and only rear usage as circumstances might demand. Instead, tank turning and steering will be used wherever possible. The first nominal drive under these new restrictions was executed on Sol 4766 (June 20, 2017).
It remains to be seen whether they will risk the rover and go down into the gully. I suspect they will do some further pacing on the rim, testing their legs you might say, before making any decision.