Cool image time! The image on the right, cropped to post here, comes from a Mars Reconnaissance Orbiter image that shows a massive relatively recent and dark slope streak that emanates out from a single point on the surface. (Note that the release at this link rotates the image so that north points down. I have rotated back so that north points up.)
Streaks form on slopes when dust cascades downhill. The dark streak is an area of less dust compared to the brighter and reddish surroundings. What triggers these avalanches is not known, but might be related to sudden warming of the surface.

These streaks are often diverted by the terrain they flow down. This one has split into many smaller streaks where it encountered minor obstacles. These streaks fade away over decades as more dust slowly settles out of the Martian sky.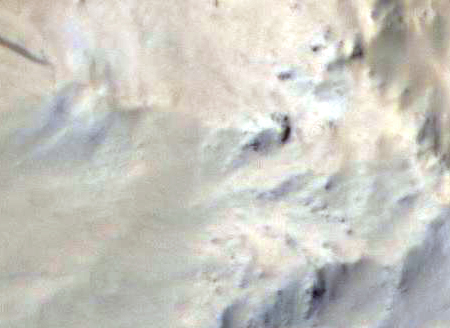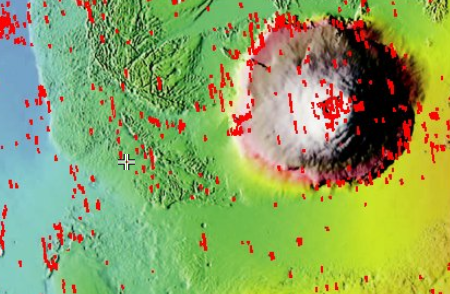 The MRO release focuses on the fingerlike breakup of the flow as it descends into sand-dune filled plain. What is more interesting to me is the terrain where this flow originated. A close-up of that area from the full image, shown on the right, reveals a feature that could be a wash running in line with the flow's origin, and leading uphill to a dark feature that is a likely a cliff face. (The light in this image is coming from the southeast.)
This location, at 15.2N latitude, 214.9E longitude and shown by the small cross in the image on the right and captured from this page, is west of Olympus Mons, the largest volcano on Mars. This suggests to me that the originating feature might be an outlet from a lava tube, from which water suddenly seeped out to produce this massive slope streak. A look at the mesa from which this flow came, cropped from the full image and posted below the fold, shows numerous similar slope streaks of varying ages flowing out of this mesa, with some very faint because they occurred farther in the past. Some are even within the bowl at the top of the mesa.
Whether these come from lava tubes is definitely unclear, and I suspect I will be told by geologists not likely. The seeps however do suggest strongly that this mesa might be a very good location for future colonists to look for underground water ice. Since clouds form on the western slopes of Arsia Mons, the southernmost of the three giant volcanoes to the east of Olympus Mons, and that past glacial activity has been documented there, I wonder if some of these same conditions might also exist here, on the nearby terrain west of Olympus Mons.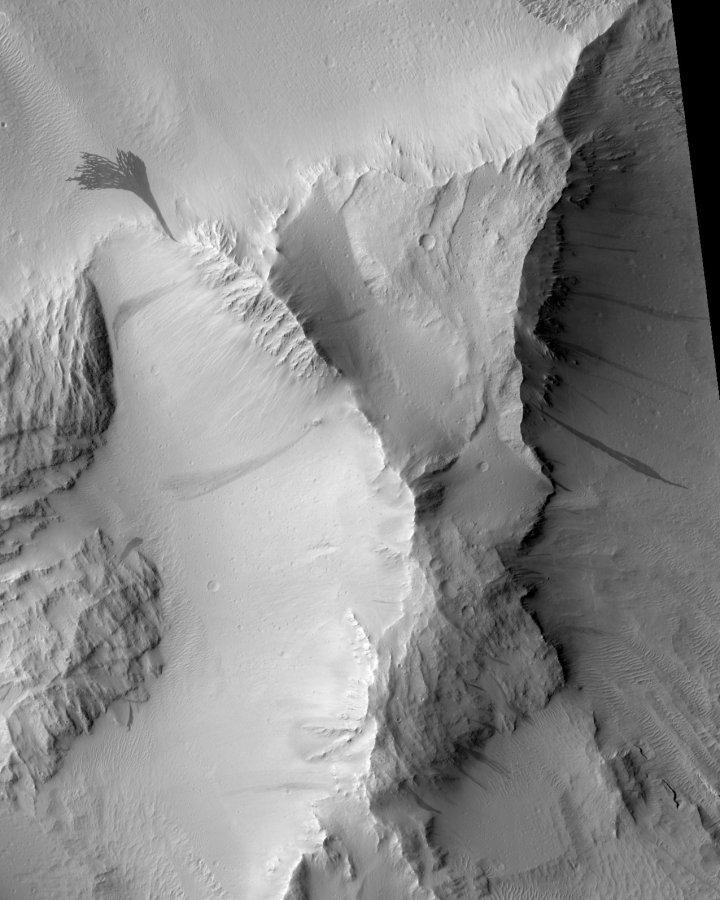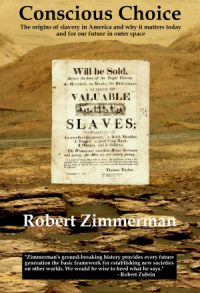 Now available in hardback and paperback as well as ebook!
From the press release: In this ground-breaking new history of early America, historian Robert Zimmerman not only exposes the lie behind The New York Times 1619 Project that falsely claims slavery is central to the history of the United States, he also provides profound lessons about the nature of human societies, lessons important for Americans today as well as for all future settlers on Mars and elsewhere in space.
Conscious Choice: The origins of slavery in America and why it matters today and for our future in outer space
, is a riveting page-turning story that documents how slavery slowly became pervasive in the southern British colonies of North America, colonies founded by a people and culture that not only did not allow slavery but in every way were hostile to the practice.
Conscious Choice
does more however. In telling the tragic history of the Virginia colony and the rise of slavery there, Zimmerman lays out the proper path for creating healthy societies in places like the Moon and Mars.
"Zimmerman's ground-breaking history provides every future generation the basic framework for establishing new societies on other worlds. We would be wise to heed what he says." —Robert Zubrin, founder of founder of the Mars Society.
All editions are available at Amazon, Barnes & Noble, and all book vendors, with the ebook priced at $5.99 before discount. The ebook can also be purchased direct from my ebook publisher, ebookit, in which case you don't support the big tech companies and I get a bigger cut much sooner.
Autographed printed copies are also available at discount directly from me (hardback $24.95; paperback $14.95; Shipping cost for either: $5.00). Just email me at zimmerman @ nasw dot org.