My Behind the Black tenth anniversary retrospective continues: Tonight's repost is an essay I wrote on July 15, 2013 shortly after one of Diane and I's annual hiking trips to the bottom of the Grand Canyon.
——————————
Doing the Grand Canyon right

The one thing about the Grand Canyon that attracts hikers is its intimidating nature. People feel challenged by its large size and depth, and want to prove to themselves that they can do it.
The irony of this to me is that it is that intimidating nature that generally causes most people the most problems. People worry about the climb out. They worry about the heat. They worry about the lack of water. And they worry about vastness around them.
All of these things — the climb, the heat, the lack of water, and the vastness — must be dealt with. Each has caused the death of many visitors. Each could kill you if you are not prepared. In fact, one or all of these factors are probably the primary causes behind all of the approximately 300 rescues that occur each year at the Grand Canyon.
Yet, none of these factors is actually the biggest obstacle for most people trying to climb in and out of the Canyon. Instead, it is the worry about these things that causes people the most difficulties.

Consider the heat. Whenever the temperature rises above 100 degrees people start to talk about it like it is some deadly thing that they can't tolerate and must avoid. They worry about it so much that it begins to affect them physically. They feel it. They dwell on it continuously. And it ends up sapping them of energy and endurance.
Yet, Diane and I have been hiking in 100+ degree circumstances for years. We agree that it is not for everyone. But what we have found is that if the temperature goes up, all you have to do is drink more water, go a bit slower, and rest in the shade whenever possible. If you do these things, the heat doesn't really matter. It won't stop you. As a result, we don't think about it too much. We don't let it intimidate us.
The same applies to the climb out of the Canyon. From Bright Angel campground (at 2480 feet) the climb up on the Bright Angel trail to the south rim (at 6860 feet) is approximately 4420 feet. That's climbing up about 84% of a mile, spread over a distance of 9.5 miles. Most people look at these numbers and worry so much about them that they become intimidated by them, to the point that many decide never to even try the hike. Of those who do, many can't get these facts out of their mind every step up the trail. I know, because I felt that way the first few times I hiked out of the canyon. I kept thinking, "We've been hiking for an hour and we've only gained about 500 feet. This is never going to end!"
The result of these worries is that people begin to hurry their hike. They want to get to the rim and get it over with as fast as possible. They walk faster than they should. They stop to rest less than they should. And those who don't carry hydration bladders and have to stop and remove their packs to get at their water drink less in order to waste less time.
All wrong!
The key to enjoying the Grand Canyon (as well as most hiking) is to take your time. You should never rush. In fact, one of the best pieces of advice I have ever gotten was from a ranger at Phantom Ranch. She explained that it is very easy to climb out of the Canyon. All you do is never walk so fast that you can't hold a conversation. If you start to breath too heavily and can't talk, you simply slow down, take smaller steps, and regain your breath. You don't stop, however. You simply take it slower.
For example, I hike very slowly up hill. If I go too fast my heart begins to pound and I can't get my breath and will quickly have to stop. However, if I walk steadily but very slowly I never have to stop, and can keep going for as long as I want.
It is therefore not unusual for me to be passed repeatedly by others. They zip past me but soon have to stop to rest. I meanwhile just keep on slogging away at a slow but steady pace. Soon I catch up and pass them. They get up and zip past me again, but this time don't quite get as far ahead before they have to stop to rest. After awhile I slog past again. Up they go, zipping by, but now passing me by even less distance before stopping to rest. This repeats several times, until eventually, they can't even catch up to me when they need to rest.
When climbing out of the canyon last week this happened again and again. I'd sooner or later suggest as I walked by that if they'd slow down they'd make better time, but almost never would anyone take this advice. In the end, they would all get left in the dust.
This rule applies just as much to issues of water and rest. It is very important to rest periodically, loosening or even removing the boots and raising the feet so that they can cool down. A five to ten minute rest like this every two hours will allow you to hike farther and faster with less exhaustion.
In other words, you will actually make better time by simply slowing down. And you will have more time to enjoy the view!
The desire to hurry I think is also why most people don't spend any extra time at the bottom of the canyon. They get there, but are worried about the hike out. Thus, most people arrive one day and leave the next.
Diane and I however don't want to simply leave. It takes a lot of effort to get into the Grand Canyon. We want to see some of it while we are there. In fact, I have now been to the bottom of the Grand Canyon five times. Of these the best trips were the ones in which I spent some time in the canyon, doing day hikes to some of the more remote places within the canyon.
On our trip last week, for example, we finally did a day hike I have been wanting to do for more than twenty years. From Phantom Ranch we hiked up the South Kaibab trail out of the 1,000 foot deep Inner Gorge, where flows the Colorado River, to the Tonto Plateau, which is that large flat area on each side of the Inner Gorge. From here we took the Tonto trail across the Tonto Plateau, heading west to the Bright Angel trail and the Indian Gardens campground. From there we went back down into the Inner Gorge on the Bright Angel trail. Overall, the hike was about 13 miles, with about a 1000 feet of elevation gain. The picture below looks down at this area of the Tonto Plateau, with the Tonto trail indicated by the thin yellow line.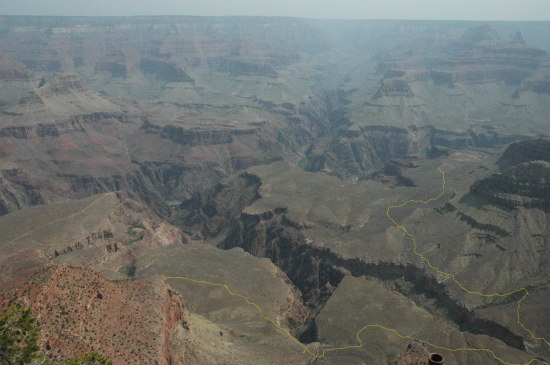 This is not actually a very difficult hike. Back east it is not unusual for hikes to be a dozen miles long with that much or more elevation change. And in the west, most hikes usually have at least that much elevation gain, if not two to three times more.
Yet, despite the hundreds of hikers who arrive at the Colorado River each day during the busy season, almost no one ever does this. They are intimidated. Nor do National Park Service rangers help much. I once asked a ranger for some details about hiking on the Tonto trail, and her answer was a blunt, "Don't do that. You will risk death if you hike on the Tonto."
What a shame. The picture at the top of this story is of Diane standing on the Tonto Plateau during this hike. From this trail we got a real feeling of the size and majesty of the Grand Canyon. From this trail we were in the canyon, not above it looking down or in the Inner Gorge at the Colorado River, where you can't see very much around you. Here, we could see everything, and it told us how big and grand the Grand Canyon truly is.
The bottom line for everything I have been saying is that you should go out and do these things. Don't take no for an answer. Find out what you need to know, do it wisely, but do it. The reward will be immeasurable.
Readers!
I must unfortunately ask you for your financial support because I do not depend on ads and rely entirely on the generosity of readers to keep Behind the Black running. You can either make a one time donation for whatever amount you wish, or you sign up for a monthly subscription ranging from $2 to $15 through Paypal or $3 to $50 through Patreon.
Your support will allow me to continue covering science and culture as I have for the past twenty years, independent and free from any outside influence.
Your support is even more essential to me because I not only keep this site free from advertisements, I do not use the corrupt social media companies like Google, Twitter, and Facebook to promote my work. I depend wholly on the direct support of my readers.
You can provide that support to Behind The Black with a contribution via Patreon or PayPal. To use Patreon, go to my website there and pick one of five monthly subscription amounts, or by making a one-time donation. For PayPal click one of the following buttons:

If Patreon or Paypal don't work for you, you can support Behind The Black directly by sending your donation by check, payable to Robert Zimmerman, to


Behind The Black
c/o Robert Zimmerman
P.O.Box 1262
Cortaro, AZ 85652


Or you can donate by using Zelle through your bank. You will need to give my name and email address (found at the bottom of the "About" page). The best part of this electronic option is that no fees will be deducted! What you donate will be what I receive.