The tenth anniversary retrospective of Behind the Black continues: My contempt for Microsoft and its terrible Windows operating system is quite well known. I successfully switched to Linux back in 2006 and have never regretted it.
After seeing a number of my posts noting the advantages of Linux (or anything) over Windows, one of my readers, James Stephens, offered to write a series for Behind the Black describing step-by-step the process by which one gets and installs Linux on either a desktop or laptop computer. Below are the links to this series. I have since used it myself as a guide to convert two used Windows 7 notebooks (purchased for about $35 each) to my favorite flavor of Linux, both of which I use regularly as my travel computers.
I wish more people would do the same. I am sure almost everyone has an old computer they don't use anymore. It will work like new with Linux. Dig it out, follow James' instructions, and free yourself from Windows. I guarantee you will not be disappointed.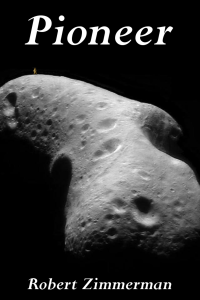 From the press release: From the moment he is handed a possibility of making the first alien contact, Saunders Maxwell decides he will do it, even if doing so takes him through hell and back.
Unfortunately, that is exactly where that journey takes him. The vision that Zimmerman paints of vibrant human colonies on the Moon, Mars, the asteroids, and beyond, indomitably fighting the harsh lifeless environment of space to build new societies, captures perfectly the emerging space race we see today. He also captures in Pioneer the heart of the human spirit, willing to push forward no matter the odds, no matter the cost. It is that spirit that will make the exploration of the heavens possible, forever, into the never-ending future. Available everywhere for $3.99 (before discount) at
amazon
,
Barnes & Noble
, all ebook vendors, or direct from the ebook publisher,
ebookit
. And if you buy it from
ebookit
you don't support the big tech companies and I get a bigger cut much sooner.