The tenth anniversary retrospective of Behind the Black continues: The science described in this essay, posted originally on April 11, 2013 remains even today entirely accurate. Worse, the story illustrates the exact same kind of obtuse refusal to deal with reality that has put us today in the midst of a panic over a relatively minor seasonal virus.
Unfortunately, the links to the first two articles that I reference no longer work.
—————————–
The Fantasy of Extreme Weather
This week there were three stories describing new research proving that global warming is going to cause an increase in the number and violence of extreme weather events. Each was published in one of the world's three most important scientific journals.
Sounds gloomy, doesn't it? Not only will extreme heatwaves, cold waves, and droughts tear apart the very fabric of society, you will not be able to drink your soda in peace on your next airplane ride!
However, one little detail, buried in one of these stories as a single sentence, literally makes hogwash out of everything else said in these three articles.

But before I tell you that little detail, I want to discuss each story itself, for even without that detail these stories have feet of clay.
The first proposes that atmospheric turbulence will increase drastically once the amount of carbon dioxide has risen to be twice what it was prior to the beginning of the industrial revolution. At the present rate of increase, this moment is expected to occur in about 2050.
During winter months, when clear-air turbulence is at its worst in that area, 16 of the 21 often-used ways in which scientists measure turbulence suggest that the average intensity of the plane-rattling phenomenon … will be between 10% and 40% stronger when CO2 concentrations are double their preindustrial value. … Accordingly, the frequency of moderate-or-greater turbulence—intensities at which passengers will experience accelerations of 0.5 g or more, which are strong enough to toss items about the cabin—will rise by between 40% and 170%.
Oh no! We're all gonna die!
Not really. This report is not based on actual data, but on a computer simulations using the same computer models that have also been predicting for the past twenty years that the increase in the global temperature will rise in lockstep with the increase in carbon dioxide in the atmosphere. Unfortunately, all those computer models have turned out to be wrong. While the amount of CO2 has continued to go up, the global temperature stopped rising around 1998.
Thus, worrying about this predicted increased turbulence, based merely on shaky computer simulations, is hardly something to be taken very seriously. As the computer programmers like to say, "Garbage in, garbage out."
The second story posits that human-caused global warming has led to wider swings of extreme temperatures in China.
The researchers estimate that human emissions likely increased the warmest annual extreme temperatures—the daily maximum and daily minimum for the hottest day and night of the year—by 1.7 degrees Fahrenheit (0.92 degrees Celsius) and 3°F (1.7°C), respectively. They also found that human emissions likely raised the coolest annual extreme temperatures—the daily maximum and daily minimum for the coldest day and night of the year—by 5.1°F (2.83°C) and 8.0°F (4.44°C), respectively.
Oh no! We're all gonna die!
The problem here is that once again, these scientists are using those same climate computer models that have failed to predict the lack of temperature rise for the climate during the past two decades. They claim that the temperature swings in China would have been less without CO2 emissions, but how do they know that?
They don't. The computer models they are using to make these temperature estimates are mere guesses, guesses that have so far been proven wrong. You might as well throw a pair of dice.
Finally, the third story, from Nature, claims that the advent of extreme weather events caused by global warming will do great harm to plant life, which in turn will act to accelerate the rate of global warming.
Land plants create a huge carbon 'sink' as they suck CO2 out of the air to build leaves, wood and roots. The sink varies from year to year, but on average it soaks up one-quarter of the annual CO2 emissions from the burning of fossil fuels. And events such as droughts, wildfires and storms are likely to "cause a pronounced decline" in the sink, says Markus Reichstein, a carbon-cycle scientist at the Max Planck Institute of Biogeochemistry in Jena, Germany, who coordinates CARBO-Extreme.

Satellite observations and data from CO2 measurement towers suggest that extreme events reduce plant productivity by an average of 4% in southern Europe and 1% in northern Europe, says Reichstein. That lowers annual carbon uptake by 150 million tonnes — equivalent to more than 15% of Europe's annual man-made CO2 emissions. The most extreme events can turn forests and grasslands from carbon sinks to sources.
Oh no! We're all gonna die!
Once again, there is no reason to panic. Like the previous two articles, this story is based computer simulations. It also bases its conclusions not on actual climate data but on field simulations that show this stunning fact: Plants suffer from extreme weather events such as heatwaves, cold waves, and drought! Well, blow me down! Who woulda thought!
Now for the punchline. Buried in the third article about the coming tidal wave of extreme weather events — caused by evil humans driving their cars and heating their homes and running their computers — is this single sentence that makes everything in it an utter joke:
So far, scientists have detected no increase in extreme weather events.
What! You mean the data itself, not the computer models, shows no trends, no increase in big storms or prolonged droughts or huge hurricanes even as CO2 has been rising? You mean that everything else that was written in this story as well as the other two stories is a fantasy?
Yes. While many global warming scientists are certain they know what's going to happen, none of the data is as yet proving them right. They simply don't know.
These same global warming scientists have spent the past two decades telling us that we were all gonna die from increasing temperatures caused by the increase in CO2. Now that this prediction has proved false, they apparently are shifting gears. Instead, it is extreme events — big storms, long droughts, intense heatwaves — that are going to kill us.
But not only have they no evidence that the increase in CO2 will cause these extreme events, there is no evidence that more of these extreme events are even occurring.
In other words, these stories are mere political advocacy. They have nothing to do with science, but with propaganda, based on fantasy with the goal of trying to convince everyone that we are all gonna die if we don't do exactly what these scientists say.
Well, I for one am not ready to obey their commands. For me to agree, they will have to finally produce some real data, something I have found to be too often lacking since I began studying the climate field about ten years ago.
Note: I have made a correction in the fourth paragraph, beginning with the words "The first proposes…" I had misstated the baseline for the calculation in the rise of CO2. It is now correct, that is, the percentage at the beginning of the industrial revolution, not the present percentage.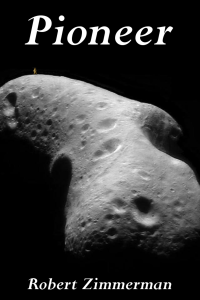 From the press release: From the moment he is handed a possibility of making the first alien contact, Saunders Maxwell decides he will do it, even if doing so takes him through hell and back.
Unfortunately, that is exactly where that journey takes him. The vision that Zimmerman paints of vibrant human colonies on the Moon, Mars, the asteroids, and beyond, indomitably fighting the harsh lifeless environment of space to build new societies, captures perfectly the emerging space race we see today. He also captures in Pioneer the heart of the human spirit, willing to push forward no matter the odds, no matter the cost. It is that spirit that will make the exploration of the heavens possible, forever, into the never-ending future. Available everywhere for $3.99 (before discount) at
amazon
,
Barnes & Noble
, all ebook vendors, or direct from the ebook publisher,
ebookit
. And if you buy it from
ebookit
you don't support the big tech companies and I get a bigger cut much sooner.