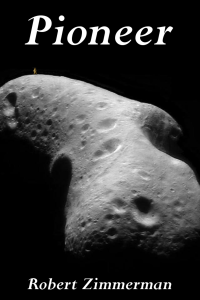 From the press release: From the moment he is handed a possibility of making the first alien contact, Saunders Maxwell decides he will do it, even if doing so takes him through hell and back.
Unfortunately, that is exactly where that journey takes him.
The vision that Zimmerman paints of vibrant human colonies on the Moon, Mars, the asteroids, and beyond, indomitably fighting the harsh lifeless environment of space to build new societies, captures perfectly the emerging space race we see today.
He also captures in Pioneer the heart of the human spirit, willing to push forward no matter the odds, no matter the cost. It is that spirit that will make the exploration of the heavens possible, forever, into the never-ending future.
Available everywhere for $3.99 (before discount) at
amazon
,
Barnes & Noble
, all ebook vendors, or direct from the ebook publisher,
ebookit
.
On January 31, 2020 the Mars Society issued a press release touting its newest mock Mars habitat mission to its Mars research station in the high desert of Utah.
During this mission, one crew is operating at MDRS, while a second crew works out of the MAU habitat, which consists of a series of interlocking geometric tents that house crew quarters and a research area. The crew is made up of medical professionals who are testing how two teams on the same planet would collaborate on emergency medical procedures.

Located in southern Utah, MDRS serves as a home base for crews participating in Mars surface simulation testing and training. Depending on the individual crew's specialization, its scientific focus ranges from geology to engineering, communications to human factors, robotics to microbiology. A wide variety of scientific and engineering research and educational outreach are typically conducted by crews at MDRS.

The newly-arrived MAU participants (designated as Crew 220) have set up their temporary second habitat close to MDRS, with part of the crew staying at the MDRS facility, while an additional crew is housed in the MAU-developed habitat out of sight of the main station. Halfway through the mission, the crews will rotate stations, thereby allowing each team an opportunity to experience both operational habitats.
While this simulated mission will certainly learn a few things about long term isolation by small crews, it does not appear to me to be a very real simulation of living on Mars. While the MDRS facility is quite sophisticated, it isn't an entirely closed system. Moreover, the environment here, even in winter, does not come close to simulating the Martian environment. It is too warm and it has is a full atmosphere. And it certainly is not isolated. If someone gets seriously ill, or the facility experiences an irreversible failure, immediate evacuation is always an option.
Still, the Mars Society has been using this facility for simulating Mars missions since 2001, and has completed eighteen field seasons involving more than 1,200 participants. I am sure they have accumulated a great deal of useful data that can be applied on future Mars missions.
However, the U.S. has been running a much more realistic Mars simulation habitat since just after the end of World War II, and it appears that few realize it.

I discovered this fact myself upon reading a superb book, Icebound: A doctor's incredible battle for survival at the South Pole, written by Dr. Jerri Nielsen with Maryanne Vollers (Scribner, 2001). In this book Nielson tells her experience of wintering over the 1998-1999 season as the doctor at the South Pole U.S. station, and while there discovering that she has a fast growing breast tumor.
Well written and a page turner, Icebound describes the tension and difficulty of treating her cancer long distance, the risky improvised airdrop that brought her needed medicines during that winter when no flights could land, and the effort to get her out of there early so that full treatment could begin.
What struck me however was the nature of the place and the experience of living at a polar station that had to manage on the supplies on hand, during an arctic winter with no sun and temperatures routinely colder than -90 degrees Fahrenheit. In many more ways that the situation at the Mars Society's Utah facility, the U.S. South Pole station did a great job of simulating closely what living at an early Mars base will be like.
Interestingly, some of the differences would like make living on Mars easier then at that 1999 station. Because of the lack of full atmosphere on Mars, any Mars base must be sealed from the outside environment. At the south pole, they did not do this, so that the inside temperatures were generally colder than one would like. This also meant that the crews were somewhat oxygen-starved by the end of the mission, as the facility was also at about 9,000 feet elevation and thus had a thinner atmosphere then what you'd likely find inside a Martian base.
Similarly, any facility on Mars would likely be located in a mid- to low latitude, meaning it would always have a day-night cycle. Its inhabitants would not have to struggle through six months without sunlight.
At the same time, the extreme coldness and the dry but icy environment made the South Pole a very close match for Mars. Its isolation, requiring a careful watch on the use of water, food, and electricity, was also quite like one would expect on Mars. Nielson's improvised cancer treatment and her rescue also matched closely what future Martian settlers will experience once they have landed there and are separated from Earth. Like Nielson, they will have to fend for themselves, figuring out solutions to problems with the things on hand.
Nielson lived for another decade, eventually passing away in 2009 when her cancer returned. She left behind however a great instruction manual for future Martian explorers. I highly recommend everyone who wishes to spend a field season at the Mars Society research station to read it to help them prepare for the experience.
I also think that Elon Musk as well as all would-be engineers of Martian colonies must read it. It will help ground in reality their dreams of living on Mars.
Readers!
Every July, to celebrate the anniversary of the start of Behind the Black in 2010, I hold a month-long fund-raising campaign to make it possible for me to continue my work here for another year.

This year's fund-raising drive however is more significant in that it is also the 10th anniversary of this website's founding. It is hard to believe, but I have been doing this for a full decade, during which I have written more than 22,000 posts, of which more than 1,000 were essays and almost 2,600 were evening pauses.

This year's fund drive is also more important because of the growing intolerance of free speech and dissent in American culture. Increasingly people who don't like what they read are blatantly acting to blackball sites like mine. I have tried to insulate myself from this tyrannical effort by not depending on Google advertising or cross-posts Facebook or Twitter. Though this prevents them from having a hold on me, it also acts to limit my exposure.

Therefore, I hope you will please consider donating to Behind the Black, by giving either a one-time contribution or a regular subscription, as outlined in the tip jar below. Your support will allow me to continue covering science and culture as I have for the past twenty years, independent and free from any outside influence.
Regular readers can support Behind The Black with a contribution via paypal:
If Paypal doesn't work for you, you can support Behind The Black directly by sending your donation by check, payable to Robert Zimmerman, to

Behind The Black
c/o Robert Zimmerman
P.O.Box 1262
Cortaro, AZ 85652