Right now my inclination to post or write or do anything is low. In fact, emotionally I am beginning to think there is no point living, as I do not wish to live in a nation as oppressive as America is becoming.
Today I learned unequivocally that in today's America, you will be denied healthcare if you do not wear a mask, even if you have legitimate medical issues for not doing so. I have both asthma and heart issues, and according to numerous long-standing advisories by both doctors and government health agencies (until May of this year), wearing a mask when you have such conditions is a mistake. To quote just one such advisory from the California Department of Health,:
"Mask use may give the wearer a false sense of security, which might encourage too much physical activity and time spent outdoors. Also, wearing a mask may actually be harmful to some people with heart or lung disease because it can make the lungs work harder to breathe." [emphasis mine]
Yet now doctors are demanding all patients, no matter their health, wear these feel-good useless muzzles, or they will deny you all treatment.
In late May I simply raised this issue with my long-standing GP, only to receive a letter from him the next day telling me he had cancelled me as a patient. Just raising the issue with him was verboten. Since then I have been trying desperately to find another GP, without success. None will see me without demanding I wear a mask. None will even consider my own health issues in the mix, at all.
Today I arrived at what I thought would be my new GP. I had called his office twice beforehand to explain my health issues and to make sure I would not have an issue when I arrived. All a waste of time. As I was signing in the office manager marched up to demand I put on the mask that she was nonchalantly fingering with her hands. When I pointed out how unsanitary that was, irrelevant of my own issues, she seemed shocked and surprised, as if she had no idea what I was talking about.
Nor was she interested in considering my own situation, or the actual law in Tucson. When I noted that the local ordinances also permit no masks if you can either socially distance (which would be easy to do in her office) or have medical issues, she said that doesn't matter. Their office requires masks at all times, regardless. Common sense and basic medical science were irrelevant to them.
I was forced to walk out. I presently do not have a doctor to handle my medical issues. Nor do I expect to find one, unless by some miracle there is some local doctor in southern Arizona who understands the absurdity of this mask obsession, reads this post, and offers their help. Personally I have zero expectation of that.
Welcome to the new America. Obey, or you will be denied your most basic human rights of existence.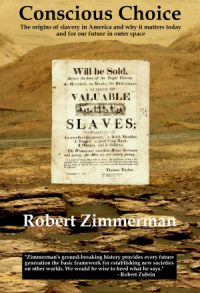 Now available in hardback and paperback as well as ebook!
From the press release: In this ground-breaking new history of early America, historian Robert Zimmerman not only exposes the lie behind The New York Times 1619 Project that falsely claims slavery is central to the history of the United States, he also provides profound lessons about the nature of human societies, lessons important for Americans today as well as for all future settlers on Mars and elsewhere in space.
Conscious Choice: The origins of slavery in America and why it matters today and for our future in outer space
, is a riveting page-turning story that documents how slavery slowly became pervasive in the southern British colonies of North America, colonies founded by a people and culture that not only did not allow slavery but in every way were hostile to the practice.
Conscious Choice
does more however. In telling the tragic history of the Virginia colony and the rise of slavery there, Zimmerman lays out the proper path for creating healthy societies in places like the Moon and Mars.
"Zimmerman's ground-breaking history provides every future generation the basic framework for establishing new societies on other worlds. We would be wise to heed what he says." —Robert Zubrin, founder of founder of the Mars Society.
All editions are available at Amazon, Barnes & Noble, and all book vendors, with the ebook priced at $5.99 before discount. The ebook can also be purchased direct from my ebook publisher, ebookit, in which case you don't support the big tech companies and I get a bigger cut much sooner.
Autographed printed copies are also available at discount directly from me (hardback $24.95; paperback $14.95; Shipping cost for either: $5.00). Just email me at zimmerman @ nasw dot org.