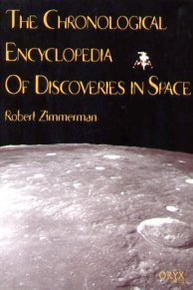 After being in print for twenty years, the Chronological Encyclopedia of Discoveries in Space, covering everything that was learned on every single space mission in the 20th century, has finally gone out of print.
I presently have my last four hardback copies available for sale. The book sold new for about $90. To get your own autographed copy of this now rare collector's item, please send a $120 check (which includes shipping) payable to Robert Zimmerman to
Behind The Black, c/o Robert Zimmerman
P.O.Box 1262
Cortaro, AZ 85652

"Useful to space buffs and generalists, comprehensive but readable, Bob Zimmerman's Encyclopedia belongs front and center on everyone's bookshelf." -- Mike Collins, Apollo 11 astronaut
"The Chronological Encylopedia of Discoveries in Space is no passionless compendium of information. Robert Zimmerman's fact-filled reports, which cover virtually every spacecraft or probe to have ventured into the heavens, relate the scientific and technical adventure of space exploration enthusiastically and with authority." -- American Scientist
Today I had planned on attending the first day of the 51st annual Lunar & Planetary Science Conference in the suburbs of Houston, Texas. Sadly, for the generally foolish and panicky reasons that is gripping America these days, the people in charge, all scientists, decided to cancel out of fear of a virus that so far appears generally only slightly more dangerous than the flu, though affecting far far far fewer people.
Anyway, below are some of the interesting tidbits that I have gleaned from the abstracts posted for each of Monday's planned presentations. Unfortunately, because I am not in the room with these scientists, I cannot get my questions answered quickly, or at all. My readers must therefore be satisfied with a somewhat superficial description.

Probably the most interesting event today would have been a special session focusing on the most up-to-date results from Curiosity in Gale Crater. According to a review of the papers, the big take-away is that the rover's most recent travels climbing upward toward the Greenheugh Piedmont took it out of a region dominated by geology formed under lake conditions and into a region dominated by geology formed by water flowing into that lake.
Both Vera Rubin Ridge and the lower clay layer surrounding it were formed under these lake conditions. In fact, even though from orbit the ridge appears to have higher concentrations of hematite than the surrounding lower terrain, Curiosity's close look strongly suggests that it has the same make-up of the lower layers beside it (see this abstract [pdf]). The ridge sticks out higher simply because it appears more resistant to erosion, caused because, as one abstract [pdf] put it, its "rocks were locally hardened by … cementation."
Meanwhile, the earthquake database being collected by InSight has grown [pdf]:
In the one year of operation of the seismometer package, over 300 seismic events were detected, of which 35 are interpreted as distant, tectonic marsquakes. For 4 of those events, a location could be determined, which for 3 are close to the Cerberus Fossae graben system.
In a different session focusing on Ceres and Vesta, several presentations suggested that the crust of Ceres could literally be "an ice shell," with one abstract [pdf] proposing that crust has a water content as high as 80%.
If Ceres' crust is 80% ice, many important implications about planetary-scale structure or processes follow. Such an "ice shell" would imply that Ceres is more differentiated than previously thought, as other calculations argue for a total ice plus clathrate component of ~50%. This [icy] crustal composition could also make Ceres more similar in geophysical structure to icy moons like Europa in the outer Solar System than currently considered.
There a number of other papers, on Vesta, on the interior oceans believed to be on Enceladus and Europa, on the Kuiper belt, on Venus, and asteroids, but without seeing the full oral reports it is difficult to glean the important details that might have made these results more compelling.
I will provide a summary tomorrow of what had been planned for the Tuesday presentations.