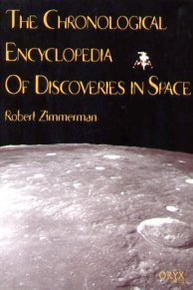 After being in print for twenty years, the Chronological Encyclopedia of Discoveries in Space, covering everything that was learned on every single space mission in the 20th century, has finally gone out of print.
I presently have my last four hardback copies available for sale. The book sold new for about $90. To get your own autographed copy of this now rare collector's item, please send a $120 check (which includes shipping) payable to Robert Zimmerman to
Behind The Black, c/o Robert Zimmerman
P.O.Box 1262
Cortaro, AZ 85652

"Useful to space buffs and generalists, comprehensive but readable, Bob Zimmerman's Encyclopedia belongs front and center on everyone's bookshelf." -- Mike Collins, Apollo 11 astronaut
"The Chronological Encylopedia of Discoveries in Space is no passionless compendium of information. Robert Zimmerman's fact-filled reports, which cover virtually every spacecraft or probe to have ventured into the heavens, relate the scientific and technical adventure of space exploration enthusiastically and with authority." -- American Scientist
The competition heats up: Three stories today about investors putting money into different space related business ventures are worth consolidating into one post, as they all indicate the same thing.
The first story involves a takeover by SES of the O3b satellite constellation that provides internet service globally. They already have 12 satellites in orbit, and have plans to launch 8 more by 2019. A partial list of their customers (Digicel Pacific, Royal Caribbean Cruise Lines, American Samoa Telecom, Speedcast, Rignet, Bharti International (Airtel), Timor Telecom, CNT Ecuador, Entel Chile and NOAA) illustrates the solidity of the company's success, which is also why SES is spending $20 million to own it.
In the second two stories we find investment capital being committed for two different and unusual space-tourism-related companies. World View plans to launch high altitude balloons with passengers, taking them up 20 to 30 miles for a several hour journey on the edge of space. That they have secured an additional $15 million in investment even as their deal with the city of Tucson is being challenged in court indicates the confidence the investors have in their business.
SpaceVR is even more interesting. They plan to launch smallsats with cameras providing a 360 degree view, and link them to virtual reality headsets here on Earth. Consumers will then be able to experience being in space, without actually going. Though the press release does not specific how the product will be sold, it suggests that they are aiming for the education and museum market.
All three stories prove that the modern investment community, normally very adverse to high risk endeavors, is increasingly finding that the financial benefits of space travel and anything related to it are worth the financial risks. This fact can only lead to good things for the eventual development and exploration of space.
Moreover, the third story once again demonstrates the value of reducing the cost to get into orbit. SpaceVR's idea is a very good one, but it couldn't have happened before SpaceX forced a reduction in launch prices. Beforehand, no one could have afforded to buy the product because of the high cost to launch the satellites. Now, because the launch price is affordable, it can be marketed at a realistic price.
In other words, lower the price, and you increase the number of customers able to buy your product. I expect the rocket business to boom in the coming years.