Once again a journalist as well as a science journal are spinning budget numbers to hide the fact that the present Congress is not imposing draconian cuts to science. If anything, they are not cutting enough, considering the dire state of the federal deficit.
First there is the headline, from Science: Senate Panel Cuts NSF Budget by $162 Million. Then there is the article's text, by Jeffrey Mervis, which not only reaffirms the cuts described in the headline but adds that "the equivalent House of Representatives panel approved a bill that would hold NSF's budget steady next year at $6.86 billion." Mervis then underlines how terrible he thinks these budget numbers are by quoting Senator Barbara Mikulski (D-Maryland): "We've gone beyond frugality and are into austerity."
This reporting is shameful. Not only is Mikulski full of crap, Mervis's description of the budget numbers is misleading if not downright wrong. Here are the final budget numbers for the NSF since 2007, in billions of dollars (sources: Science, the American Geological Institute, and The Scientist):

2007: $5.92
2008: $6.13
2009: $6.49
2010: $6.87 plus a $2.4 bonus in stimulus funds.
2011: $6.81
For 2012, Obama requested $7.77 billion for NSF as part of his February 2011 budget request, a request that was rejected unanimously by Congress. The House then proposed giving NSF $6.86 billion, which is an increase over the 2011 numbers, not a decrease as Mervis states. And the Senate proposal that Mervis describes? It offers NSF $6.65 billion, which though a cut, would still leave NSF's budget higher than its 2009 budget, only two years ago. This is hardly going "beyond frugality and . . . into austerity," as Mikulski whines. For a journalist to accept this junk from a politician and then parrot it in his writing seems quite pitiful.
The real question here is whether a small cut to NSF's budget to below 2010 numbers but above 2009 numbers is reasonable. And I say, of course it is. In fact, I think it is far too reasonable, considering the debt. The National Science Foundation could easily manage on a budget based on 2007 numbers, especially considering the struggling state of the economy. They merely have to do a bit of belt tightening, as we all are, and find a way to do more with less.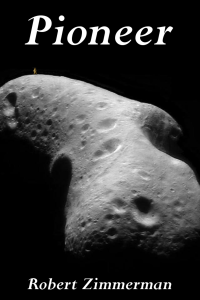 From the press release: From the moment he is handed a possibility of making the first alien contact, Saunders Maxwell decides he will do it, even if doing so takes him through hell and back.
Unfortunately, that is exactly where that journey takes him. The vision that Zimmerman paints of vibrant human colonies on the Moon, Mars, the asteroids, and beyond, indomitably fighting the harsh lifeless environment of space to build new societies, captures perfectly the emerging space race we see today. He also captures in Pioneer the heart of the human spirit, willing to push forward no matter the odds, no matter the cost. It is that spirit that will make the exploration of the heavens possible, forever, into the never-ending future. Available everywhere for $3.99 (before discount) at
amazon
,
Barnes & Noble
, all ebook vendors, or direct from the ebook publisher,
ebookit
. And if you buy it from
ebookit
you don't support the big tech companies and I get a bigger cut much sooner.