James Fincannon of NASA has forwarded me two additional pictures of the same cave on the Moon, taken recently at different times by the camera on Lunar Reconnaissance Orbiter and made available by the Goddard Space Flight Center and Arizona State University.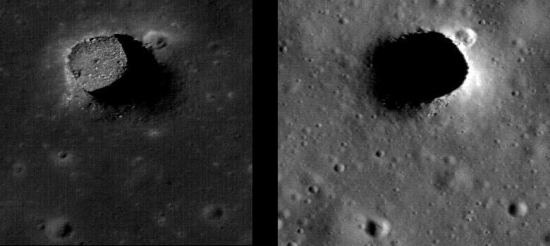 These images clearly show that the skylight looks down into a much larger space, with the underground room belling out from the skylight in all directions. This can be seen by how the angle of sunlight hitting the floor of the cave changes over time. Below is a very crude cartoon I have drawn to illustrate what I think we are seeing in the image on the left. The dashed lines indicate unseen walls whose precise location is not yet determined.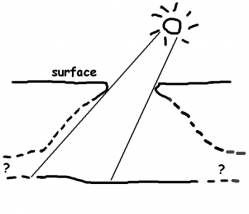 James also forwarded me this link, showing even more images of additional lava tube skylights on the Moon.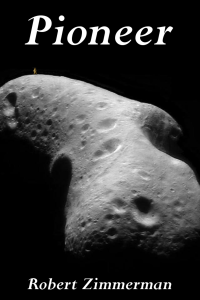 From the press release: From the moment he is handed a possibility of making the first alien contact, Saunders Maxwell decides he will do it, even if doing so takes him through hell and back.
Unfortunately, that is exactly where that journey takes him. The vision that Zimmerman paints of vibrant human colonies on the Moon, Mars, the asteroids, and beyond, indomitably fighting the harsh lifeless environment of space to build new societies, captures perfectly the emerging space race we see today. He also captures in Pioneer the heart of the human spirit, willing to push forward no matter the odds, no matter the cost. It is that spirit that will make the exploration of the heavens possible, forever, into the never-ending future. Available everywhere for $3.99 (before discount) at
amazon
,
Barnes & Noble
, all ebook vendors, or direct from the ebook publisher,
ebookit
. And if you buy it from
ebookit
you don't support the big tech companies and I get a bigger cut much sooner.