Please consider donating to Behind the Black, by giving either a one-time contribution or a regular subscription, as outlined in the tip jar below. Your support will allow me to continue covering science and culture as I have for the past twenty years, independent and free from any outside influence.
Regular readers can support Behind The Black with a contribution via paypal:
If Paypal doesn't work for you, you can support Behind The Black directly by sending your donation by check, payable to Robert Zimmerman, to

Behind The Black
c/o Robert Zimmerman
P.O.Box 1262
Cortaro, AZ 85652

And damn, do I want to rappel into them!
This week's release of images from the HiRISE camera on Mars Reconnaissance Orbiter included these spectacular photos of two deep pits, approximately 180 and 310 meters in diameter and located aligned with a series of depressions that suggest additional passages at their base.
The first image shows the pits in the context of the surrounding terrain. From the caption:
These pits are aligned with what appears to be larger, degraded depressions. The wispy deposit may consist of dark material that has been either blown out of the pits or from some other source and scattered about by the local winds.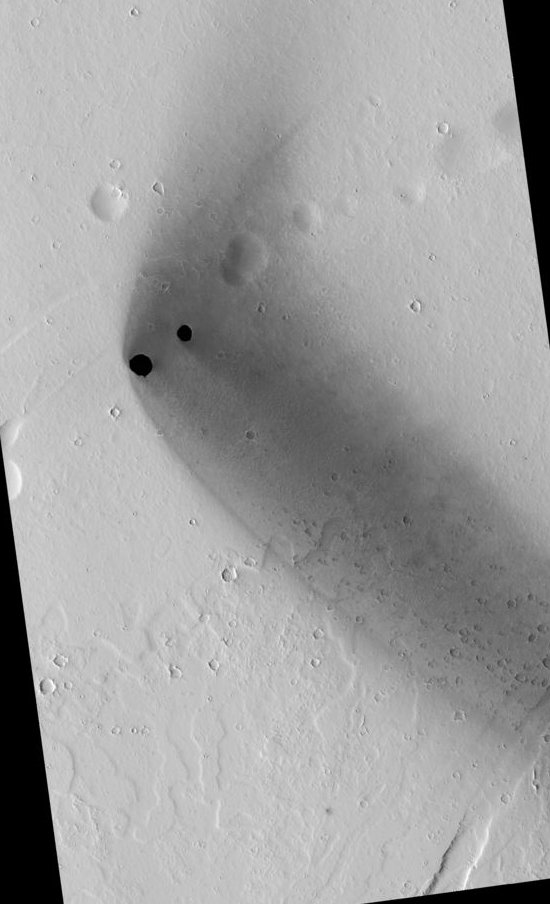 The next two images are heavily processed close-ups of each pit in order to bring out the detail within. From the caption:
The eastern most and smaller of the two pits contains boulders and sediment along its walls and brighter aeolian dune sediments on its floor. The larger, western most pit contains sediment and boulders with faint dune-like patterns visible on the deepest part of the floor. Both pits have steep eastern walls and more gently sloped western walls that transition gradually into the pit floor. Steep resistant ledges containing boulders that overhang and obscure the pit floors form the eastern walls.