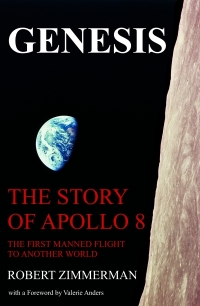 On Christmas Eve 1968 three Americans became the first humans to visit another world. What they did to celebrate was unexpected and profound, and will be remembered throughout all human history. Genesis: the Story of Apollo 8, Robert Zimmerman's classic history of humanity's first journey to another world, tells that story, and it is now available as both an ebook and an audiobook, both with a foreword by Valerie Anders and a new introduction by Robert Zimmerman.
The ebook is available everywhere for $5.99 (before discount) at
amazon
, or direct from my ebook publisher,
ebookit
.
The audiobook is also available at all these vendors, and is also
free with a 30-day trial membership to Audible.
"Not simply about one mission, [Genesis] is also the history of America's quest for the moon... Zimmerman has done a masterful job of tying disparate events together into a solid account of one of America's greatest human triumphs." --San Antonio Express-News
It has become quite depressing to repeatedly document the numerous daily examples of leftist hatred and bigotry that now populate American intellectual and political culture. It must be done, however, so below are a few more recent examples from the past month, categorized appropriately. A quick scan of the stories will illustrate to anyone how bankrupt our modern intellectual and political culture has become. Worse, it appears with time that the levels of emotional hate and bigotry are only growing.
First the bigotry:
I could list more, but these are enough. They illustrate the bigoted focus of the left. To them, everything is race or ethnicity. You cannot accomplish anything as an individual if you are a minority, and all your failures can be blamed on the evils of the white race. More important, it is their right to oppress whites, merely because they perceive that some white cultures in the past were oppressive. Under this mentality, we shall soon see the return of segregation (as indicated by at least two stories above) and racial discrimination. And it won't matter that this time it will be whites who are oppressed instead of blacks. It will still be evil, because it will be based not on the content of each individual's character but on the color of their skin.
Next the hate:

I have previously noted numerous examples of this kind of vile hatred from leftists. For some reason, in the name of peace and good will they think it perfectly okay to call for the death of those with whom they disagree.
Finally, we have the left's endless effort to squelch free speech:
Sadly, this is only a tiny sampling, from just the past month. On a daily basis we have new examples of some leftist brown-shirted thugs somewhere demanding that any opposition to them be silenced. Often those demands are reinforced with violence.
A violent and oppressive movement has formed within the United States, and it is moving quickly to garner political power. If we do not begin to push back hard against it soon, it will gain that political power, and the free and innocent people it hates will find themselves receiving the same treatment applied to the opponents of the Nazis in Germany, the Communists in the Soviet Union, and the Socialists in Venezuela. We shall see a lot of oppression and death, all in the name of peace and love and fairness and all the empty oft-changed slogans of the left.
Update: I should add that I will be appearing on April 25, 2018 at 6:05 pm (Central) on Robert Pratt's radio show, Pratt on Texas, to discuss these stories and this terrible cultural decline. His show is aired on 790-AM KFYO in Lubbock, 1470-AM KYYW in Abilene, and 1290-AM KWFS in Wichita Falls, as well as on the web live.
Readers!
My July fund-raiser for Behind the Black is now over. The support from my readers was unprecedented, making this July campaign the best ever, twice over. What a marvelous way to celebrate the website's tenth anniversary!

Thank you! The number of donations in July, and continuing now at the beginning of August, is too many for me to thank you all personally. Please forgive me by accepting my thank you here, in public, on the website.

If you did not donate or subscribe in July and still wish to, note that the tip jar remains available year round.
Regular readers can support Behind The Black with a contribution via paypal:
If Paypal doesn't work for you, you can support Behind The Black directly by sending your donation by check, payable to Robert Zimmerman, to

Behind The Black
c/o Robert Zimmerman
P.O.Box 1262
Cortaro, AZ 85652