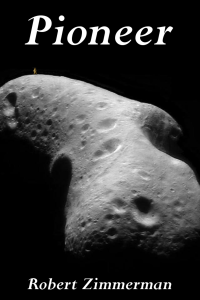 From the press release: From the moment he is handed a possibility of making the first alien contact, Saunders Maxwell decides he will do it, even if doing so takes him through hell and back.
Unfortunately, that is exactly where that journey takes him.
The vision that Zimmerman paints of vibrant human colonies on the Moon, Mars, the asteroids, and beyond, indomitably fighting the harsh lifeless environment of space to build new societies, captures perfectly the emerging space race we see today.
He also captures in Pioneer the heart of the human spirit, willing to push forward no matter the odds, no matter the cost. It is that spirit that will make the exploration of the heavens possible, forever, into the never-ending future.
Available everywhere for $3.99 (before discount) at
amazon
,
Barnes & Noble
, all ebook vendors, or direct from the ebook publisher,
ebookit
.
I can't stand it. I just can't stand it. It keeps happening and I just can't stand it.
Yesterday there was this absurd short news piece posted on the website of the so-called journal Science, "Apollo astronauts much more likely to die from heart disease". describing a research paper published by one of Nature's side journals, Scientific Reports. Before I even looked at the story I said to myself, "How can they possibly come to that conclusion considering the tiny number of humans who have ever traveled beyond Earth orbit? The sample will simply be too small to allow for any such finding."
Then I looked at the article and found my instincts confirmed. As Steve Milloy noted on his very aptly named website, Junk Science,
Yes, the result is based on a total of three (3) cases of heart disease deaths of out seven (7) Apollo astronauts. Past the vanishingly small sample size and even smaller number of cases, heart disease is a natural disease of aging and the Apollo lunar astronauts were 10 years older than the other comparison groups.
To put it more bluntly, this was a garbage piece of very bad science. While it was somewhat embarrassing for a Nature journal to publish it, it was far more disgraceful for the journal Science to highlight it. I, however, don't have to join these two peer-review journals and participate in their stupidity, and thus I made no mention of the story on Behind the Black, because it is my policy to not waste much time on bad science, unless I think that bad science is going to have bad repercussions.
Well the bad repercussions have arrived. Since yesterday, the following so-called news organizations have run with this story, without the slightest indication that they have faintest understanding of science, statistics, or plain common sense:

Most of these articles failed to note the absurdly small sample size that made any reasonable conclusions impossible. Some mentioned this "minor" detail, but did their best to minimize it or only mention it as an afterthought. Only the last two articles had the intellectual honesty to put the uncertainty of this result up front, but even here they are giving too much publicity to some very poor research that just doesn't deserve the print space.
In reviewing all this junk journalism I must wonder what prompts these reporters and editors to do this. Are the driven by an unstated agenda (possibly a hostility to space exploration for any number of reasons)? Do they think the story so cool and having so much potential for generating hits that they don't care if it is bad science? Are they so dependent on a reliance-on-authority that — simply because the study was published in a Nature journal and Science touted it, they assume it must be significant?
Or are they simply that ignorant of the basics of scientific research?
Unfortunately, it is probably a combination of all of the above, in differing amounts, depending on the publication. What all these news sources apparently lack is any reasonable skepticism and independent judgment when presented with an absurd claim. Instead, they nod their heads like good little children and run with it. It is this same bad judgment that I see repeatedly in endless stories about global warming and climate change, where no matter what happens — it gets cold, it gets hot, it gets wet, it gets dry, we have big storms, we have no storms — the press is immediately convinced when told that it must be because of the carbon dioxide humans are putting into the atmosphere.
This of course raises a much more significant issue: If the science journalists for so many major publications are so unable to exercise even the slightest judgment when it comes to bad science, what kind of bad reporting are we getting from every other department?
Sadly, I think we all know the answer to that question.
Readers!
Every July, to celebrate the anniversary of the start of Behind the Black in 2010, I hold a month-long fund-raising campaign to make it possible for me to continue my work here for another year.

This year's fund-raising drive however is more significant in that it is also the 10th anniversary of this website's founding. It is hard to believe, but I have been doing this for a full decade, during which I have written more than 22,000 posts, of which more than 1,000 were essays and almost 2,600 were evening pauses.

This year's fund drive is also more important because of the growing intolerance of free speech and dissent in American culture. Increasingly people who don't like what they read are blatantly acting to blackball sites like mine. I have tried to insulate myself from this tyrannical effort by not depending on Google advertising or cross-posts Facebook or Twitter. Though this prevents them from having a hold on me, it also acts to limit my exposure.

Therefore, I hope you will please consider donating to Behind the Black, by giving either a one-time contribution or a regular subscription, as outlined in the tip jar below. Your support will allow me to continue covering science and culture as I have for the past twenty years, independent and free from any outside influence.
Regular readers can support Behind The Black with a contribution via paypal:
If Paypal doesn't work for you, you can support Behind The Black directly by sending your donation by check, payable to Robert Zimmerman, to

Behind The Black
c/o Robert Zimmerman
P.O.Box 1262
Cortaro, AZ 85652