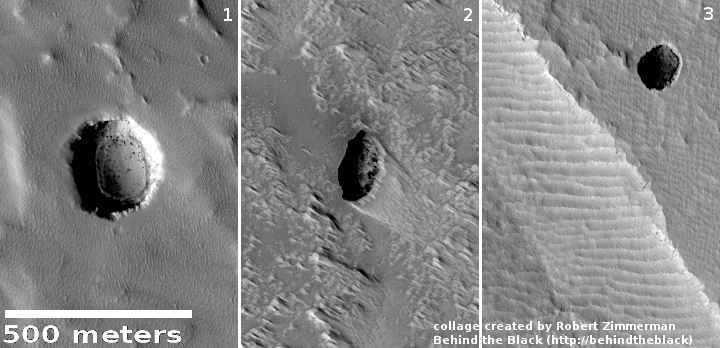 Cool image time! In the November image release from the high resolution camera on Mars Reconnaissance Orbiter (MRO) were three images, dubbed by me in the collage above as number one, number two, and number three, showing pits south of Arsia Mons, the southernmost volcano in the chain of three giant volcanoes to the east of Mars's largest volcano, Olympus Mons, and to the west of the Marineris Valles valley.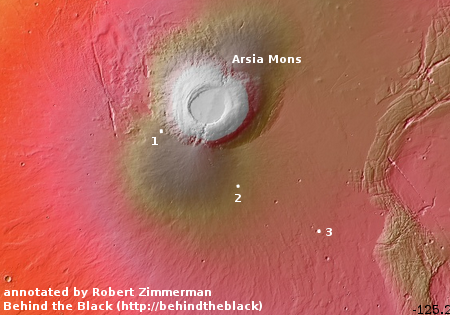 The image on the right provides the geographical context of the three pits. They are all south of the volcano on the vast lava flow plains that surround it. The location of pits #1 and #2 is especially intriguing, on the east and west edges of what appears to be a large lava flow that had burst out from the volcano, leaving a large lava field covering a vast area several hundred miles across just to the south. You can also see a similar large lava field to the north of the volcano. Both fields appear to have been formed when lava poured through the breaks created by the fault that cuts through the volcano from the northeast to the southwest.

If you look at the full images of each pit, found here, here, and here, you will immediately see what I find most striking about all three pits: There appears to be practically no other surface features significantly related to these holes. Pit #3 illustrates this especially, as it is located right next to the eastern cliff of a curving wide and shallow canyon. Yet, there appears little in the canyon or on the plain above of anything related to an underground system
The pits thus appear almost as if they were punched out by a giant shooting a pistol at this relatively smooth plain, creating three giant bullet holes.
The lack of other surface features suggest that these are merely holes that go nowhere. The more likely geological expectation however is that these pits are skylights into large lava tube systems. In looking closely at all three images, their shadowed western sides suggests that the pit rims are overhung, and that there might be passage underneath. With the lit eastern rims, pits #2 and #3 both suggest a shadowed area and an overhang to the east. Pit #1 however does not appear to have any passage going to the east.
None of this is conclusive. More high resolution images will have to be taken of these pits with the lighting coming from the east to clarify better whether they are undercut and connect to further passages.
If these are merely holes, the next question is: What caused them? They do not resemble impact craters, in any way. And a giant shooting a pistol is obviously not a reasonable explanation.
I am inclined to believe they are evidence of three underground lava tube systems, making them collapsed skylights into those systems. On Earth it is not unusual for the collapse of a lava tube roof, creating the skylight, to block access to the adjacent passages. This is possibly why in pit #1 the eastern side shows no passage, even though this is likely the upstream side, with lava coming down from the volcano from this direction.
What makes these pits especially intriguing to me is the knowledge that there is evidence of past glacial activity around Arsia Mons, along with the formation of recurrent and seasonal water clouds above the volcano, suggesting the existence of underground ice leftover from those glaciers. These pits might provide an access to that water ice.
Readers!
In order to remain completely independent and honest in my writing, I accept no sponsorships from big space companies or any political organizations. Nor do I depend on ads.
Instead, I rely entirely on the generosity of readers to keep Behind the Black running. You can either make a one time donation for whatever amount you wish, or you sign up for a monthly subscription ranging from $2 to $15 through Paypal, or $3 to $50 through Patreon, or any amount through Zelle.
The best method to donate or subscribe is by using Zelle through your internet bank account, since it charges no fees to you or I. You will need to give my name and email address (found at the bottom of the "About" page). What you donate is what I get.
To use Patreon, go to my website there and pick one of five monthly subscription amounts, or by making a one-time donation.

For PayPal click one of the following buttons:

If these electronic payment methods don't work for you, you can support Behind The Black directly by sending your donation by check, payable to Robert Zimmerman, to


Behind The Black
c/o Robert Zimmerman
P.O.Box 1262
Cortaro, AZ 85652