The Center for Biological Diversity (CBD) today sued the Bureau of Land Management (BLM) in Colorado for allowing caving to take place at the annual convention of the National Speleological Society.
The CBD claims that human activity can spread white nose syndrome, the mysterious ailment that has been killing millions of bats across the eastern United States. To quote:
It is well documented that the fungus believed to cause white-nose syndrome, aptly named Geomyces destructans, can be spread on the clothes and gear of people visiting caves. Scientists strongly suspect that the disease is a recent import from Europe, likely transported by someone who visited a cave there and then came to North America.
To be blunt, this statement is an outright lie.

Though it has been shown that in rare cases humans can carry the fungus from point to point on their clothes and gear, it has not been shown that this activity is able to transmit white nose. Nor does anyone have any idea how the fungus was brought over from Europe. To claim humans did it is pure fabrication.
Finally and most important: the main vector for transmitting white nose continues to be bats. You could kill every human on earth, and the bats would still pass it along.
As I noted earlier, the CBD is not really interested in saving bats. If they were they wouldn't be doing everything they can to antagonize the caving community, the one amateur community which has actually done the most to help researchers find out what white nose syndrome is. CBD's real goal is to generate cash from their legal activities, which is then plowed back into their coffers to produce more courtsuits. This must stop. The law must be changed to discourage these suits. And people have got to stop contributing money to these bloodsuckers.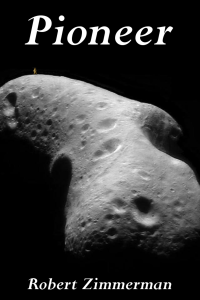 From the press release: From the moment he is handed a possibility of making the first alien contact, Saunders Maxwell decides he will do it, even if doing so takes him through hell and back.
Unfortunately, that is exactly where that journey takes him.
The vision that Zimmerman paints of vibrant human colonies on the Moon, Mars, the asteroids, and beyond, indomitably fighting the harsh lifeless environment of space to build new societies, captures perfectly the emerging space race we see today.
He also captures in Pioneer the heart of the human spirit, willing to push forward no matter the odds, no matter the cost. It is that spirit that will make the exploration of the heavens possible, forever, into the never-ending future.
Available everywhere for $3.99 (before discount) at
amazon
,
Barnes & Noble
, all ebook vendors, or direct from the ebook publisher,
ebookit
.