Special counsel Robert Mueller today widened his investigation on President Trump's contacts with Russia during the campaign to now include Trump's entire business transactions.
I haven't posted anything about the Russian collusion story until now, because on its face it is absurd. As noted repeatedly by even Trump's critics, there is no evidence of any illegal acts by anyone. Moreover, the media focus on the Russians distracts from the heart of the DNC hack, that it revealed illegal pay-offs and corruption by Hillary Clinton, John Podesta, and others in the Democratic Party. I don't really care that much how these emails were obtained since what they uncovered is far worse.
What prompts me to post now is to underline the corruption of Robert Mueller himself. It is already well known that the investigation team he has put together includes at least seven Democratic donors, including an attorney who donated $34,000 to Democratic candidates. What I want to highlight is his blatant partisan actions to help cover up the IRS scandal for the Obama administration. I only remembered this recently, but when Mueller was called to testify to the House about his newly begun FBI investigation into that scandal, he couldn't name the head of that investigation, even though he was the man who would have appointed such a person only a month prior.
I once again have embedded below the fold Mueller's testimony in 2013 before Congress. Not only does he not know who is running his so-called IRS scandal investigation, he admits that not one victim of the IRS scandal had yet been contacted. In fact, none of these people were ever contacted, and that investigation never took place. Mueller stone-walled it for Obama, so that administration and president could get away with their use of the IRS as a weapon against their opponents. And of course, the Democratic mainstream media assisted them in this stone-wall by never pursuing the story. They let it fall, as they do today with the content of those hacked Clinton emails, into the memory hole.
And even if there were improprieties by Trump and his campaign, does anyone with even the slightest objectivity believe that Mueller's investigation is going to non-partisan? I don't. This is a witch-hunt, and it always has been.
And if you disagree with me I dare you to watch the video below. Mueller comes off clearly as a tool of the Democrats, something he still is today.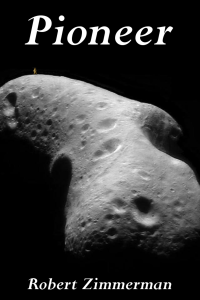 From the press release: From the moment he is handed a possibility of making the first alien contact, Saunders Maxwell decides he will do it, even if doing so takes him through hell and back.
Unfortunately, that is exactly where that journey takes him.
The vision that Zimmerman paints of vibrant human colonies on the Moon, Mars, the asteroids, and beyond, indomitably fighting the harsh lifeless environment of space to build new societies, captures perfectly the emerging space race we see today.
He also captures in Pioneer the heart of the human spirit, willing to push forward no matter the odds, no matter the cost. It is that spirit that will make the exploration of the heavens possible, forever, into the never-ending future.
Available everywhere for $3.99 (before discount) at
amazon
,
Barnes & Noble
, all ebook vendors, or direct from the ebook publisher,
ebookit
.