Bumped. Scroll down to see the update.
This video has been making the rounds on the web. Though I warn you that is somewhat graphic, it is essential that you watch it.
When I first saw this about a week ago, I didn't quite know what to make of it. It was so vile and offensive I could not believe that it was legitimate. It obviously wants to pay some homage to Monty Python, but even Monty Python never went this far. How could anyone possibly think that killing small children in the name of environmentalism was in any way funny? And how could anyone ever believe that this video would persuade anyone to go along with the 1010 environmental campaign? If anything, the video does an excellent job of discrediting this organization and everyone involved with it.
Thus, despite what some bloggers were saying, I held back commenting, just to make sure the video was real and not a terrible prank meant to sabotage.
There is now no reason to hold back. Late last week, the 1010 organization itself issued an apology, admitting that this video was their handiwork. Before I continue, I think it is worthwhile for you to also read their apology, in all its venal glory. In many ways, it condemns them and their allies far more than the video did:

Sorry.

Today we put up a mini-movie about 10:10 and climate change called "No Pressure".

With climate change becoming increasingly threatening, and decreasingly talked about in the media, we wanted to find a way to bring this critical issue back into the headlines whilst making people laugh. We were therefore delighted when Britain's leading comedy writer, Richard Curtis — writer of Blackadder, Four Weddings, Notting Hill and many others — agreed to write a short film for the 10:10 campaign. Many people found the resulting film extremely funny, but unfortunately some didn't and we sincerely apologise to anybody we have offended.

As a result of these concerns we've taken it off our website. We won't be making any attempt to censor or remove other versions currently in circulation on the internet.

We'd like to thank the 50+ film professionals and 40+ actors and extras and who gave their time and equipment to the film for free. We greatly value your contributions and the tremendous enthusiasm and professionalism you brought to the project.

At 10:10 we're all about trying new and creative ways of getting people to take action on climate change. Unfortunately in this instance we missed the mark. Oh well, we live and learn.

Onwards and upwards,

Franny, Lizzie, Eugenie and the whole 10:10 team
What does this apology tell us? First, they not only thought that killing children in the name of environmentalism was "funny", they thought it was "extremely funny."
Second, they don't think they did anything wrong. They are merely sorry that some of you are offended. For everyone else, the video was peachy keen and they therefore make it available to the world for as many people to see as possible.
Third, they see no point in trying to persuade anyone to their point of view. They are absolutely sure that they are right, with a certainty that is, for me, quite disturbing.
To put it another way, this film was their movement's version of a wet dream, a fantasy showing us all exactly what they wish they could do to anyone who does not agree with them. Worse, they are certain that most people agree with them, and will also laugh uproariously at the sight of environmentalists murdering their foolish and wrong-headed opponents, one by one.
As I wrote recently, events like this prove that protecting the climate and environment has nothing to do with the goals of this movement. Instead, what they want is power. And with 1010's video, they have shown us quite vividly what they will do, once they have that power.
I think it worthwhile to remind everyone what happens when such certainty gets wedded to power. The results are quite horrible.
"In the end, the words were said by Oliver Cromwell, 'I beseech you, in the bowels of Christ, think it possible you may be mistaken.'"
Update: The director of 10:10 UK, Eugenie Harvey, has issued a new apology. According to the Harvey, "We are going to investigate what happened, review our processes and procedures, and share the results with our partners." Gee, considering that Harvey was one of the signatories to the first apology I would have thought she knew what happened to begin with. Why does she need an investigation? Is she looking for someone to take the rap?
There is a reason for this new apology, however. It seems that at least one financial donor is backing away from the 10:10 organization. The first apology simply failed to spin the story well enough.
Second Update: The original video was pulled by 10:10 several years ago, and is hard to find in its original form. I have now posted a version that has been edited only slightly by an environmentalist. He didn't really change anything, but merely inserted some preachy text explaining why it is justified to murder little children for the sake of the environmental cause.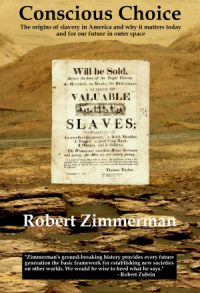 Now available in hardback and paperback as well as ebook!
From the press release: In this ground-breaking new history of early America, historian Robert Zimmerman not only exposes the lie behind The New York Times 1619 Project that falsely claims slavery is central to the history of the United States, he also provides profound lessons about the nature of human societies, lessons important for Americans today as well as for all future settlers on Mars and elsewhere in space.
Conscious Choice: The origins of slavery in America and why it matters today and for our future in outer space
, is a riveting page-turning story that documents how slavery slowly became pervasive in the southern British colonies of North America, colonies founded by a people and culture that not only did not allow slavery but in every way were hostile to the practice.
Conscious Choice
does more however. In telling the tragic history of the Virginia colony and the rise of slavery there, Zimmerman lays out the proper path for creating healthy societies in places like the Moon and Mars.
"Zimmerman's ground-breaking history provides every future generation the basic framework for establishing new societies on other worlds. We would be wise to heed what he says." —Robert Zubrin, founder of founder of the Mars Society.
All editions are available at Amazon, Barnes & Noble, and all book vendors, with the ebook priced at $5.99 before discount. The ebook can also be purchased direct from my ebook publisher, ebookit, in which case you don't support the big tech companies and I get a bigger cut much sooner.
Autographed printed copies are also available at discount directly from me (hardback $24.95; paperback $14.95; Shipping cost for either: $5.00). Just email me at zimmerman @ nasw dot org.