In another example of the leftist Marxist Democratic Party losing long time supporters, Elon Musk revealed in a podcast today that he has switched his voter registration from Democrat to independent, and now plans to vote Republican in the upcoming election.
Elon Musk, admitting he had voted "overwhelmingly" for Democrats in the past, has changed his mind.

Musk is registered as an independent voter; he announced the switch over video link at a tech summit in Miami, Florida, hosted by the All-In podcast.

"I have voted overwhelmingly for Democrats, historically," Musk acknowledged. "Like I'm not sure, I might never have voted for a Republican, just to be clear. Now this election I will," Newsweek reported.
Musk however is not alone. Donald Trump is actually a much more famous example, having been a typical New York liberal Democrat for decades, only to reject that party in the mid-2010s for its increasingly radical communist agenda. Trump discovered to his surprise (as has Musk) that the conservative Republican Party better reflected his personal philosophy. Both men represent large numbers of ordinary people, who see themselves as moderate liberals and now find disgusting the bigoted, hateful, and anti-American agenda of the Democratic Party.
The meme below that Musk himself posted in a tweet on April 28, 2022 illustrates this process most clearly.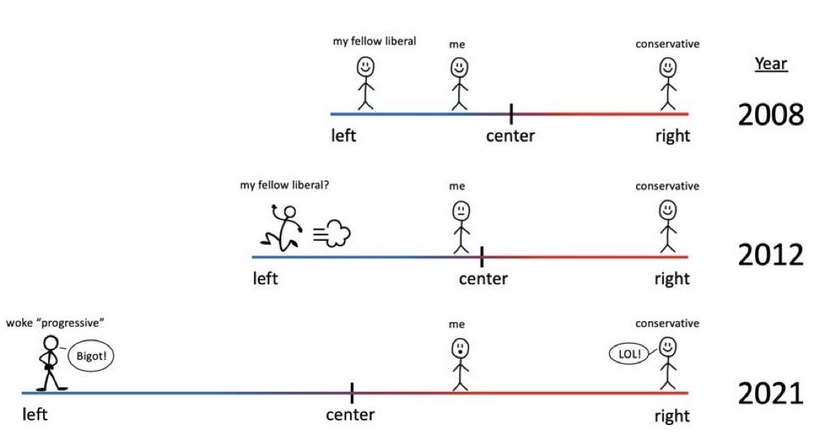 Musk's switch however is hardly a surprise. I have been expecting it for more than a decade. I saw its inevitability when I saw Musk give a speech at the National Press Club in 2011. Though he knew then America was the place to be to innovate and create new things, he did not really understand why.
During the question and answer period, the moderator asked Musk, "How is it that America is able to innovate so well, given all the challenges? How does that continue to happen? Why is that?"

This was Musk's answer: "It's kind of like the statement about democracy, it's a bad system but it's the least bad. The United States is the least bad at encouraging innovation."

What Musk completely missed, however, is the fundamental reason why the United States still remains the world's power house when it comes to attracting creative individuals like Musk. And that reason can be summed up in one forgotten word: freedom. [emphasis in original]
Watching the Democrats increasingly and aggressively squelch freedom for the past decade has helped Musk learn this lesson. It is a lesson anyone can learn, if they keep their mind open and do not become wedded to any particular political party.
Whether the Democrats will be kicked out of office in November however remains entirely uncertain. It is increasingly clear that they no longer have the votes to win anywhere but in isolated urban centers that have been Democrat one-party states for decades. Their willingness and ability to commit election fraud however remains strong, especially because the incompetent and corrupt Republican Party has done so little in the past two years to clean up voting systems nationwide.
Musk could be joined by many millions of other past Democratic Party loyalists, and that party might still be able to fake enough votes to guarantee a win. They've done it before, and you can bet they will try to do it again in November.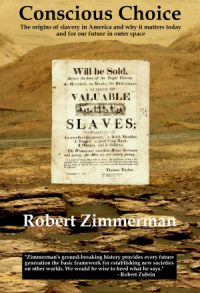 Now available in hardback and paperback as well as ebook!
From the press release: In this ground-breaking new history of early America, historian Robert Zimmerman not only exposes the lie behind The New York Times 1619 Project that falsely claims slavery is central to the history of the United States, he also provides profound lessons about the nature of human societies, lessons important for Americans today as well as for all future settlers on Mars and elsewhere in space.
Conscious Choice: The origins of slavery in America and why it matters today and for our future in outer space
, is a riveting page-turning story that documents how slavery slowly became pervasive in the southern British colonies of North America, colonies founded by a people and culture that not only did not allow slavery but in every way were hostile to the practice.
Conscious Choice
does more however. In telling the tragic history of the Virginia colony and the rise of slavery there, Zimmerman lays out the proper path for creating healthy societies in places like the Moon and Mars.
"Zimmerman's ground-breaking history provides every future generation the basic framework for establishing new societies on other worlds. We would be wise to heed what he says." —Robert Zubrin, founder of founder of the Mars Society.
All editions are available at Amazon, Barnes & Noble, and all book vendors, with the ebook priced at $5.99 before discount. The ebook can also be purchased direct from my ebook publisher, ebookit, in which case you don't support the big tech companies and I get a bigger cut much sooner.
Autographed printed copies are also available at discount directly from me (hardback $24.95; paperback $14.95; Shipping cost for either: $5.00). Just email me at zimmerman @ nasw dot org.