On my Thursday appearance last week on the John Batchelor Show John and I devoted the entire segment to talking about the sad state of NASA and how the partisan bickering in Congress is not only failing to deal with those problems, that bickering is intentionally disinterested in actually fixing them. As I say,
What both those parties in Congress and in the administration are really doing is faking a goal for the purpose of justifying pork to their districts, because none of the proposals they're making — both the asteroids or the moon — are going to happen.
I intend to elaborate in writing on this subject in the next day or so. In the meantime, here is the audio of that appearance [mp3] for you all to download and enjoy.
Note that I specifically talked about the following stories during this appearance: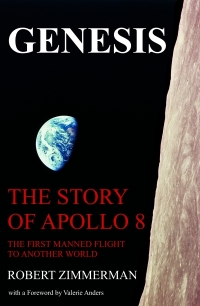 On Christmas Eve 1968 three Americans became the first humans to visit another world. What they did to celebrate was unexpected and profound, and will be remembered throughout all human history. Genesis: the Story of Apollo 8, Robert Zimmerman's classic history of humanity's first journey to another world, tells that story, and it is now available as both an ebook and an audiobook, both with a foreword by Valerie Anders and a new introduction by Robert Zimmerman.
The ebook is available everywhere for $5.99 (before discount) at
amazon
, or direct from my ebook publisher,
ebookit
. If you buy it from
ebookit
you don't support the big tech companies and the author gets a bigger cut much sooner.
The audiobook is also available at all these vendors, and is also
free with a 30-day trial membership to Audible.
"Not simply about one mission, [Genesis] is also the history of America's quest for the moon... Zimmerman has done a masterful job of tying disparate events together into a solid account of one of America's greatest human triumphs."--San Antonio Express-News