At a press conference today, NASA and ATK announced a new launch development agreement, running through March 2012, to help develop ATK's Liberty solid rocket into a launch vehicle that could bring both cargo and crews to ISS.
The agreement provides ATK no funds, but is designed to give ATK as much support from NASA as possible in developing Liberty, tested fired last week for only the third time. If this initial agreement goes well, it will position ATK to compete for the next round of development subsidizes.
According to ATK, they think they could launch by 2015, and are hoping to provide a rocket capable of flying the spacecraft and freighters of Boeing, Sierra Nevada, Blue Origin, and even SpaceX (should Falcon 9 have problems and they need a rocket to launch Dragon).

Once again, assuming that NASA's commercial space budget survives the battles in Congress, this agreement bodes well for American manned space. NASA is now acting to encourage as many independent privately-built rockets and spaceships as possible. "We would like multiple providers," noted Ed Mango, NASA's Commercial Crew Program manager. This is major cultural change for the space agency, which in the past acted as much as possible to control everything itself, and saw competing private companies as a threat to its turf.
As I have said repeatedly, the United States is presently going through a difficult transition, switching from the Soviet-model of a government-run space operation to the American-model of many privately owned companies freely competing against each other for business. This transition will take several years to play out, but when the dust settles, it looks like the United States will have many different ways to get its crews and cargo up into orbit, at a lower cost and with greater capability.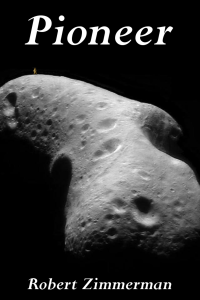 From the press release: From the moment he is handed a possibility of making the first alien contact, Saunders Maxwell decides he will do it, even if doing so takes him through hell and back.
Unfortunately, that is exactly where that journey takes him. The vision that Zimmerman paints of vibrant human colonies on the Moon, Mars, the asteroids, and beyond, indomitably fighting the harsh lifeless environment of space to build new societies, captures perfectly the emerging space race we see today. He also captures in Pioneer the heart of the human spirit, willing to push forward no matter the odds, no matter the cost. It is that spirit that will make the exploration of the heavens possible, forever, into the never-ending future. Available everywhere for $3.99 (before discount) at
amazon
,
Barnes & Noble
, all ebook vendors, or direct from the ebook publisher,
ebookit
. And if you buy it from
ebookit
you don't support the big tech companies and I get a bigger cut much sooner.