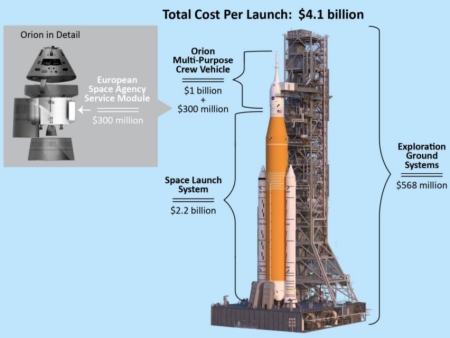 At a House hearing today the NASA Inspector General Paul Martin stated unequivocally that the cost of NASA's SLS rocket, Orion capsule, and the associated ground systems is about $4.1 billion per launch, which made the entire program, in his words, "unsustainable."
Appearing before a House Science Committee hearing on NASA's Artemis program, Martin revealed the operational costs of the big rocket and spacecraft for the first time. Moreover, he took aim at NASA and particularly its large aerospace contractors for their "very poor" performance in developing these vehicles.

Martin said that the operational costs alone for a single Artemis launch—for just the rocket, Orion spacecraft, and ground systems—will total $4.1 billion. This is, he said, "a price tag that strikes us as unsustainable." With this comment, Martin essentially threw down his gauntlet and said NASA cannot have a meaningful exploration program based around SLS and Orion at this cost.
Martin's testimony confirms what was contained in his November 2021 report, from which I took the graphic above. The article at the link details at length Martin's testimony today, which was amazingly harsh. He also said that
NASA is obscuring costs that it is spending on the Artemis program and that, in aggregate, his office believes NASA will spend $93 billion from 2012 to 2025 on the Artemis program. "Without NASA fully accounting for and accurately reporting the overall costs of current and future Artemis missions, it will be much more difficult for Congress and the administration to make informed decisions about NASA's long-term funding needs—a key to making Artemis a sustainable venture," Martin said.
Martin has merely confirmed what I have been writing now for more than a decade, and documented at great length in my 2017 policy paper, Capitalism in Space. In fact, let me quote from one of my earliest essays on this subject on Behind the Black, from 2011:

Budgeted right now at about $3 billion per year, this program could cost between $18 to $62 billion (depending on who you ask), and is not expected to make its first manned flight until 2021.

What makes the SLS program very worrisome to me is that it is very similar to NASA's numerous previous efforts to replace the space shuttle, all of which never flew, and all of which cost the taxpayer billions of dollars. For example, NASA spent approximately $9 billion trying to develop the Ares 1 and Ares 5 rockets, only to have the entire program canceled in 2010 by Barack Obama. Sadly, this stillborn program is only one of many like it in the past three decades. In each case, the program was canceled before NASA could complete it.
In my 2017 policy paper I carefully documented the cost of SLS and Orion, based on actual Congressional appropriations, at being about $43 billion through 2021. That number is now higher, and will easily exceed $50 billion. Martin said in his testimony that the real cost might actually end up as high as $93 billion.
In 2013 during one of my John Batchelor show appearances [mp3] I was even more blunt in my criticism not only of SLS but of all of Washington:
What both those parties in Congress and in the administration are really doing is faking a goal for the purpose of justifying pork to their districts, because none of the proposals they're making — both the asteroids or the moon — are going to happen.
If the growing low cost and far more effective options coming from private commercial space were not now available, I would fully expect Congress, the White House, NASA, and the big space companies like Boeing and Lockheed Martin to continue this dishonest shell game and simply — after a bit of uproar — replace SLS at some point with a new fake rocket program, costing more billions over decades and accomplishing nothing.
Commercial space however has changed this political equation drastically. Congress, the White House, NASA, and the big space contractors can no longer play that game. Instead, the success of the new private companies is making their failures plain for all to see.
Assuming the entire world economy does not collapse in an insane war in the next few years, we have hope that this new competition coming from capitalism will force the end of such wasteful boondoggles at NASA as SLS, replaced by a real private space industry, getting more accomplished for less in far less time.
Readers!
In order to remain completely independent and honest in my writing, I accept no sponsorships from big space companies or any political organizations. Nor do I depend on ads.
Instead, I rely entirely on the generosity of readers to keep Behind the Black running. You can either make a one time donation for whatever amount you wish, or you sign up for a monthly subscription ranging from $2 to $15 through Paypal, or $3 to $50 through Patreon, or any amount through Zelle.
The best method to donate or subscribe is by using Zelle through your internet bank account, since it charges no fees to you or I. You will need to give my name and email address (found at the bottom of the "About" page). What you donate is what I get.
To use Patreon, go to my website there and pick one of five monthly subscription amounts, or by making a one-time donation.

For PayPal click one of the following buttons:

If these electronic payment methods don't work for you, you can support Behind The Black directly by sending your donation by check, payable to Robert Zimmerman, to


Behind The Black
c/o Robert Zimmerman
P.O.Box 1262
Cortaro, AZ 85652