Last week NASA's Aerospace Safety Advisory Panel (ASAP) issued its 2017 report [pdf], detailing the areas it has concerns for human safety in all of NASA's programs. Not surprisingly, the report raised big issues about SpaceX, suggesting its manned launch schedule was questionable and that there were great risks using the Falcon 9 rocket as presently designed.
ASAP was especially concerned with the issues with the Falcon 9 COPV helium tanks and how they were connected with the September 2016 launchpad explosion, as well as SpaceX's approach to fueling the rocket. Below is a screen capture of the report's pertinent section on this.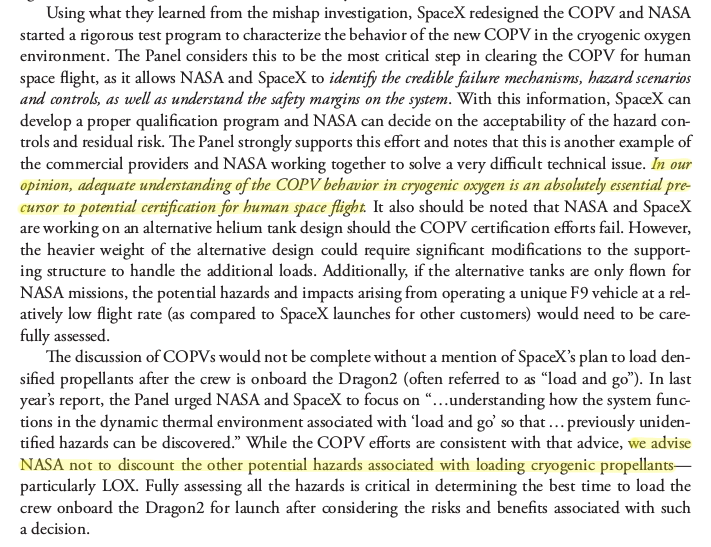 The report complements NASA and SpaceX for looking at a new design for the COPV helium tanks, but also appears quite willing to force endless delays in order to make sure the issue here is completely understood, even though this is likely impossible for years more.
ASAP also raises once again its reservations about SpaceX's method of fueling the Falcon 9, which would have them fill the tanks after the astronauts are on board so that the fuel can be kept cold and dense to maximize performance. This issue I find very silly. The present accepted approach is to fill the tanks, then board the astronauts. SpaceX wants to board the astronauts, then fill the tanks. Either way, the astronauts will be in a rocket with tons of volatile fuel and oxidizer. I really do not see why it makes that much of a difference, especially with SpaceX building a successful track record using its approach with each successful commercial launch. They did 18 last year alone.
Below the fold is a screen capture of the report's entire summary, with some sections highlighted by me.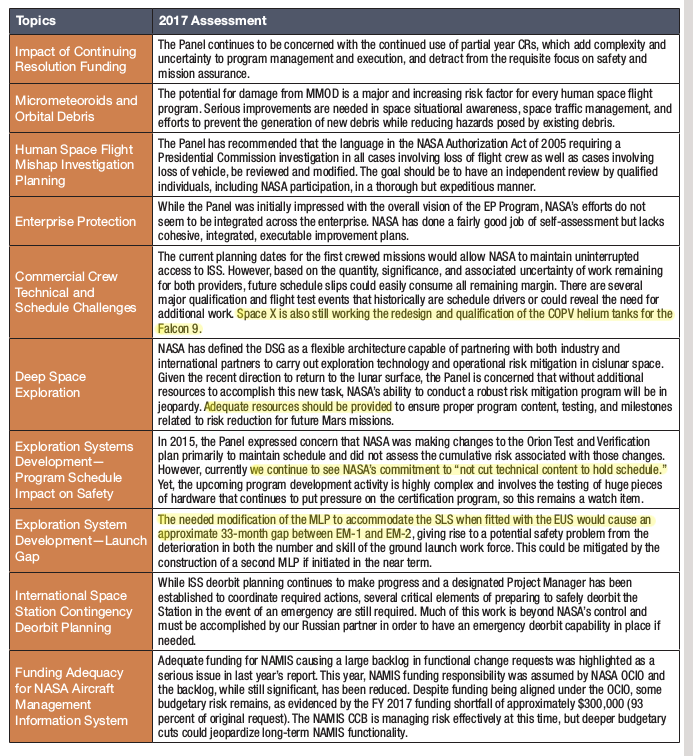 This one-page summary reveals the absurdity of trying to do space exploration under NASA's current bureaucratic framework. ASAP practically demands a risk-free space effort, and is quite willing to allow schedules to drag on forever to achieve this. NASA however is supposed to be in the business of exploration, which by definition means NASA is exploring the unknown, and cannot achieve a risk-free effort. In fact, the risks — and the failures — are exactly what NASA and the commercial companies require to learn and improve how they do things. If you try to eliminate them before you fly, you will never fly.
In discussing NASA's deep space proposals, including its Deep Space Gateway idea of a Moon-orbiting space station, ASAP as usual sees only one problem: not enough money, which it couches in the phrase "Adequate resources should be provided." This is the same argument that ASAP has been making for SLS and Orion now for more than a decade, resulting in those programs getting more than ten times the funds of commercial space, and yet, even now the report admits there are safety problems with both that might require further delays. For example, the cryptic sentence "The needed modification of the MLP to accommodate the SLS when fitted with the EUS" refers to the fact that — after NASA spent half a billion dollars re-configuring the mobile launcher (MLP) so that it can transport the first SLS rocket to the launchpad — the mobile launcher will need to be re-configured again for the second SLS launch because the second stage (EUS) will be different, resulting in a more than two year delay between the first and second SLS launches.
ASAP's solution? "Adequate resources should be provided!" Build a new mobile launcher, at great cost, which would make the first launcher useless after only one use.
The report's description of Orion is equally embarrassing, outlining how Orion's first heat shield was a failure, and that there are even now questions about the new design.
Overall, the problem here is with ASAP itself. Imagine if we had had this kind of review in the 1800s:
The Government Safety Panel of Covered Wagon Design (GSPCWD) has found that Conestoga wagons do not have adequate safety protections against Indian attacks. The canvas walls cannot protect against arrows, and can burn too easily. Moreover, the wagon has too high a center of gravity, and can roll over too quickly. Before any settlers can move west using this vehicle it will have to be redesigned.
Exploration involves risks. If you want to explore, you accept those risks, while doing everything reasonable to address them, while moving forward quickly and practically. You do not try to eliminate all risks, only those that act to prevent you from moving forward. You then accept the tragic failures you couldn't predict, fix what you can to prevent them from happening again, and quickly move on.
ASAP, and the philosophy that guides it, wants to eliminate all risks, even those that we can't predict or might keep us from going at all. If we continue to allow this approach to remain in charge, the U.S. space program is never going to go anywhere.
Readers!
In order to remain completely independent and honest in my writing, I accept no sponsorships from big space companies or any political organizations. Nor do I depend on ads.
Instead, I rely entirely on the generosity of readers to keep Behind the Black running. You can either make a one time donation for whatever amount you wish, or you sign up for a monthly subscription ranging from $2 to $15 through Paypal, or $3 to $50 through Patreon, or any amount through Zelle.
The best method to donate or subscribe is by using Zelle through your internet bank account, since it charges no fees to you or I. You will need to give my name and email address (found at the bottom of the "About" page). What you donate is what I get.
To use Patreon, go to my website there and pick one of five monthly subscription amounts, or by making a one-time donation.

For PayPal click one of the following buttons:

If these electronic payment methods don't work for you, you can support Behind The Black directly by sending your donation by check, payable to Robert Zimmerman, to


Behind The Black
c/o Robert Zimmerman
P.O.Box 1262
Cortaro, AZ 85652