The law is such an inconvenient thing: In a bipartisan effort, Texas lawmakers roast NASA administrator Charles Bolden for not meeting mandated Congressional deadlines for Congress's personally designed rocket, the program-formerly-called-Constellation.
The heavy-lift rocket and capsule that Congress insists NASA build is a complete waste of money and nothing more than pork. It will never get built, mainly because Congress has given NASA less money and less time to build it than they did for Constellation under the Bush administration. Unfortunately, the reason they continue to require NASA to build it is to provide pork to their districts.
In a perfect world this funding would be cut now, especially considering the state of the federal debt.

Nonetheless, Congress has still mandated the rocket's construction, and as far as I know, we still live under the rule of law. As stupid as the program-formerly-called-Constellation is, the Obama administration has no legal right to stall the program or try to kill it. If the funds are appropriated by Congress for this rocket, than the administration must spend those funds. That the Obama administration continues to defy Congress on this matter is just another worrisome example of their willingness to ignore the law.
That our society seems increasingly willing to look the other way in this matter is even more worrisome. If we don't start demanding that our politicians from both parties obey the law, it won't be long before they abandon it altogether, for their own power-hungry purposes.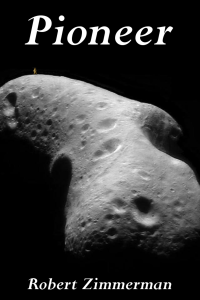 From the press release: From the moment he is handed a possibility of making the first alien contact, Saunders Maxwell decides he will do it, even if doing so takes him through hell and back.
Unfortunately, that is exactly where that journey takes him.
The vision that Zimmerman paints of vibrant human colonies on the Moon, Mars, the asteroids, and beyond, indomitably fighting the harsh lifeless environment of space to build new societies, captures perfectly the emerging space race we see today.
He also captures in Pioneer the heart of the human spirit, willing to push forward no matter the odds, no matter the cost. It is that spirit that will make the exploration of the heavens possible, forever, into the never-ending future.
Available everywhere for $3.99 (before discount) at
amazon
,
Barnes & Noble
, all ebook vendors, or direct from the ebook publisher,
ebookit
.