Two stories, one from AP and the other from Florida Today, say that NASA will announce today the design of its heavy-lift rocket, mandated by Congress and estimated to cost around $35 billion. Here is NASA's press release. To me, this is the key quote (from AP):
NASA figures it will be building and launching about one rocket a year for about 15 years or more in the 2020s and 2030s, according to senior administration officials who spoke on the condition of anonymity because the announcement was not yet made. The idea is to launch its first unmanned test flight in 2017 with the first crew flying in 2021 and astronauts heading to a nearby asteroid in 2025, the officials said. From there, NASA hopes to send the rocket and astronauts to Mars — at first just to circle, but then later landing on the Red Planet — in the 2030s. [emphasis mine]
In other words, after spending $1.7 on the National Space Plane, $1.2 billion on the X-33, $1 billion on the X-34, $800 million on the Space Launch Initiative, and finally, almost $10 billion on Constellation, none of which ever flew, NASA is now going to spend another $35 billion on a new rocket that won't fly for at least another decade.
To be really blunt, this new rocket, like all its predecessors, will never fly either. It costs too much, will take too long to build, and will certainly be canceled by a future administration before it is finished. It is therefore a complete waste of money, and any Congress that approves it will demonstrate how utterly insincere they are about controlling spending.
A clarification: Some of the $35 billion mentioned above has already been spent for the Orion capsule. This however still does not change any of my conclusions.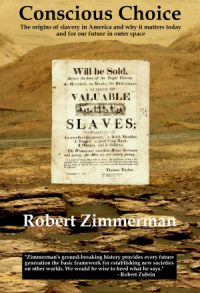 Now available in hardback and paperback as well as ebook!
From the press release: In this ground-breaking new history of early America, historian Robert Zimmerman not only exposes the lie behind The New York Times 1619 Project that falsely claims slavery is central to the history of the United States, he also provides profound lessons about the nature of human societies, lessons important for Americans today as well as for all future settlers on Mars and elsewhere in space.
Conscious Choice: The origins of slavery in America and why it matters today and for our future in outer space
, is a riveting page-turning story that documents how slavery slowly became pervasive in the southern British colonies of North America, colonies founded by a people and culture that not only did not allow slavery but in every way were hostile to the practice.
Conscious Choice
does more however. In telling the tragic history of the Virginia colony and the rise of slavery there, Zimmerman lays out the proper path for creating healthy societies in places like the Moon and Mars.
"Zimmerman's ground-breaking history provides every future generation the basic framework for establishing new societies on other worlds. We would be wise to heed what he says." —Robert Zubrin, founder of founder of the Mars Society.
All editions available at Amazon, Barnes & Noble, and all book vendors. The ebook can be purchased direct from my ebook publisher, ebookit, in which case you don't support the big tech companies and I get a bigger cut much sooner. Note that the price for the ebook, $3.99, goes up to $5.99 on September 1, 2022.
Autographed printed copies are also available at discount directly from me (hardback $24.95; paperback $14.95). Just email me at zimmerman @ nasw dot org.