Two stories, one from AP and the other from Florida Today, say that NASA will announce today the design of its heavy-lift rocket, mandated by Congress and estimated to cost around $35 billion. Here is NASA's press release. To me, this is the key quote (from AP):
NASA figures it will be building and launching about one rocket a year for about 15 years or more in the 2020s and 2030s, according to senior administration officials who spoke on the condition of anonymity because the announcement was not yet made. The idea is to launch its first unmanned test flight in 2017 with the first crew flying in 2021 and astronauts heading to a nearby asteroid in 2025, the officials said. From there, NASA hopes to send the rocket and astronauts to Mars — at first just to circle, but then later landing on the Red Planet — in the 2030s. [emphasis mine]
In other words, after spending $1.7 on the National Space Plane, $1.2 billion on the X-33, $1 billion on the X-34, $800 million on the Space Launch Initiative, and finally, almost $10 billion on Constellation, none of which ever flew, NASA is now going to spend another $35 billion on a new rocket that won't fly for at least another decade.
To be really blunt, this new rocket, like all its predecessors, will never fly either. It costs too much, will take too long to build, and will certainly be canceled by a future administration before it is finished. It is therefore a complete waste of money, and any Congress that approves it will demonstrate how utterly insincere they are about controlling spending.
A clarification: Some of the $35 billion mentioned above has already been spent for the Orion capsule. This however still does not change any of my conclusions.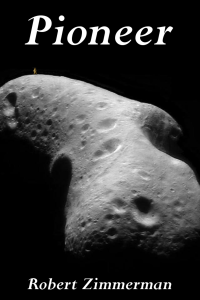 From the press release: From the moment he is handed a possibility of making the first alien contact, Saunders Maxwell decides he will do it, even if doing so takes him through hell and back.
Unfortunately, that is exactly where that journey takes him. The vision that Zimmerman paints of vibrant human colonies on the Moon, Mars, the asteroids, and beyond, indomitably fighting the harsh lifeless environment of space to build new societies, captures perfectly the emerging space race we see today. He also captures in Pioneer the heart of the human spirit, willing to push forward no matter the odds, no matter the cost. It is that spirit that will make the exploration of the heavens possible, forever, into the never-ending future. Available everywhere for $3.99 (before discount) at
amazon
,
Barnes & Noble
, all ebook vendors, or direct from the ebook publisher,
ebookit
. And if you buy it from
ebookit
you don't support the big tech companies and I get a bigger cut much sooner.