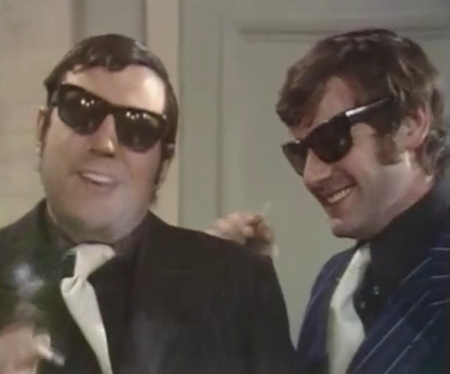 Congress and the FCC to private space: "Nice business you
got here. Shame if something happened to it."
On December 8, 2022, two bills, sponsored by both a Democrat and a Republican, were introduced in the House to give the Federal Communications Commission (FCC) the power to regulate and even block the launch of commercial private space stations, while also giving that agency the power to require companies to meet its arbitrary regulations on de-orbiting defunct satellites and stations.
House Energy and Commerce Committee Chairman Frank Pallone, Jr. (D-N.J.) and the ranking member, Rep. Cathy McMorris Rodgers (R-Wash.), said their legislation is needed to modernize the FCC for the rapidly changing space industry. Their two bills — the Satellite and Telecommunications Streamlining Act and Secure Space Act — seek to update regulations covering foreign ownership, space sustainability, license processing timelines, and satellite spectrum sharing.
The key language in the first bill [pdf] is this:

…not later than 1 year after the date on which a written application is submitted to the Commission [FCC], the Commission shall make a determination whether to grant such application for a license for

(A) a nongeostationary orbit space station or space-station constellation and an earth station or earth stations;
(B) a nongeostationary orbit space station and the blanket-licensed earth stations that will operate with the nongeostationary orbit space station; or
(C) a nongeostationary orbit space-station constellation and the blanket-licensed earth stations that will operate with the nongeostationary orbit space-station constellation.
[Also:] …a geostationary orbit space station or space-station constellation and earth stations.
Under past regulatory rules, the term "space station" can apply to any orbiting spacecraft or satellite, not just manned space stations, which means that the FCC will have the power to yay or nay any private satellite or constellation or manned space station, should this bill become law.
This bill also gives the FCC the power to limit the number of a company's stations, their lifespan, and many of aspects of its operation, including future modifications or upgrades. The law also limits the length of any license to just fifteen years, though it also gives the FCC the power to issue a fifteen year renewal, if it chooses to do so.
Finally, the bill gives the FCC the power to block any commercial operation that astronomers think will interfere with their ground-based radio telescopes.
Though the bill has many good intentions, such as making sure companies do due diligence to make sure their orbiting spacecraft can be de-orbited safely when it is time to do so, its long term effects will be to stifle this new industry. The bill essentially codifies some of the extra powers the FCC claimed for itself in September related to de-orbiting satellites, powers that were not included in its original legal framework. With this bill, they will be, but the bill also hands the FCC much more power.
The bottom line: The final decision on the launch, construction, and final deposition of any private orbiting facility would be made not by the owners of that facility, but by the FCC, a federal government agency. The opportunities for corruption and the abuse of power are truly endless.
Both bills still have to work their way through committee approvals, and then be okayed by both the House and Senate and then signed by the President. Since no one really pays much attention to these nitty-gritty details any longer (except to possibly extract their own pound of flesh), nor does anyone in Congress really care about the long term interests of the nation or its citizenry, I expect these bills to eventually pass, but likely in a worse form then they are now.
In the end, these regulations will most likely become the reason future spacefarers will revolt against Earth rule, especially when the FCC tries to shut down what they think are still viable space facilities.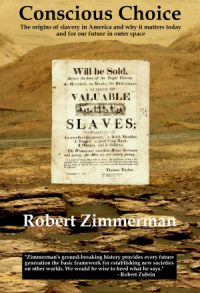 Now available in hardback and paperback as well as ebook!
From the press release: In this ground-breaking new history of early America, historian Robert Zimmerman not only exposes the lie behind The New York Times 1619 Project that falsely claims slavery is central to the history of the United States, he also provides profound lessons about the nature of human societies, lessons important for Americans today as well as for all future settlers on Mars and elsewhere in space.
Conscious Choice: The origins of slavery in America and why it matters today and for our future in outer space
, is a riveting page-turning story that documents how slavery slowly became pervasive in the southern British colonies of North America, colonies founded by a people and culture that not only did not allow slavery but in every way were hostile to the practice.
Conscious Choice
does more however. In telling the tragic history of the Virginia colony and the rise of slavery there, Zimmerman lays out the proper path for creating healthy societies in places like the Moon and Mars.
"Zimmerman's ground-breaking history provides every future generation the basic framework for establishing new societies on other worlds. We would be wise to heed what he says." —Robert Zubrin, founder of founder of the Mars Society.
All editions are available at Amazon, Barnes & Noble, and all book vendors, with the ebook priced at $5.99 before discount. All editions can also be purchased direct from the ebook publisher, ebookit, in which case you don't support the big tech companies and the author gets a bigger cut much sooner.
Autographed printed copies are also available at discount directly from me (hardback $24.95; paperback $14.95; Shipping cost for either: $5.00). Just email me at zimmerman @ nasw dot org.