From an email sent out by Ukrainian caver Alexander Klimchouk, received today:
Pavel Rud'ko of Krasnoyarsk (Rissia, Siberia) has reported the success of the recent expedition of Krasnoyarsk cavers to the Sarma Cave, Arabika Massif, Western Caucasus. The cave, previously explored by cavers from Krasnoyarsk and Irkutsk to -1570 m, has now been made almost 200 m deeper, to reach depth of -1760m and become the second deepest cave in the world.

The expedition led by Pavel Rud'ko has been carried out between September 1st – October 7th, 2011. The main branch has been pushed to -1760 m after breaking through a narrow meander at the old bottom. Many side and ascending passages in other parts of the cave have been also explored. The expedition performed systematic temperature measurements, and speleobiological and microbiological sampling.

With its new depth figure, Sarma surpassed the Illjuzia-Mezhonnogo-Snezhnaya system (-1753 m), located in the nearby Bzybsky Massif, and became the second deepest cave in the world, following Krubera Cave (-2191 m) located in the same massif. Thus, the western Caucasus now hosts three deepest caves in the worlds, two of them in Arabika Massif and one in Bzybsky Massif.

Some details of geology, hydrogeology and cave locations of Arabika can be found here. [pdf]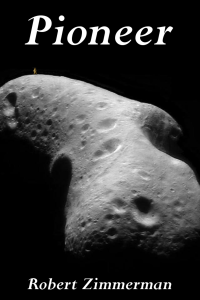 From the press release: From the moment he is handed a possibility of making the first alien contact, Saunders Maxwell decides he will do it, even if doing so takes him through hell and back.
Unfortunately, that is exactly where that journey takes him. The vision that Zimmerman paints of vibrant human colonies on the Moon, Mars, the asteroids, and beyond, indomitably fighting the harsh lifeless environment of space to build new societies, captures perfectly the emerging space race we see today. He also captures in Pioneer the heart of the human spirit, willing to push forward no matter the odds, no matter the cost. It is that spirit that will make the exploration of the heavens possible, forever, into the never-ending future. Available everywhere for $3.99 (before discount) at
amazon
,
Barnes & Noble
, all ebook vendors, or direct from the ebook publisher,
ebookit
. And if you buy it from
ebookit
you don't support the big tech companies and I get a bigger cut much sooner.