From an email sent out by Ukrainian caver Alexander Klimchouk, received today:
Pavel Rud'ko of Krasnoyarsk (Rissia, Siberia) has reported the success of the recent expedition of Krasnoyarsk cavers to the Sarma Cave, Arabika Massif, Western Caucasus. The cave, previously explored by cavers from Krasnoyarsk and Irkutsk to -1570 m, has now been made almost 200 m deeper, to reach depth of -1760m and become the second deepest cave in the world.

The expedition led by Pavel Rud'ko has been carried out between September 1st – October 7th, 2011. The main branch has been pushed to -1760 m after breaking through a narrow meander at the old bottom. Many side and ascending passages in other parts of the cave have been also explored. The expedition performed systematic temperature measurements, and speleobiological and microbiological sampling.

With its new depth figure, Sarma surpassed the Illjuzia-Mezhonnogo-Snezhnaya system (-1753 m), located in the nearby Bzybsky Massif, and became the second deepest cave in the world, following Krubera Cave (-2191 m) located in the same massif. Thus, the western Caucasus now hosts three deepest caves in the worlds, two of them in Arabika Massif and one in Bzybsky Massif.

Some details of geology, hydrogeology and cave locations of Arabika can be found here. [pdf]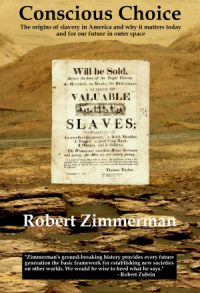 Now available in hardback and paperback as well as ebook!
From the press release: In this ground-breaking new history of early America, historian Robert Zimmerman not only exposes the lie behind The New York Times 1619 Project that falsely claims slavery is central to the history of the United States, he also provides profound lessons about the nature of human societies, lessons important for Americans today as well as for all future settlers on Mars and elsewhere in space.
Conscious Choice: The origins of slavery in America and why it matters today and for our future in outer space
, is a riveting page-turning story that documents how slavery slowly became pervasive in the southern British colonies of North America, colonies founded by a people and culture that not only did not allow slavery but in every way were hostile to the practice.
Conscious Choice
does more however. In telling the tragic history of the Virginia colony and the rise of slavery there, Zimmerman lays out the proper path for creating healthy societies in places like the Moon and Mars.
"Zimmerman's ground-breaking history provides every future generation the basic framework for establishing new societies on other worlds. We would be wise to heed what he says." —Robert Zubrin, founder of founder of the Mars Society.
All editions available at Amazon, Barnes & Noble, and all book vendors. The ebook can be purchased direct from my ebook publisher, ebookit, in which case you don't support the big tech companies and I get a bigger cut much sooner. Note that the price for the ebook, $3.99, goes up to $5.99 on September 1, 2022.
Autographed printed copies are also available at discount directly from me (hardback $24.95; paperback $14.95). Just email me at zimmerman @ nasw dot org.