A new report [pdf] by NASA's inspector general released today harshly slams the management of NASA for the never-ending cost overruns and scheduling delays that have plagued the agency's effort to build and launch the Space Launch System (SLS).
From the report's introduction:
Based on our review of SLS Program cost reporting, we found that the Program exceeded its Agency Baseline Commitment (ABC)—that is, the cost and schedule baselines committed to Congress against which a program is measured—by at least 33 percent at the end of fiscal year 2019, a figure that could reach 43 percent or higher if additional delays push the launch date for Artemis I beyond November 2020.

… [T]he SLS Program now projects the Artemis I launch will be delayed to at least spring 2021 or later. Further, we found NASA's ABC cost reporting only tracks Artemis I-related activities and not total SLS Program costs. Overall, by the end of fiscal year 2020, NASA will have spent more than $17 billion on the SLS Program—including almost $6 billion not tracked or reported as part of the ABC.
The graph below, taken from page 45 of the report, illustrates the management failures here quite starkly.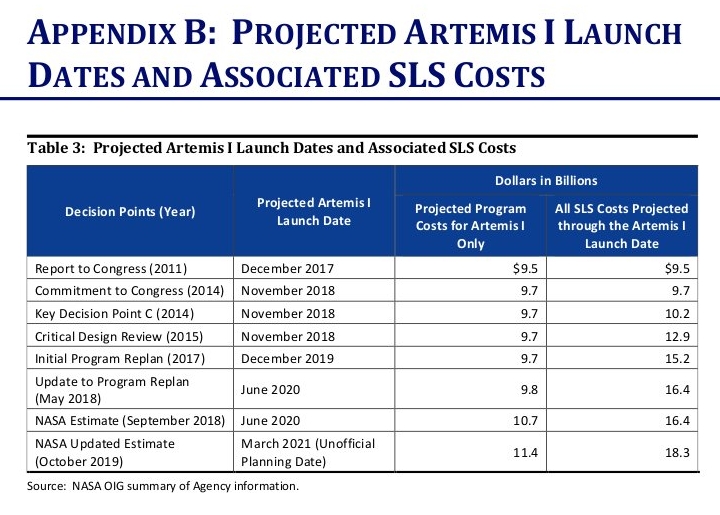 The original proposal in 2011 predicted a 2017 launch for $9.5 billion. At this moment, the first launch won't happen before March 2021, and its total budget has doubled to $18.3 billion.
These numbers only track the cost for the first launch and not the entire SLS program, and also exclude the money NASA spent on Constellation, the first iteration of this rocket. Thus, the total cost is much higher. Based on Congressional appropriations, Constellation cost $5 billion (see page 10 of Capitalism in Space). Adding in the rest of the program's cost, estimated above as about $6 billion, the entire cost to the taxpayer for this boondoggle will easily exceed $29 billion.
Want to bet the number will top $30 billion before we are done?
To gain some perspective on how badly NASA has managed SLS, consider the development costs I quoted earlier today for both SpaceX's Falcon Heavy ($500 million) and Starship/Super Heavy ($1.83 billion). Falcon Heavy for example took only seven years to conceive and launch, has a launch capability only a third less than the rocket to be used on Artemis 1, and has already completed three commercial launches. As for Starship/Super Heavy, SpaceX expects to build this completely reusable rocket, comparable to SLS, for less than a tenth the cost, and in about half the time.
Worse, none of the budget numbers for SLS above include the cost for any additional SLS missions. If you think the per launch cost for those future SLS missions will be reasonable after these management failures, I have a bridge in Brooklyn I promise I can get you for a song.
Any sane customer looking for a heavy lift rocket for future deep space missions, either manned or unmanned, would have no trouble choosing SpaceX over NASA's SLS. Unfortunately, the buyers here are our elected legislators in Congress. They can't do math very well, and are thus still married to SLS.
Readers!
My July fund-raising campaign for 2021 has now ended. Thank you all for your donations and subscriptions. While this year's campaign was not as spectacular as last year's, it was the second best July campaign since I began this website.
And if you have not yet donated or subscribed, and you think what I write here is worth your support, you can still do so. I depend on this support to remain independent and free to write what I believe, without any pressure from others. Nor do I accept advertisements, or use oppressive social media companies like Google, Twitter, and Facebook. I depend wholly on the direct support of my readers.
If you choose to help, you can contribute via Patreon or PayPal. To use Patreon, go to my website there and pick one of five monthly subscription amounts, or by making a one-time donation. For PayPal click one of the following buttons:

If Patreon or Paypal don't work for you, you can support Behind The Black directly by sending your donation by check, payable to Robert Zimmerman, to


Behind The Black
c/o Robert Zimmerman
P.O.Box 1262
Cortaro, AZ 85652