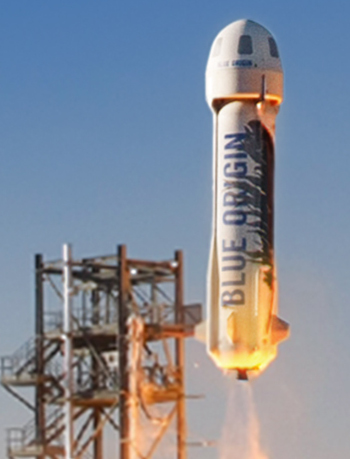 The competition heats up: Blue Origin completed on Wednesday its first test flight of its reusable suborbital spacecraft, New Shepard.
After reaching an altitude of 307,000 feet, or 58 miles, the capsule successfully separated from its first stage, what they call the propulsion module, and safely parachuted back to Earth. The first stage, designed to also be recoverable, was not recovered successfully. According to Jeff Bezos's explanation, they "lost pressure in our hydraulic system" and that they were trying to land it vertically, like SpaceX's Falcon 9 first stage.
The cropped image on the right of the full resolution image, gives us a close-up of the capsule and propulsion module. The small fins on the propulsion module suggest the capability for a vertical landing, but it is unclear from the image whether the module has legs, though other images and videos strongly suggest there are legs on this module.
The flight itself, getting above 50 miles, reached space according to most definitions. In fact, Blue Origin with this flight has accomplished what Virgin Galactic has been promising to do for more than a decade, a suborbital test flight of its spacecraft. Blue Origin's flight was unmanned, but it demonstrated that their design works. They will of course have to re-fly the capsule as well as land that first stage successfully to prove the design's re-usability, but this flight shows that they are off to a very good start. And their webpage clearly shows that they are almost ready to start selling tickets for suborbital flights.
The most significant success of this launch, however, is the performance of the BE-3 rocket engine. Blue Origin has convinced ULA to hire it to build the engines for its new Vulcan rocket. This success justifies that decision.
I have embedded their videos of the full flight below the fold.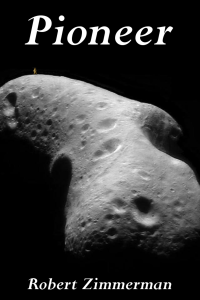 From the press release: From the moment he is handed a possibility of making the first alien contact, Saunders Maxwell decides he will do it, even if doing so takes him through hell and back.
Unfortunately, that is exactly where that journey takes him. The vision that Zimmerman paints of vibrant human colonies on the Moon, Mars, the asteroids, and beyond, indomitably fighting the harsh lifeless environment of space to build new societies, captures perfectly the emerging space race we see today. He also captures in Pioneer the heart of the human spirit, willing to push forward no matter the odds, no matter the cost. It is that spirit that will make the exploration of the heavens possible, forever, into the never-ending future. Available everywhere for $3.99 (before discount) at
amazon
,
Barnes & Noble
, all ebook vendors, or direct from the ebook publisher,
ebookit
. And if you buy it from
ebookit
you don't support the big tech companies and I get a bigger cut much sooner.