Readers!
For many reasons,
mostly political but partly ethical
, I do not use Google, Facebook, Twitter. They practice corrupt business policies, while targeting conservative websites for censoring, facts repeatedly
confirmed
by news stories and by my sense that Facebook has taken action to prevent my readers from recommending Behind the Black to their friends.
Thus, I must have your direct support to keep this webpage alive. Not only does the money pay the bills, it gives me the freedom to speak honestly about science and culture,
instead of being forced to write it as others demand.
Please consider donating by giving either a one-time contribution or a regular subscription, as outlined in the tip jar below.
Regular readers can support Behind The Black with a contribution via paypal:
If Paypal doesn't work for you, you can support Behind The Black directly by sending your donation by check, payable to Robert Zimmerman, to

Behind The Black
c/o Robert Zimmerman
P.O.Box 1262
Cortaro, AZ 85652

You can also support me by buying one of my books, as noted in the boxes interspersed throughout the webpage. And if you buy the books through the ebookit links, I get a larger cut and I get it sooner.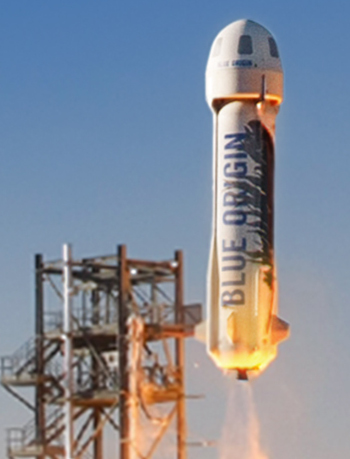 The competition heats up: Blue Origin completed on Wednesday its first test flight of its reusable suborbital spacecraft, New Shepard.
After reaching an altitude of 307,000 feet, or 58 miles, the capsule successfully separated from its first stage, what they call the propulsion module, and safely parachuted back to Earth. The first stage, designed to also be recoverable, was not recovered successfully. According to Jeff Bezos's explanation, they "lost pressure in our hydraulic system" and that they were trying to land it vertically, like SpaceX's Falcon 9 first stage.
The cropped image on the right of the full resolution image, gives us a close-up of the capsule and propulsion module. The small fins on the propulsion module suggest the capability for a vertical landing, but it is unclear from the image whether the module has legs, though other images and videos strongly suggest there are legs on this module.
The flight itself, getting above 50 miles, reached space according to most definitions. In fact, Blue Origin with this flight has accomplished what Virgin Galactic has been promising to do for more than a decade, a suborbital test flight of its spacecraft. Blue Origin's flight was unmanned, but it demonstrated that their design works. They will of course have to re-fly the capsule as well as land that first stage successfully to prove the design's re-usability, but this flight shows that they are off to a very good start. And their webpage clearly shows that they are almost ready to start selling tickets for suborbital flights.
The most significant success of this launch, however, is the performance of the BE-3 rocket engine. Blue Origin has convinced ULA to hire it to build the engines for its new Vulcan rocket. This success justifies that decision.
I have embedded their videos of the full flight below the fold.