I have stated this now bluntly more than a few times. I will not tolerate obscenities or curse words on this website. Despite this, today two different regular commenters thought it was perfectly fine to ignore these rules. One I have suspended for a week. The other might be.
The rest of the world might want to wallow in barbarism and ill behavior, but it will not happen here. This is my workplace. If you want to participate in the conversation on Behind the Black, I expect you to act like a civilized adult. If you can't abide by these rules, then go somewhere else.
And don't think it is okay to quote someone else verbatim and get away with this. As I noted just now in a reply to the suspended commenter, when Richard Nixon's White House used the term [expletive deleted] everyone knew what it meant. It wasn't a great solution, but it at least showed that they recognized that it was inappropriate to nonchalantly print obscenities, even ones spoken by the president. At the same time, they knew they couldn't edit the transcripts, so they found a way to make it clear what was on the tapes without adding to the misbehavior.
Consider this a final warning. From now on I will not simply delete the obscenity and issue a warning. From now on, any violation of this rule will get an immediate suspension for a week. A second violation by the same person will get them banned.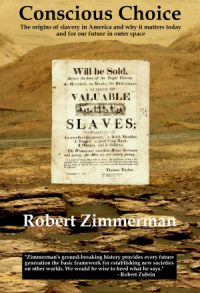 Now available in hardback and paperback as well as ebook!
From the press release: In this ground-breaking new history of early America, historian Robert Zimmerman not only exposes the lie behind The New York Times 1619 Project that falsely claims slavery is central to the history of the United States, he also provides profound lessons about the nature of human societies, lessons important for Americans today as well as for all future settlers on Mars and elsewhere in space.
Conscious Choice: The origins of slavery in America and why it matters today and for our future in outer space
, is a riveting page-turning story that documents how slavery slowly became pervasive in the southern British colonies of North America, colonies founded by a people and culture that not only did not allow slavery but in every way were hostile to the practice.
Conscious Choice
does more however. In telling the tragic history of the Virginia colony and the rise of slavery there, Zimmerman lays out the proper path for creating healthy societies in places like the Moon and Mars.
"Zimmerman's ground-breaking history provides every future generation the basic framework for establishing new societies on other worlds. We would be wise to heed what he says." —Robert Zubrin, founder of founder of the Mars Society.
All editions are available at Amazon, Barnes & Noble, and all book vendors, with the ebook priced at $5.99 before discount. The ebook can also be purchased direct from my ebook publisher, ebookit, in which case you don't support the big tech companies and I get a bigger cut much sooner.
Autographed printed copies are also available at discount directly from me (hardback $24.95; paperback $14.95; Shipping cost for either: $5.00). Just email me at zimmerman @ nasw dot org.