The side that President Barack Obama takes in the worldwide conflict between fundamentalist (and violent) Islam and western Judeo-Christian civilization can be seen I think by three stories this past week:
In the first case Obama chose to hurriedly change his plans so he could attend the funeral of the Saudi king. He did not consider attending or sending an important representative to the demonstrations in France condemning the Charlie Hebdo murders. Nor did he consider attending or sending an important representative to the ceremonies commemorating the 70th anniversary of the liberation of Auschwitz.
In the second case Obama has made his dislike for Netanyahu and Israel quite clear, almost to the point of performing childish tantrums. Yet, Israel is our ally. It is also the only real democracy in the Middle East that actually attempts to defend western values.
In the third case, Obama has his administration meet with Muslim Brotherhood leaders to coordinate an effort to remove Egypt's President Abdel Fattah al-Sisi, even though al-Sisi is one of the few in the Islamic world demanding that Islam reform itself away from violence.
So, what side do you think Barack Obama is on? Who do you really think he wants to win this war?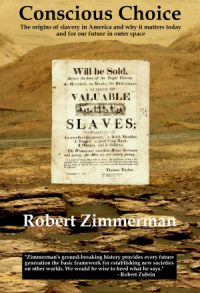 Now available in hardback and paperback as well as ebook!
From the press release: In this ground-breaking new history of early America, historian Robert Zimmerman not only exposes the lie behind The New York Times 1619 Project that falsely claims slavery is central to the history of the United States, he also provides profound lessons about the nature of human societies, lessons important for Americans today as well as for all future settlers on Mars and elsewhere in space.
Conscious Choice: The origins of slavery in America and why it matters today and for our future in outer space
, is a riveting page-turning story that documents how slavery slowly became pervasive in the southern British colonies of North America, colonies founded by a people and culture that not only did not allow slavery but in every way were hostile to the practice.
Conscious Choice
does more however. In telling the tragic history of the Virginia colony and the rise of slavery there, Zimmerman lays out the proper path for creating healthy societies in places like the Moon and Mars.
"Zimmerman's ground-breaking history provides every future generation the basic framework for establishing new societies on other worlds. We would be wise to heed what he says." —Robert Zubrin, founder of founder of the Mars Society.
All editions are available at Amazon, Barnes & Noble, and all book vendors, with the ebook priced at $5.99 before discount. The ebook can also be purchased direct from my ebook publisher, ebookit, in which case you don't support the big tech companies and I get a bigger cut much sooner.
Autographed printed copies are also available at discount directly from me (hardback $24.95; paperback $14.95; Shipping cost for either: $5.00). Just email me at zimmerman @ nasw dot org.