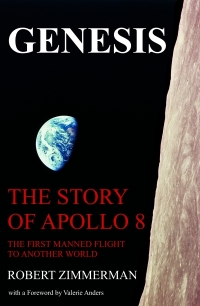 On Christmas Eve 1968 three Americans became the first humans to visit another world. What they did to celebrate was unexpected and profound, and will be remembered throughout all human history. Genesis: the Story of Apollo 8, Robert Zimmerman's classic history of humanity's first journey to another world, tells that story, and it is now available as both an ebook and an audiobook, both with a foreword by Valerie Anders and a new introduction by Robert Zimmerman.
The ebook is available everywhere for $5.99 (before discount) at
amazon
, or direct from my ebook publisher,
ebookit
.
The audiobook is also available at all these vendors, and is also
free with a 30-day trial membership to Audible.
"Not simply about one mission, [Genesis] is also the history of America's quest for the moon... Zimmerman has done a masterful job of tying disparate events together into a solid account of one of America's greatest human triumphs." --San Antonio Express-News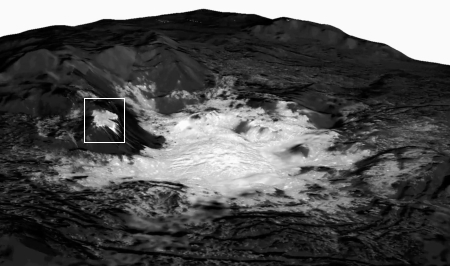 Cool image time! With the Dawn spacecraft now swooping with 22 miles of the surface of Ceres every 27 hours, the science team has assembled a spectacular oblique image of Cerealia Facula, one of the dwarf planet's bright spots thought to be brine deposits that at some point erupted up from below the surface.
The image on the right, reduced in resolution to show here, shows that mosaic. If you click on the image you can see the full resolution version. From the image webpage:
This mosaic of Cerealia Facula combines images obtained from altitudes as low as 22 miles (35 km) above Ceres' surface. The mosaic is overlain on a topography model based on images obtained during Dawn's low altitude mapping orbit (240 miles or 385 km altitude). No vertical exaggeration was applied.
There are a lot of intriguing details in the full resolution image. I have highlighted one feature, indicated by the white box and shown in full resolution below.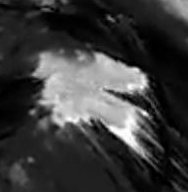 The white material very clearly appears to be a flow going downhill, though the feature has some puzzling aspects. For example, the edges of the deposit are its brightest, as if the center area is the oldest and has faded with time. Moreover, the bottom edges are the brightest of all, and the faded center area seems depressed relative to its edges.
We know that many of these bright spots are in depressions. It has been theorized that they might have once been brine volcanoes that after the eruptions died out the volcanoes slumped, collapsing into a sink.
This detail as well as the full image of the entire bright spot suggests something different to me. Instead of a brine volcano, it appears that the seep comes up slowly from below, and causes a sink, not a volcano, as it does so. The detail shows that new material does not necessarily break the surface initially, but seeps downhill to break out at the edges, thus creating those brightest sections.
All guesses on my part. Greater certainty of the make-up of the white material and the surrounding darker material, combined with a lot of calculations based Ceres's weak gravity, will be needed to get a better understanding of what is happening here.
Readers!
My July fund-raiser for Behind the Black is now over. The support from my readers was unprecedented, making this July campaign the best ever, twice over. What a marvelous way to celebrate the website's tenth anniversary!

Thank you! The number of donations in July, and continuing now at the beginning of August, is too many for me to thank you all personally. Please forgive me by accepting my thank you here, in public, on the website.

If you did not donate or subscribe in July and still wish to, note that the tip jar remains available year round.
Regular readers can support Behind The Black with a contribution via paypal:
If Paypal doesn't work for you, you can support Behind The Black directly by sending your donation by check, payable to Robert Zimmerman, to

Behind The Black
c/o Robert Zimmerman
P.O.Box 1262
Cortaro, AZ 85652