In a paper published tonight on the Los Alamos astro-ph preprint website, astronomers described new observations of Comet Hale-Bopp at a distance of 30 astronomical units, or 2.8 billion miles, from the sun. Their conclusions:
These observations were the most distant detection of any known comet.
The comet's starlike appearance and its drop in brightness since the last observations suggest that the comet has finally ceased, or is about to cease, all activity, and that they are now looking directly at the comet's nucleus instead of the coma cloud surrounding it.
Nonetheless, the comet is brighter than expected, which also suggests that a thin layer of new ice covers its surface and thus increases its albedo.
To quote the paper, "Observing Hale-Bopp in a completely frozen state would be extremely important because a thick coma was constantly present during the entire appariation [Ed. the fly-by of the Sun]. The coma obscured the nucleus which was not observed directly. Lack photometric data of the bared nucleus, its size — one of the most important input parameter in activity models — remains uncertain."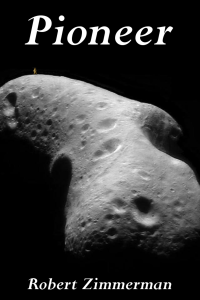 From the press release: From the moment he is handed a possibility of making the first alien contact, Saunders Maxwell decides he will do it, even if doing so takes him through hell and back.
Unfortunately, that is exactly where that journey takes him. The vision that Zimmerman paints of vibrant human colonies on the Moon, Mars, the asteroids, and beyond, indomitably fighting the harsh lifeless environment of space to build new societies, captures perfectly the emerging space race we see today. He also captures in Pioneer the heart of the human spirit, willing to push forward no matter the odds, no matter the cost. It is that spirit that will make the exploration of the heavens possible, forever, into the never-ending future. Available everywhere for $3.99 (before discount) at
amazon
,
Barnes & Noble
, all ebook vendors, or direct from the ebook publisher,
ebookit
. And if you buy it from
ebookit
you don't support the big tech companies and I get a bigger cut much sooner.