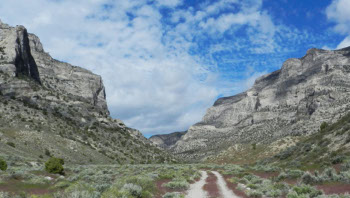 For the next seven days my daytime posting is going to be spotty, as I will be in some remote areas of Nevada working on an on-going Forest Service project to inventory and survey caves in an area in the northeastern area of the state. The project is mostly over, but as I have surveyed, sketched, and done the cartography for many eastern U.S. caves, the guy running the project asked if I would be interested in participating. Interested? I was thrilled.
Though we will be in a somewhat remote area, I still hope to post periodically during the week, not only about the usual topics but also about some of the caves we will have surveyed, some of which are rarely visited. I will also try to post some pictures of the spectacular country we expect to visit. (The photo on the right was provided to me by Tom Gilleland, who is running the project.) Stay tuned.
Readers!
Please consider donating to Behind the Black, by giving either a one-time contribution or a regular subscription, as outlined in the tip jar below. Your support will allow me to continue covering science and culture as I have for the past twenty years, independent and free from any outside influence.
Your support is even more essential to me because I keep this site free from advertisements and do not participate in corrupt social media companies like Google, Twitter, and Facebook. I depend wholly on the direct support of my readers.
You can provide that support to Behind The Black with a contribution via Patreon or PayPal. To use Patreon, go to my website there and pick one of five monthly subscription amounts, or by making a one-time donation. For PayPal click one of the following buttons:

If Patreon or Paypal don't work for you, you can support Behind The Black directly by sending your donation by check, payable to Robert Zimmerman, to


Behind The Black
c/o Robert Zimmerman
P.O.Box 1262
Cortaro, AZ 85652