Not surprisingly, last night's successful launch of Falcon 9 has produced a large number of news articles. Rather than list them all, go to spacetoday.net for the links.
However, I think Clark Lindsey, in describing Elon Musk's reaction to the successful launch, captured the most important aspect of last night's success:

The briefing was quite interesting but I didn't have the energy to take notes. Elon is clearly elated and believes that regardless of how the rest of the mission goes, this was an historic launch in that it proves the Falcon 9 is a robust and viable vehicle, and this in turn proves the capabilities of SpaceX and commercial spaceflight in general.
While Dragon will certainly be a game changer in the U.S.'s manned spaceflight efforts, the fact that Falcon 9 has once again proved itself to be a reliable launch vehicle means that SpaceX stands to make a lot of money putting into orbit its manifest of private commercial satellites, as per already signed contracts. For Musk and SpaceX, this means the company is now poised to become a dominate force in the rocket launch industry.
The rest of the aerospace launch industry will have to find ways to compete, which means they will have to find ways to lower their launch costs to match SpaceX's. Otherwise, they will not be able to find customers and will go out of business.
The lower costs in turn will mean it will be possible for more satellites to go into orbit. Beforehand, the high cost of launch has precluded the launch of many worthwhile projects, both commercial, educational, and scientific. Lower costs will make these projects affordable, which will thus increase the customer base for the launch market. And with more customers, more launch companies will be able to make a profit, even though they will be charging less per launch.
All told, last night was a very significant moment in the history of space exploration. The future indeed does look bright.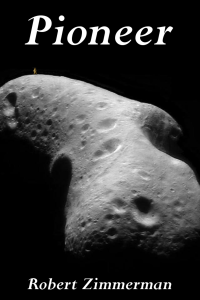 From the press release: From the moment he is handed a possibility of making the first alien contact, Saunders Maxwell decides he will do it, even if doing so takes him through hell and back.
Unfortunately, that is exactly where that journey takes him.
The vision that Zimmerman paints of vibrant human colonies on the Moon, Mars, the asteroids, and beyond, indomitably fighting the harsh lifeless environment of space to build new societies, captures perfectly the emerging space race we see today.
He also captures in Pioneer the heart of the human spirit, willing to push forward no matter the odds, no matter the cost. It is that spirit that will make the exploration of the heavens possible, forever, into the never-ending future.
Available everywhere for $3.99 (before discount) at
amazon
,
Barnes & Noble
, all ebook vendors, or direct from the ebook publisher,
ebookit
.