Please consider donating to Behind the Black, by giving either a one-time contribution or a regular subscription, as outlined in the tip jar to the right or below. Your support will allow me to continue covering science and culture as I have for the past twenty years, independent and free from any outside influence.
On August 18, 2010, the Mars rover Opportunity took this panorama image of the Martian terrain. Up close, patches of bedrock can be seen where the sand had blown clear. In the far distance the rim of Endeavour Crater, the rover's long term destination, pokes up over the horizon.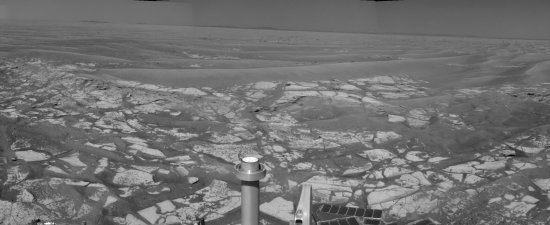 Update: A press notice from JPL today notes that Opportunity has now traveled about half of the 11.8 mile distance to Endeavour Crater. As it took two years to go this far, the journey still has two years to go, assuming the rover survives that long.