The Thursday test launch of an Orion capsule has been given the go-ahead.
Many of the news reports this week about this test flight have referred to Orion as "the spacecraft that will take humans to Mars." I must note again that this is hogwash. No humans will ever go to Mars using Orion. It is too small and does not have the capacity to keep humans healthy and alive for the year-plus-long flight time necessary to get to and from Mars.
The most Orion can ever be is the ascent and descent module for a much larger interplanetary space vessel, used just for getting humans up and down from the surface of the Earth. The spacecraft that will really take people to Mars will have to be something more akin to Mir or ISS, a large assembly of modules put together in low Earth orbit.
One other tidbit everyone should know about tomorrow's test flight: Though it is being touted as a test of Orion's heat shield, the company that makes this heat shield has already abandoned this design, so the test itself is for a heat shield that will never be launched again on another Orion capsule. In addition, the flight won't test the rocket to be used, as the SLS rocket isn't ready. Nor will it test the capsule's life support systems, which are not on board.
Which immediately raises the question: Why in hell is NASA even bothering with this test flight?
Sadly, I can answer that question. This is all public relations, an effort to lobby for funding. That's it.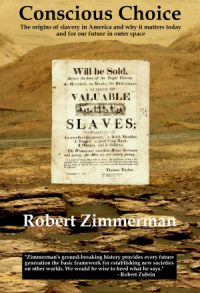 Now available in hardback and paperback as well as ebook!
From the press release: In this ground-breaking new history of early America, historian Robert Zimmerman not only exposes the lie behind The New York Times 1619 Project that falsely claims slavery is central to the history of the United States, he also provides profound lessons about the nature of human societies, lessons important for Americans today as well as for all future settlers on Mars and elsewhere in space.
Conscious Choice: The origins of slavery in America and why it matters today and for our future in outer space
, is a riveting page-turning story that documents how slavery slowly became pervasive in the southern British colonies of North America, colonies founded by a people and culture that not only did not allow slavery but in every way were hostile to the practice.
Conscious Choice
does more however. In telling the tragic history of the Virginia colony and the rise of slavery there, Zimmerman lays out the proper path for creating healthy societies in places like the Moon and Mars.
"Zimmerman's ground-breaking history provides every future generation the basic framework for establishing new societies on other worlds. We would be wise to heed what he says." —Robert Zubrin, founder of founder of the Mars Society.
All editions are available at Amazon, Barnes & Noble, and all book vendors, with the ebook priced at $5.99 before discount. The ebook can also be purchased direct from my ebook publisher, ebookit, in which case you don't support the big tech companies and I get a bigger cut much sooner.
Autographed printed copies are also available at discount directly from me (hardback $24.95; paperback $14.95; Shipping cost for either: $5.00). Just email me at zimmerman @ nasw dot org.